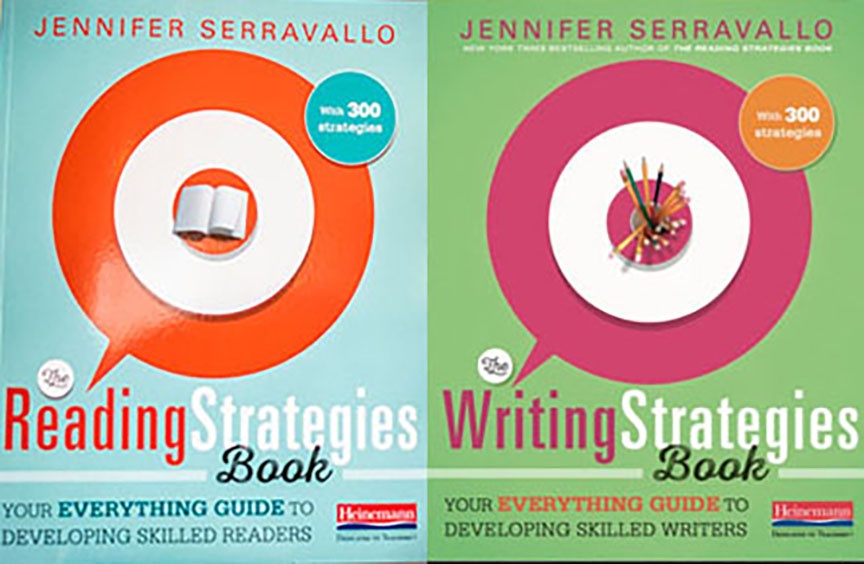 On Tuesday, October 25th, author Jennifer Serravallo presented two events to the Heinemann community in one night.

In case you missed it, or are not on Facebook, here is Jen's Facebook Live event from The Reading Strategies Book Facebook Group from 10/25/16. During the video Jen announced the pre-order link for The Writing Strategies Book which can be found here. The new book will be released in Feb 2017.
The Reading and Writing Strategies Live Webinar

Tuesday, Oct. 25th at 4pm (EST) Marks the first session in our Jen Serravallo three-session webinar series on The Reading and Writing Strategies.
Update: All seats are sold! Join our conversation between live sessions here!
Learn to match methods to purpose throughout this school year as Jen guides you through assessing individual students' strengths and needs, leading goal setting conversations, and following up on goals with conferring and small groups. During each hour-long session, Jen will share practical and proven classroom strategies, provide video examples, and lead engaging live discussion during each session.
To register for this three-part webinar, click here.
Jennifer Serravallo Facebook Live Event

Tuesday, Oct.25 at 8pm (EST). To celebrate The Reading Strategies Facebook Group passing 15,000 members, Jen will hold a special Facebook Live event. Jen will be live on video in the Facebook group discussing The Reading Strategies Book as well as The Writing Strategies Book (Feb. 2017).
Have curiosities about the forthcoming Writing Strategies Book, or questions about using The Reading Strategies Book in your classroom? This is your chance!
If you are have not yet joined The Reading Strategies Facebook Group, you can do so here.
We hope you will join us.