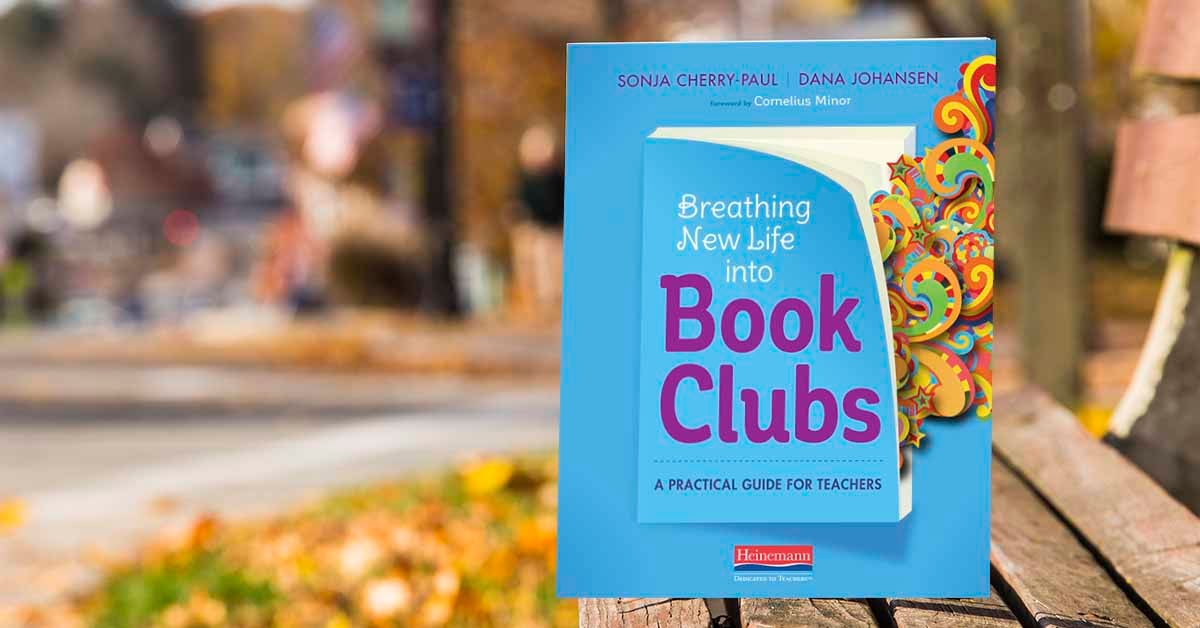 Today we're bringing you a bonus episode with authors Sonja Cherry-Paul and Dana Johansen. Their latest book, Breathing New Life into Book Clubs is a one-stop resource for starting, improving, and troubleshooting your book clubs. From choosing texts, best approaches for organization, and how to best utilize technology, Sonja and Dana cover it all.
In this episode, Sonja and Dana chat with Brett Whitmarsh about the value of book clubs, and how they can become a tool to disrupt the idea that our job and mission is to teach books…when really it should be to teach readers.
Below is a full transcript of this episode!
Sonja: Well, it's interesting. Oftentimes, we've heard teachers make comments such as, "I would rather die than give up teaching The Giver," or, "I would rather die than give up teaching insert any text that's used by some teachers year after year after year." And what this signals to us is being mired in teaching texts versus readers, this swearing of allegiance to teaching a book that you love rather than seeing a book as a model, a vehicle, a roadmap for making visible the reading strategies that helps students to become more proficient readers. But we really see that the tide is turning on this and that teachers more and more are understanding that it's not about the book. It's about the strategies that you want students to learn.
Dana: And when we think about the role of mini lessons when we're teaching our readers and the role of book clubs, we like to think about our favorite analogy, a soccer game. And in this comparison, the mini lessons provide students with opportunities to practice just like they would practice before their soccer games. And in the mini lessons, this gives students to practice the chance to try new reading strategies.
Book clubs, on the other hand, offer a way for students to get in the game and be independent and work together as a team and to try out the strategies that they've been learning in practice. And we really feel like there needs to be more of an emphasis on getting kids into the game. And we believe that book clubs really provide this vehicle that Sonja was just talking about. And that the teacher's mini lessons should be short and quick with lots of opportunities for students to practice, and then teachers need to offer this, this great time for students to be in the game and be in book clubs.
Sonja: And when we think about focusing on teaching novels as opposed to teaching readers, students don't have the chance to, as Dana was just saying, get into the game. They're perpetually pinioned in practice, this lecture that they're receiving from the coach. So if you're never in the game, it looks like this, "Let me show you how to play soccer without ever playing soccer. Let me show you how to read a book without you ever having a chance to read a book." And we really believe that every child can play the game. We believe in them. When kids have choice and autonomy and opportunities to play the game, if you will, then there is no bench. No kid is on the sidelines or perpetually in practice.
And if we think about how many books students could read during the year if they weren't locked into three or four whole class novels where they're spending weeks sometimes, maybe even months, reading just one book, and also just think about how often these whole class novels that we sometimes swear allegiance to do not represent the children before us, and that is most troublesome, that these books aren't necessarily representative of their racial or cultural identities, of their interests.
And we really appreciate the way that Disrupt Texts challenges us to consider not only counternarratives in our reading curriculums, but that books that feature diverse characters written by diverse authors can and should be the narratives used in our classrooms and just how much these books have to offer all kids. So book clubs are spaces where students get to read more and they have more access to texts that are reflective of them in their lives, texts that provide, as Dr. Rudine Sims Bishop says, mirrors and windows.
Brett: Why are book clubs valuable, and how can they help build spaces where students can talk about what they're hearing and observing in the world and learn deep listening skills as well, Sonja?
Sonja: So Dana and I really appreciate book clubs because they break this culture of isolationism in our classrooms, where each student is on their own island navigating the world. In book clubs, kids come together to grapple with the challenges they face and the chaos of the world around them. We see book clubs as spaces where students get to listen to and explore multiple perspectives, that of the characters they read about and of each other. They might not always agree, yet they have access to ideas that they never would have considered before, and this raises a consciousness about issues in the world.
When I think about this, I think about students who might come together to read a book like Yo Soy Muslim by Mark Gonzalez or Harbor Me by Jacqueline Woodson or Where Are You From? by Yamile Saied Méndez. And when students have opportunities to read books like this and come together to talk about them, they are developing critical literacy skills so that when they hear speech such as, "Go back to where you come from," they will absolutely recognize that this is racist, and they are better able to deconstruct this type of language and take action against it.
Dana: And what we really want everyone to remember is that book clubs are the students' clubs. They're not the teacher's clubs. And teachers need to step back, let go, take a deep breath because that's the way it is in my classroom too and let our students engage in authentic conversations. These are spaces where there are no rules or roles about talk. We really want our students to get in there and to talk with each other, and educators can expect that these are going to be some messy spaces, right?
Brett: And not save the moment.
Dana: Where students are learning what it takes to work together, be responsible for the ideas they share, and to negotiate with each other so that the quieter and louder voices both feel valued. For example, I mean, we've had students who may take on the role as the listener during our whole class discussions, but then during book clubs, we see a different side, and these students are more comfortable and confident taking risks and engaging in discussions with peers in book club spaces. And this makes it possible for students to get to know one another intimately in ways that they couldn't if all the discussions were led by the teacher.
So some tips, we have some tips for how to nurture book club discussions, so we want to share those with you. One is, one of our favorites, to have some practice discussions with shorter texts prior to having students dive in with their book clubs. So this could look like using a digital text, a poem, a short story, even a photo. I love using photos. These are great opportunities for students to practice talking with their peers in small groups about what they're seeing, what they're thinking about, and it's great to have these practice discussions before you launch book clubs.
Also, we love giving our students some time to write their thoughts down before they get together in their book clubs. We find that even with three minutes, students can sit, jot down their thoughts, and then when they get to their book club time, they're ready to go with everything that's on their mind.
Brett: And what a valuable skill to just have. Just get into that habit.
Sonja: And I think that's pretty straight forward. There's a lot of teachers who were using Post-its and encouraging students to jot, but sometimes, we forget that with all of the craze that we have to manage as teachers. And then it's like, "Oh, my gosh, okay, there's 15 minutes left to the period. Get into book clubs and go," and then we're surprised when the club is having a hard time getting its footing.
And rather than assigning a prompt that students all have to respond to, we can just extend these open invitations, right? We can extend invitations that really become an entry point for students and can encourage rich discussions such as, simply, what's on your mind about this text? And we can also have silent chats in the classroom. And we recognize that this is an oxymoron, and some of you might be raising some eyebrows on this.
Brett: Say more about that.
Sonja: But we promise you it's so powerful, and it really works. Sometimes, the best way to get the discussion flowing is to ask students not to talk. However, we're not silencing their voices when we do so. Instead, we're inviting them to express themselves in different ways, such as on index cards that they might jot down and pass around amongst themselves to get more responses and to be surprised by the responses they receive back. They can have a silent chat on a large poster paper or chart paper, and of course, they can even have a silent chat on a blog or a discussion board where their ideas are read in real time. And the purpose behind doing this is it gives all students an opportunity to reflect about what they're hearing as they read, gather their thoughts, and get into the conversation.
Model book clubs is another tip that we want to share with educators, and fishbowling discussions can invite students to just take note of the moves of another club and bring those moves back to their own. Teachers can set this up within their classroom where one club is in the fishbowl and students are just listening in and watching them have a discussion. Or they can reach out to a colleague who also teaches the same grade or maybe one grade above and arrange an in-school class trip, if you will, to bring students to watch another club in action in another classroom. And when we do this, students become researchers in this experience, thinking to themselves, "What is this club doing that I'd like to do in my own?" As a result of all of this, we believe that you'll see students that are more engaged in their discussions and that book clubs become spaces that students are just excited and dying to get to.
…
Learn more about Breathing New Life Into Book Clubs at Heinemann.com
---
Sonja Cherry-Paul, EdD, has taught middle school English for twenty years. She is a literacy consultant who served on the Jane Addams Children's Book Award committee for ten years. Sonja leads presentations about literacy at national conferences and provides professional development for educators on reading and writing instruction and racial literacy.
She is the coauthor, with Dana Johansen, of the titles Teaching Interpretation and Flip Your Writing Workshop.

Follow Sonja on Twitter @LitLearnAct
Dana Johansen has taught elementary and middle school for more than fifteen years. Dedicated to the ever-expanding applications of technology in the classroom, she presents at national conferences on the use of blogs, digital texts, and flipped learning in literacy instruction.
She is the coauthor, with Sonja Cherry-Paul, of the titles Teaching Interpretation and Flip Your Writing Workshop.

Follow Dana on Twitter @LitLearnAct