"The [writing] conference can be a joyful time for you and your multilingual students, a time where your teaching is tailored specifically to the child sitting next to you. It's an opportunity to acknowledge what your multilingual student does well, has learned to do well, and what she can learn to do well. And it moves us, their teachers, forward in knowing our multilingual students and extending their learning one writer at a time."

This week, we share a Digital Library article written by Tasha Tropp Laman entitled "Talking With English Language Learners About Their Writing." Tasha encourages teachers to use writing conferences—in spite of the "messiness" of trying to communicate with students whose native language is not English—to help students communicate and express themselves.
She presents some simple but effective communication tools to use with emerging English Language learners: learning key phrases in the student's native language, encouraging drawing as a means of communicating, and smiling! It's amazing what a warm smile can do to ease a student's anxiety.
Tasha offers strategies and positive language to help bring multilingual learners from the periphery of the classroom to the center of learning by engaging them in writing conferences, including:
Getting to know your students before you confer
Noticing and naming writing identities
Helping students to identify their audience
Inspiring students to revise their writing
And using writing conferences to expand on a child's writing repertoire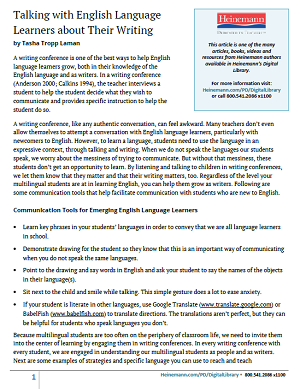 Click here to download the PDF
Be sure to share this post with any colleagues who may also benefit from considering these strategies when working with multilingual students.
Have you checked out our available live or previously recorded webinars? Consider expanding your knowledge of supporting student literacy, for English Language Learners and more, by clicking here.
♦ ♦ ♦ ♦
Wondering where to connect online? Start by signing up below for Heinemann's Online PLC 2015–16! Each week, we'll share content from the Heinemann Digital Library as food for thought and discussion. Our conversations can occur in comments here on the blog, on Twitter using #OnlinePLC or in our Facebook Group. Looking forward to a year of sharing content, conversation and #OnlinePLC camaraderie!
♦ ♦ ♦ ♦