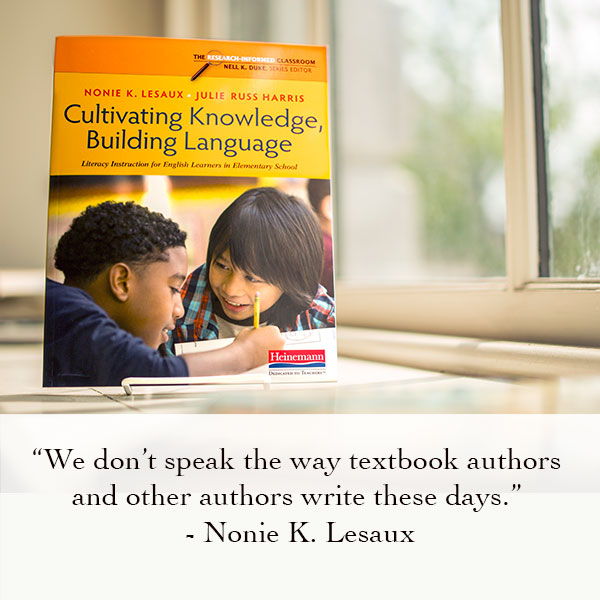 In today's linguistically diverse elementary classrooms, research suggests that a universal approach to building academic vocabulary and conceptual knowledge holds huge promise for closing the opportunity gaps among English learners. In Cultivating Knowledge, Building Language, Nonie Lesaux and Julie Harris present a knowledge-based approach to literacy instruction that supports young English learners' development of academic content and vocabulary knowledge and sets them up for reading success.
In today's blog adapted from the book, the authors the discuss the connection between academic language and reading comprehension.
by Nonie Lesaux and Julie Harris
What we're seeing in today's classrooms, especially through the window that ELs give us into the relationship between language and reading, is that even when conversational English is acquired with relative ease and we might consider an individual EL to be proficient, the need to comprehend and produce academic language for academic success may still present a significant challenge (Nagy and Townsend 2012). And it's important to bear in mind that many ELs acquire early word reading skills on par with their peers, and many of them are well past the "survival English" stage—they are conversant and comfortable speaking English and therefore have acquired the oral language skills and competencies needed to get there. This is especially the case after many years in American schools.
Still, with increasing grade levels, in part due to instructional opportunities and the everyday language used in our classrooms, the language of print becomes beyond their reach; it is even less conversational and much more academic, making the texts far more difficult to comprehend. Students' language use (and therefore knowledge) isn't always sufficiently sophisticated for the academic setting—and the same goes for their written language development; the language that many ELs are using to produce written products is not academic or technical enough to meet today's standards for what it means to be literate. And we all know of many of our ELs' classmates from English-speaking households who are in the same situation. This is especially the case in large, urban districts where many students, ELs and monolingual English speakers, experience a language of the home and community that is different from the academic language used in our texts, assessments, postsecondary classrooms, and workplaces. The academic language of print is, at once, a gatekeeper and a gateway. When academic language is largely inaccessible, so too is the school curriculum; accessing the language, however, means having the opportunity to learn academic concepts and generate ideas and questions that contribute to academic conversations and ultimately leads to school achievement.
It is especially important to mention that our students' difficulties in this domain do not necessarily signal a learning difficulty. Why? First, ELs' rates of growth in language development surpass the rates of their peers (Kieffer 2008, 2010; Mancilla-Martinez and Lesaux 2011). That is, while they may be learning more words than their peers throughout the school years, many of their monolingual English-speaking classmates started out with more words. So, although many ELs might not "catch up" to their monolingual English-speaking peers over time, we know that for the vast majority this is not an "ability to learn" problem. Second, despite their strong relationship with academic achievement, we know that very little instructional time in elementary and secondary school focuses on developing academic language skills (Gilbert and Graham 2010; Kiuhara, Graham, and Hawken 2009; Lesaux, Kieffer et al. 2010; Scott, Jamieson-Noel, and Asselin 2003). If we don't give our learners explicit, intensive, and sustained opportunities to develop academic language, then we can't make claims about their ability to learn them.
♦ ♦ ♦ ♦
Nonie K. Lesaux, PhD, is the Juliana W. and William Foss Thompson Professor of Education and Society at the Harvard Graduate School of Education. Lesaux leads a research program guided by the goal of increasing opportunities to learn for students from diverse linguistic, cultural, and economic backgrounds. Her research on reading development and instruction, and her work focused on using data to prevent reading difficulties, informs setting-level interventions, as well as public policy at the national and state level.
Julie Russ Harris, EdM, is the manager of the Language Diversity and Literacy Development Research Group at the Harvard Graduate School of Education. A former elementary school teacher and reading specialist in urban public schools, Harris's work continues to be guided by the goal of increasing the quality of culturally diverse children's learning environments.