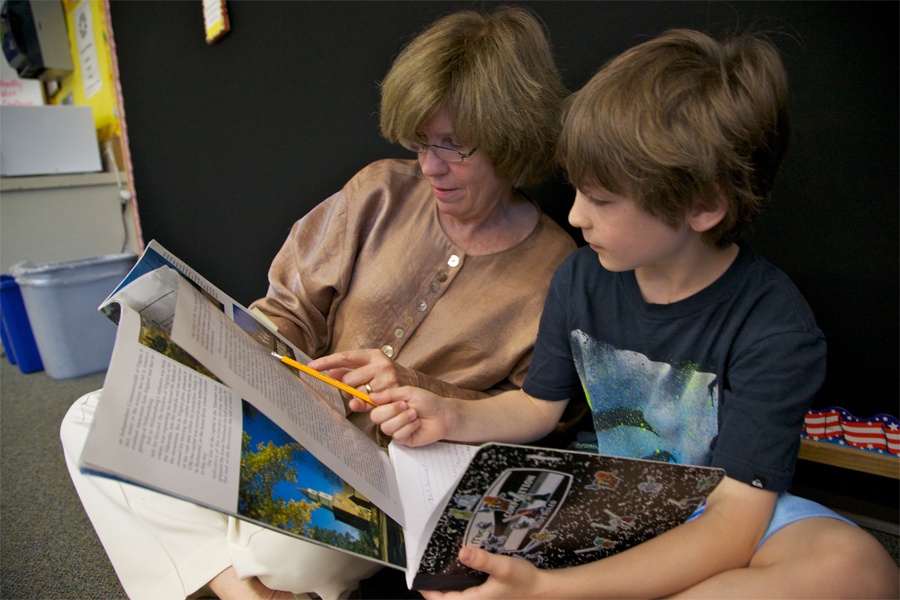 For many children and in many classrooms, it is not a question that nonfiction reading remains alive and well all year long. Children have a natural propensity to be fascinated by the world, and many constantly seek the kind of information that nonfiction books provide. But for others, nonfiction remains daunting. All students, those that gravitate toward nonfiction and those that don't, need opportunities to engage with nonfiction not just during nonfiction reading units, but all year long.
One way to help students turn to nonfiction, even during fiction reading units, is to remind them the power of short bits of research to support their fiction reading. Even young students can give this a try. imagine a first grader reading a story about a favorite character going surfing. She is intrigued, and she wants to learn more about this unfamiliar sport. Her teacher could point her to a nonfiction book about surfing, and even if the level of the book is a challenge for the student, she could glean information from the pictures and from reading as much text as she can in order to learn more about the topic. She would be practicing valuable nonfiction reading skills: gathering facts to support main ideas, wrestling with domain-specific vocabulary, growing ideas about her reading.
Another way to support nonfiction reading all year long is to ensure that students get plenty of opportunity to read and to learn to become better readers of nonfiction during their content area work. In science and social studies time, it's important that students aren't just assigned texts and asked to extract facts from them. It's important that part of the instruction includes strategies for how to approach nonfiction texts in ways that will help students read not just that one text, but all nonfiction texts. Even if the bulk of this kind of instruction happens during reading time, simply giving students brief reminders of all they know about how to read nonfiction well during content studies will help support transfer and solidification of nonfiction reading skills.
Teachers can also support nonfiction reading all year long through read alouds and shared reading. These instructional methods are most powerful when teachers use them all day, not just during reading workshop, and for a variety of purposes. For example, a fifth grade teacher might start the day by reading aloud aloud a news article, demonstrating nonfiction reading strategies, or a Kindergarten teacher might engage kids in a shared reading of a procedure or recipe to support kids' work during science time.
At this week's TCRWP Twitter chat, Katie Clements and Gabby Vega will lead a discussion on how to keep nonfiction reading alive all year long. They'll help you think about ways to integrate nonfiction reading and instruction into the final months of your school year in ways that are seamless and engaging. As always, we invite your questions and your tips on what works in your classroom.
---
Each Wednesday night at 7:30pm eastern, The Teacher's College Reading and Writing Project hosts a Twitter chat using the hashtag #TCRWP. Join @clemenkat & @gvega929 to chat about keeping nonfiction reading alive tomorrow evening.
Not on Twitter? Take Heinemann's free Twitter for Educators course here.
---

Anna Cockerille, Heinemann Editor and Coauthor of Bringing History to Life (Grade 4) in the Units of Study for Teaching Writing Series, was a teacher and a literacy coach in New York City and in Sydney, Australia, and later became a Staff Developer and Writer at TCRWP. She also served as an adjunct instructor in the Literacy Specialist Program at Teachers College. Anna has been a researcher for Lucy Calkins, contributing especially to Pathways to the Common Core: Accelerating Achievement (Heinemann 2012), and the Units of Study for Teaching Reading, Grades 3–5 series (Heinemann 2010). Anna is currently serving as an editor on the forthcoming Phonics Units of Study series for grades K-2, and previously served as an editor for the Units of Study for Teaching Reading, K–5 series.
Follow her on Twitter @annagcockerille