Welcome back to firsthand Fridays. In the first of three blog posts, educator, author, and consultant Linda Hoyt discusses how primary students can research and write nonfiction while still learning literacy.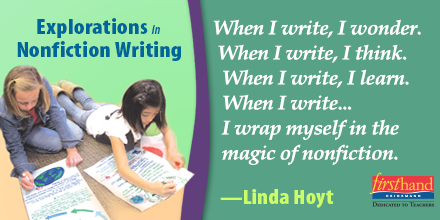 by Linda Hoyt
I am so excited about how the children are writing, especially in comparison to years past. It is early in the year and my kindergartners are confident with several text types and absolutely love to write. We have lists, notes, and multi-page books that look like they were done by much older students. Thank you for helping me to believe. They are more accomplished writers and I am a more accomplished teacher.
—Sandy Gordon, kindergarten teacher

Young children can research and can learn to craft quality nonfiction writing. They are experts at asking questions. We just need to show them how to direct their questions toward a specific topic and then guide interactions with multiple sources through read-alouds, comparison of leveled selections on the same topic, and careful examination of visuals.
For many years, I have called for a stronger emphasis on informational sources in primary classrooms. Now, it is so exciting to see primary teachers actively guiding children to understand that they can learn about the world while they learn to read and write. Everywhere I go, I see more informational selections on display and in the hands of independent readers. I see ever-increasing proficiency as emergent and developing writers capture facts in pictures, labels, notes, and sentences. These eager researchers read and write in collaboration with partners and take great pride in generating questions that fuel more reading, more research, and more writing! (Can you hear me clapping?)
Most of all, I celebrate the increasing number of teachers who are clear in the belief that they are not there just to teach but to ignite a sense of wonder—to help kids live a curious life. In classrooms driven by curiosity and wonder, learners erupt with literate vigor, and writing becomes a natural extension of the learning.
Forward-thinking educators weave nonfiction reading and nonfiction writing into the fabric of daily literacy instruction.

Nonfiction writing used to be saved for genre studies in which young writers created a set of directions or engaged in crafting a report about animals. But evidence now suggests that this limited view of nonfiction writing is too little—and too late! We now know that forward-thinking educators weave nonfiction reading and nonfiction writing into the fabric of daily literacy instruction, ensuring that children write for a variety of purposes and experience a broad base of nonfiction text types. (Stead and Hoyt, 2010; Saunders-Smith, 2010; Glover, 2009.)
Occasionally teachers express concern that informational writing should wait until foundational skills are in place. But here's the good news: extensive evidence suggests children do not need to have correct spelling, complete sentence structures, deep content knowledge, or well-developed writing traits in place before they begin to engage as nonfiction writers. They will develop these essential skills as a natural extension of modeled writing, coaching conferences, revising, editing, and presenting their work. They will learn as they go. With successive writing experiences, word-building skills will grow and the writing will gain sophistication.
The key is: Don't expect perfection—expect growth.

Model and take time to think aloud as you write under the watchful eyes of your students. Let them hear what is in your mind as you capture an interesting fact on paper, insert a label on a diagram, or list the attributes of a tree frog. Celebrate moments of growth, knowing that each time your students pick up a pencil or begin typing on a keyboard, they will do even better. Spelling, sentence structure, and traits will develop—hand in hand—within the context of the instructionally rich writing opportunities you provide. So, "just do it!" Leap in and get started.
When I write, I wonder
When I write, I think
When I write, I learn
When I write…
I wrap myself in the magic of nonfiction
♦ ♦ ♦ ♦
Linda Hoyt is a nationally recognized consultant who creates environments where engaged children are active participants in their own learning. She is the author, co-author, or editor of Solutions for Reading Comprehension, Revisit, Reflect, Retell, Updated Edition, Spotlight on Comprehension, Exploring Informational Texts, Make It Real, and Snapshots. In addition, she is the author of the Interactive Read-Alouds series and the Explorations in Nonfiction Writing series.