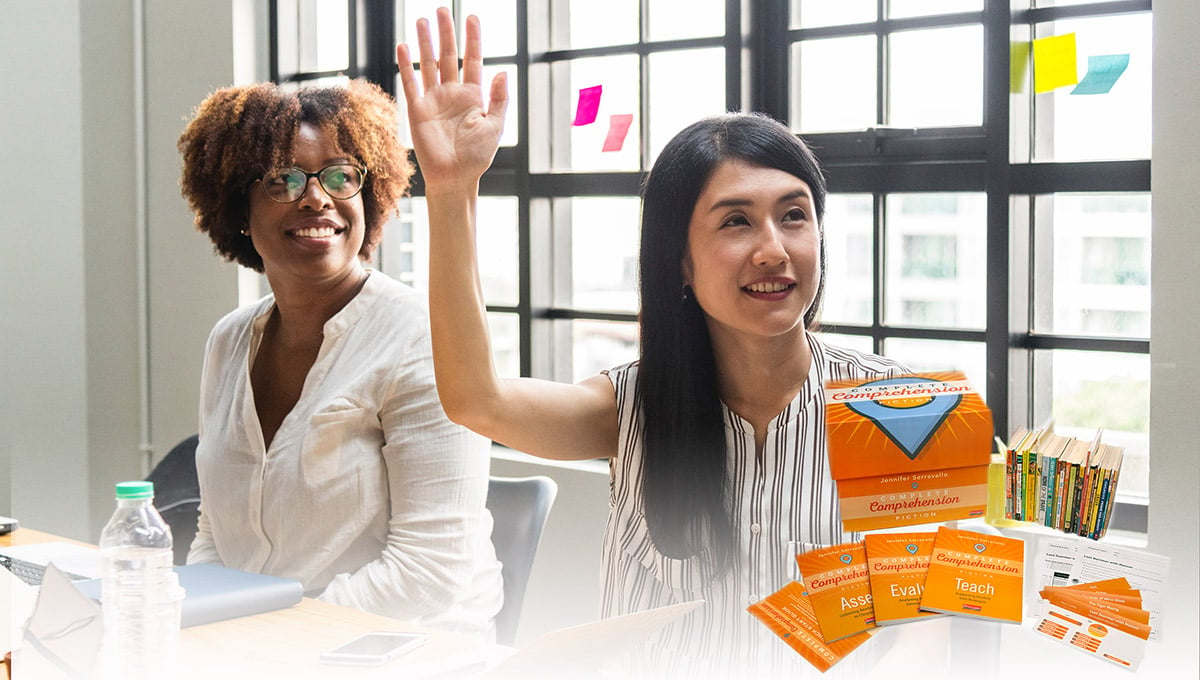 If you are familiar with Jennifer Serravallo's multiple award-winning series Independent Reading Assessment (Scholastic, 2012, 2013) and are wondering why it's no longer available, you will be glad to know that it has undergone a major revision and will be re-released by Heinemann under the new title Complete Comprehension. While a whole book assessment is still a part of CC as it was IRA, there are numerous updates and improvements worth noting.
For the last two years, Jen has been re-writing, re-designing, and re-imagining IRA from the ground up with improvements that reflect teacher feedback, her latest thinking, and the latest research.
Here are just a few of the ways in which Complete Comprehension differs from IRA:
New trade books— Complete Comprehension includes 28 trade books, leveled using the F&P Text Level Gradient™ in each of its Fiction and Nonfiction versions. Among these 56 books nearly half will be new to users of IRA. Many of the new titles feature diverse authors, protagonists, and topics.
Streamlined assessment—Fewer but more essential questions means less for students to write and less for teachers to evaluate, all without sacrificing the depth and quality of the responses.
Streamlined progressions and rubrics – rubric language and formatting has been simplified and made briefer to make the evaluation easier for the teacher without losing any of the rich information teachers need.
200+ lessons—The lessons in IRA have been expanded so that they each fit on their own page with a chart, strategy language, and lesson language using a mentor text as in Jen's ultrapopular The Reading Strategies Book. There are enough lessons here to create an entire year's curriculum, to use in small group instruction, or for conferring all year long.
Simplified resource guides—Three newly designed, lightweight, slim guides (Assess, Evaluate, and Teach) with color coding that aligns to the goals in The Reading Strategies Book and the progressions in Understanding Texts & Readers take the place of the previous teacher's guide.
All-in-one kits for Fiction and Nonfiction—Now there is one kit for fiction (levels J–W) and one for nonfiction (J–W) instead of a kit for every grade level. This helps teachers support the wide range of student readers present in any classroom.
No more sticky notes!—Gone are the perpetually fluttering-away stickies! Now replaced with permanent labels affixed directly to the trade books.
Brand new videos – Complete Comprehension includes five brand new how-to videos and 9 brand new instructional videos showing strategies brought to life in whole class, small group and individual lesson types.
Online forms – all forms are available digitally for easy download and/or printing.
New Research—a summary of current and foundational research on which Complete Comprehension is based is available at the link below.
For far too long, we've needed something more reliable. This is the primary reason everyone should welcome Serravallo's Complete Comprehension. —Richard Allington