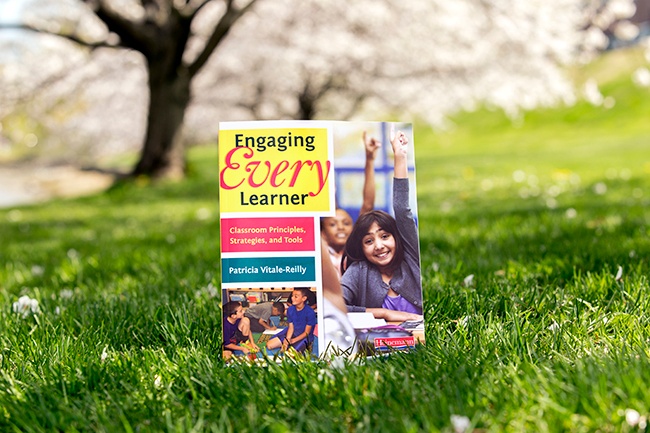 It's no secret that a healthy and intentional classroom environment can increase student engagement. But how do you create it? Master teacher and education consultant Patricia Vitale-Reilly has a deep understanding of what some of these engagement strategies can look like and how to integrate them into classroom practice. In her newest book, Engaging Every Learner, Patricia applies the research on motivation and engagement to strategies and tools that cultivate and sustain student engagement across the school year. In today's post adapted from the book, Patricia offers a classroom environment checklist.
Take a moment. Does your classroom meet these guidelines to increase engagement? How many can you answer "Yes" to?
---
Your Classroom Environment Checklist

by Patricia Vitale-Reilly
---
The Physical Classroom Environment

► Arrange Classroom Furniture
Is your classroom organized in a way that allows for flow, collaboration, and active learning?
► Manage Materials
Are your materials stored in an easily organized and accessible way?
► Use Wall Space
Are your walls painted a color that will engage yet not distract students?
Are anchor charts and decorations accessible to learners but not visually overstimulating?
The Emotional Classroom Environment

► Develop Classroom Tone
Are voices balanced between teacher and student and student and student?
Is the noise level in the room conducive to learning?
Is risk taking valued and cultivated in all learners?
Is there a system for nonverbal communication in collaborative settings?
► Establish Classroom Rituals
Are there classroom rituals, such as daily greetings or weekly meetings, that build the emotional environment?
Are positive affirmations used to acknowledge students?
► Reinforce Student Self-Efficacy
Is there a system to acknowledge growth and celebrate successes?
The Cognitive Classroom Environment

► Set High Expectations and Communicate Them Orally and in Writing
Are there high expectations for each learner?
Are expectations communicated in anchor charts?
Are expectations communicated in student checklists?
► Establish Consequences
Are consequences fair, explicit, and used appropriately?
► Make Learning an Active Process
Are daily learning statements—"I will" statements—used to clarify and guide learning?
Do lessons include student involvement?
Are checklists used to manage students and keep learning active?
► Cultivate Creativity
Do students have time to explore?
Do you facilitate and nourish creative thinking?
---
On Thursday, June 8th, 2017 at 8:30 pm EST, Patricia Vitale-Reilly will host the #G2Great Twitter Chat with Dr. Mary Howard, Amy Brennan and Jenn Hayhurst. You can join in the chat here.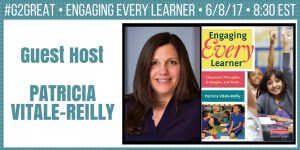 ♦ ♦ ♦

Not on Twitter? You can take our free Twitter for Educators Course here to help you get started.

---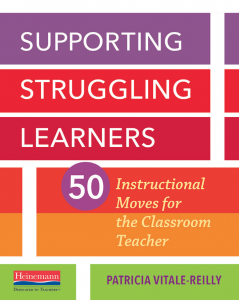 We're also pleased to let you know that Patricia Vitale-Reilly has a new Heinemann book releasing this fall, 2017. In Supporting Struggling Learners: 50 Instructional Moves for the Classroom Teacher, Patricia shows you how to make small changes in the classroom with moves geared to what the student needs most in that moment. Supporting Struggling Learners empowers you to implement effective instructional moves that make a big difference in your students' learning and in their lives.
---
​​​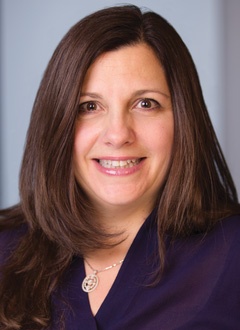 Patricia Vitale-Reilly is a consultant, teacher, author and lifelong reader, writer, and learner with 25 years of experience in education. As a national consultant, Patty is dedicated to guiding schools and districts to set and realize goals that matter most in their learning communities. Check out her blog exploring important and essential ideas about teaching and learning.