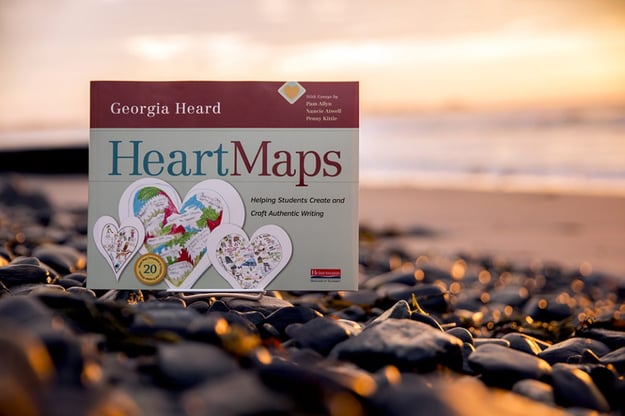 How do we get students to "ache with caring" about their writing instead of mechanically stringing words together? The the question author Georgia Heard asks in her new book: Heart Maps: Helping Students Create and Craft Authentic Writing. She says we spend a lot of time teaching the craft of writing but we also need to devote time to helping students write with purpose and meaning.
In today's podcast we speak with Georgia about what heart maps are and why they're so helpful for children as writers.
Below is a full transcript of this episode.
Georgia: Heart Maps are a concrete visual tool to help writers no matter what age discover and ultimately write about what they've stored in their hearts. People they love, memories, meaningful experiences. But it's not just a topic list where students make a list of topics that they then check off as they write. It's the experience and process of heart mapping that's really kind of magical and a little mysterious. When I first thought of heart maps years ago, I was amazed at what my students wrote. How open they were, how honest with their feelings and even the authentic conversations that happened around the heart maps. It's surprising that writing and drawing inside a little shape of a heart is such a powerful invitation for people to feel, to tell the truth, to write what they love.
After my book, Awakening the Heart, was published where I first wrote about heart mapping, the idea went viral. There were over 8 million Google entries. They started appearing everywhere. Many classrooms around the country started their year with asking kids to heart map and that's because the process is so incredibly powerful. In this new book I introduce twenty different types of heart maps all with a different focus and I've also included writing ideas for digging deeper and mentor text ideas in multiple genres. I'm also so grateful that three of my wisest colleagues, Pam Allen, Nancy Atwell, and Penny Kittle, wrote essays in the book describing their incredible work with heart mapping. The main thing is that the book is filled with examples of the most breathtakingly beautiful heart maps created by kids all over the world.
Brett: What do you feel are some of the barriers for children as writers or poets?
Georgia: Well I think the way writing is sometimes taught is in a series of sequential steps. It's a formula, like the five paragraph essay. First you do this, then this, finally this, and poof you have a finished piece of writing. Mechanically stringing words, sentences, and paragraphs together doesn't necessarily make effective, powerful writing. My biggest question as a writing teacher is how to help kids ache with caring about their writing as Mem Fox says and I think heart mapping can help with this. One of the barriers for children's writing is engagement. How to help students care deeply about their words. If they don't care what they're writing about, why would they want to spend hours crafting, revising and editing which is really hard work? It's rewarding work if you truly care and know that your words matter.
Brett: Who is heart mapping for and how is it most effectively used?
Georgia: Heart mapping is for everyone from very young writers, even in pre-k, through high school to adults. In fact, one of my colleagues, the wonderful Paul Hankin said that he uses heart maps all the time with his 11th graders. There are many ways we can use heart maps. Teachers can invite students to heart map at the beginning of the year to get to know their students and for students to get to know each other to build community. Heart maps can be used as practical touch stones for writing. Students can store them in their writer's notebooks and refer to them when they're starting a piece of writing or they have writer's block. There's even a revision heart map in the book to help writers find the heart of their story before they begin writing and during the process. No matter how you use heart maps, be sure to leave plenty of time for reflection, discussion, writing, time for students to go deeper into their heart maps.
Brett: One of my favorite heart map templates from your new book is called the "be the change you wish to see in the world". Can you talk about how you've experienced writing and poetry as change agents?
Georgia: I want to students to know that words have the power to make something happen, whether it's personal change or change in the world. A great example that we all know is Malala who started writing a blog focusing on girls right to education, and as we know her words eventually changed the world. "Be the change you wish to see in the world" heart map invites students to map out the injustices, inequalities, and concerns they might observe in their everyday lives but also in the larger world. Heart maps are not just for learning about your interior life but also can be strong change agents in the world.
Brett: How would you coach a teacher who's helping a student move from a heart map into a piece of writing or poetry?
Georgia: Each of the heart maps has practical suggestions and guidance on how to help students move into writing. For example, one of the heart maps is the "first times" heart map. The first time you ever saw your baby brother or sister, the first time you came to the US, the first time you walked into your new school. First times are often turning points in our lives, so after heart mapping first times, I invite students to then choose one that speaks to them and then I guide them in pushing beyond their initial intrigue. On the heart map itself, there are coaching questions, like why is this first time important to me? In what ways did that moment change me or impact my life? Writers can also decide what genre does this writing beg to be written in. An essay, personal narrative, or even a poem.
Brett: As we start to wrap up here, what is one tip you would suggest that we could try tomorrow?
Georgia: I think teachers should start with their own heart maps first so they'll know firsthand what the process is like. They can then coach students more effectively when they map their own hearts. I think it's the most inspiring invitation I know when we do the work we're asking our students to do and share the struggles and the insights. After sharing their heart maps you can download one of the twenty heart maps from the online key code which is provided in the book and you can copy a heart map either in black and white or in color and then ask your students to dive in and fill their papers, as Wordsworth said, with the breathings of their heart.
---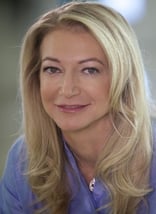 As a writer, a poet, and a founding member of the Teachers College Reading and Writing Project, Georgia Heard continues to bring a poet's ear and a teacher's know-how to every aspect of writing instruction. Her newest book, Heart Maps, provides 20 unique, multi-genre heart maps to help students write with purpose and authenticity. A heart mapping pioneer, Georgia has spent decades guiding students into more meaningful writing experiences by using heart maps to explore what we all hold inside: feelings, passions, vulnerabilities, and wonderings.
Listen to Georgia talk about heart mapping on The Heinemann Podcast and explore the Heart Maps Facebook group: www.facebook.com/groups/heartmaps.
Georgia is the author of The Revision Toolbox, Second Edition, Finding the Heart of Nonfiction, and Writing Toward Home, along with Awakening the Heart—which Instructor Magazine called one of its "12 Books Every Teacher Should Read." She is also the coauthor of Climb Inside a Poem, a curricular resource focused on how reading and writing poetry help teachers develop young students' language and literacy throughout the year.
At the Teachers College Reading and Writing Project Georgia worked for seven years as Senior Staff Developer in New York City schools. Today she travels the U.S. and the world as a consultant, visiting author, and keynote speaker in school districts and conferences.
In addition to her Heinemann professional books, Georgia is the coauthor of the professional titles Poetry Lessons to Meet the Common Core Standards and A Place for Wonder, as well as children's literature such as Falling Down the Page: A Book of List Poems.
Follow her on Twitter: @GeorgiaHeard1
Visit her website: GeorgiaHeard.com
Listen to Georgia's TEDx talk on heart mapping: Mapping Your Heart