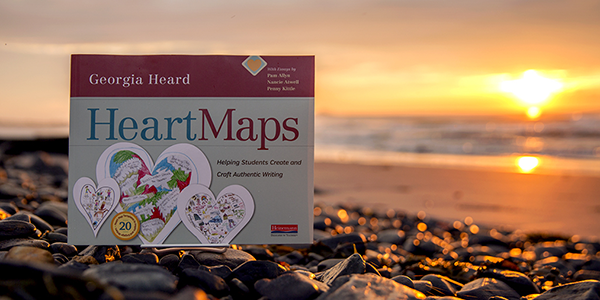 Now more than ever it is important that we create spaces for ourselves and our students to express feelings and process emotions. For decades, Georgia Heard has guided students into more authentic writing experiences by using heart maps to explore what we all hold inside: feelings, passions, vulnerabilities, and wonderings. Below are some examples of how you can use heart maps in your new home environment.
---
If ever we need to connect with our hearts and the hearts of others, it's right now during this difficult and challenging time. Many of us are connecting with each other virtually and doing a fantastic job. We're all trying to cope, and many of us have a frightened inner child inside. We can invite children of all ages to express their love, fears, gratitude, concerns, and questions; to write about their feelings and experiences—about what is "stored in their hearts." A heart map is a meaningful way to begin this type of writing and to help us reconnect online.
Connecting with one another during distance learning is a necessity. Heart maps offer a way for teachers and students to stay connected with their own hearts and the hearts of others.
What is a heart map? A heart map is a visual map using drawing, writing, and even crafting that expresses whatever you've stored in your heart. There is no right or wrong way to create a heart map. A heart map can include:
feelings
people you love
memories
experiences
places
things
small moments
questions
In my book Heart Maps: Helping Students Create and Craft Authentic Writing, I describe 20 different kinds of multi-genre heart maps to help students write from their heart, accompanied by a downloadable heart map template.
Some questions that students can ask themselves as they heart map are:
What have you stored in your heart?
What people have been important to you?
What are some experiences that you'll never forget?
What happy or sad memories do you have?
I'm sharing three different kinds of heart maps with you here:
Where I Find Poetry Heart Map
Gratitude Heart Map
What I Wonder About Heart Map
The process of heart mapping is deep and meaningful personal work and can bring up a lot of powerful feelings and memories, so be sure to invite your students to share their heart maps with someone else—either virtually or at home.
Students might want to look over their heart maps and scan for parts that resonate for them emotionally, a piece that tells a story, or an element that expresses a feeling or memory that tugs at their heart and then write from their heart maps. They can write in any genre that they choose:
poem
personal narrative
personal essay
nonfiction
Heart maps can inspire hope and strength and can remind us that we're all in this together.
Love,
Georgia Heard
…
Learn more about Heart Maps at Heinemann.com
---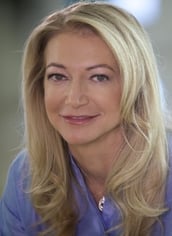 As a writer, a poet, and a founding member of the Teachers College Reading and Writing Project, Georgia Heard continues to bring a poet's ear and a teacher's know-how to every aspect of writing instruction. Her newest book, Heart Maps, provides 20 unique, multi-genre heart maps to help students write with purpose and authenticity. A heart mapping pioneer, Georgia has spent decades guiding students into more meaningful writing experiences by using heart maps to explore what we all hold inside: feelings, passions, vulnerabilities, and wonderings.
Listen to Georgia talk about heart mapping on The Heinemann Podcast and explore the Heart Maps Facebook group: www.facebook.com/groups/heartmaps.
Georgia is the author of The Revision Toolbox, Second Edition, Finding the Heart of Nonfiction, and Writing Toward Home, along with Awakening the Heart—which Instructor Magazine called one of its "12 Books Every Teacher Should Read." She is also the coauthor of Climb Inside a Poem, a curricular resource focused on how reading and writing poetry help teachers develop young students' language and literacy throughout the year.
Follow her on Twitter @GeorgiaHeard1