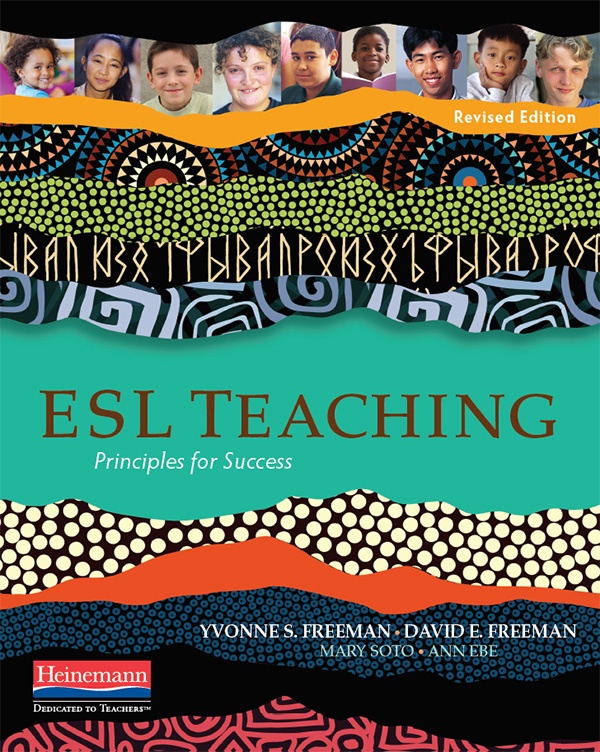 Written to support both mainstream and ESL/bilingual teachers, ESL Teaching, Revised Edition features early ESL teaching methods, best-practice principles for academic success, real-world classroom examples, and updated references and reviews of language teaching research.
In this post adapted from the book's introduction, the authors explain the necessity of this revised edition.
by Yvonne S. Freeman, David E. Freeman, Mary Soto, and Ann Ebe
We have a thirty-five-minute period each day where kids are supposed to get either enrichment or support. The teachers are supposed to monitor the students and decide what they need. We don't like the idea because it is separating the high and the low students. Teachers were not able to collaborate, monitor, and assess students, so now our vice principal says everyone is going to take a standardized reading test that is quick to administer. What are they gonna find out? That newcomers don't speak English? That long-term English learners struggle with reading? This proves two things: Our administration is clueless because they think that separating students is the best way to go. Second, that our teachers don't want to make the effort to get to know their students.
This description was sent as a text to Mary, a teacher educator in a program preparing future teachers to work with English learners or what we call emergent bilingual students. The author of the text is a new teacher working in a rural farming community in her first teaching job. This new teacher learned how to work with emergent bilingual students in her teacher preparation program, but, unfortunately, other teachers in her school have received very little training in how to work with students who come to school speaking languages other than English. Schools in the U.S. are growing more ethnically and linguistically diverse each year, and all educators, not just ESL or bilingual teachers, need to understand how to work with the changing populations of students (Goulah and Soltero 2015; Lucas, Villegas, and González 2008; Wiley et al. 2013).
We believe that educators want to do what is best for their students. Good teachers are open to knowledge and are the ones best suited to use that knowledge to provide effective instruction (Majumdar 2014). But with the growing changes in student demographics and the demands of standardized testing and curriculum, teachers like the teacher quoted above are not always supported in using current methods. A Teaching and Learning International Survey conducted by the Organization for Economic Cooperation and Development (OECD) showed that American teachers face many more challenges than teachers in other developed countries (Majumdar 2014). They receive less helpful professional development and do not feel that their profession is valued by society. In contrast, in countries where teachers are respected and are given high-quality professional learning opportunities, teachers feel empowered "to make complex decisions and solve problems easily" (1). These teachers are able to connect theory and practice, and their students experience academic success.
—
We wrote this book to support administrators and teachers to work more effectively with emergent bilingual students in schools

—
Majumdar suggests that appropriate teacher development goals should include the integration of new knowledge and skills into practice, the connection of discipline knowledge with curriculum standards, the development of research-based practices, and the achievement of measurable school achievement in a complex school environment.
This book, ESL Teaching: Principles for Success, is written with these teacher development goals in mind. Although the principles in this book can be applied broadly to different contexts, the book and the examples are specific to the U.S. setting. We wrote this book to support administrators and teachers, both mainstream and ESL/bilingual, to work more effectively with emergent bilingual students in schools.
* * * *
The Freeman's bestselling ESL Teaching: Principles for Success has long been a cornerstone text for research-based second language teaching methods and practices. The completely updated edition, with important contributions from coauthors Mary Soto and Ann Ebe, builds on foundational methodology for ESL teaching with the very latest understandings of what researchers, national and state departments of education, education associations and school districts across the country say constitutes best practices for emergent bilingual students. It will be available in late March.