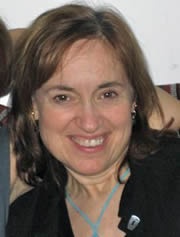 Grant Funding Success
Carissa O'Gara has worked at the Moultonborough, New Hampshire school district since 1986 as a learning disabilities and reading specialist; she is currently the Title I project manager. She is passionate about reading and writing and, when not teaching, she loves to be outdoors hiking, biking, kayaking, and skiing.
I asked Carissa how her district transformed their reading program.
"We were using a basal reader, and we wanted to move away from that canned program and move kids into reading more authentic kinds of literature. So we formed a study group around Fountas & Pinnell's Guiding Readers and Writers: Teaching Comprehension, Genre, and Content Literacy. Every Wednesday, the teachers got together and discussed what we needed to do to unfold a whole new way of thinking about teaching. This yearlong starting point has led to a completely different approach toward meeting the diverse needs of all of our students."
Carissa also told me how excited she is about Fountas & Pinnell's Leveled Literacy Intervention System:
"I cannot say enough positive about the impact of this program: it's a little like magic. It's very comprehensive, embedding reading, writing, word study, and vocabulary instruction, and addresses all the areas in which you want students to become proficient—comprehension, communicating ideas, fluency, vocabulary, all the components of high-quality reading instruction. The kids (and their parents) love the materials. The leveled books are so well written. You can tell there's been a lot of care put into the details. It's a really good fit for our students. It's been a very exciting step.
Leveled Literacy Intervention is an especially good fit for a small school because professional development is built in. It's not often I can travel to offsite workshops. With the resources on the Heinemann website and the CDs that accompany the teacher manual and resource guide, I have what I need to do the kind of teaching that's going to help my students move forward."
Is your district considering moving away from a basal program? Authors Irene Fountas and Gay Su Pinnell have already helped hundreds of thousands of K–3 teachers engage, inform, and inspire early readers and writers. Now, with Guiding Readers and Writers (Grades 3–6), Fountas and Pinnell support teachers on the next leg of the literacy journey, addressing the unique challenges of teaching upper elementary students.
View Fountas & Pinnell's Language and Literacy framework here.
Fountas & Pinnell's Leveled Literacy Intervention (LLI) is small-group supplementary literacy intervention designed for students who find reading and writing difficult. Through systematically designed lessons and original, engaging leveled books, LLI supports learning in both reading and writing and helps students expand their knowledge of language and words and how they work. The goal of LLI is to bring students to grade-level achievement in reading.
Click here to Download a digital sampler.
About the author: Pamela is a Resource Support Representative at Heinemann. She has ten years of publishing industry experience. Pamela is pleased to work with our customers in the Upper Midwest and the Pacific Northwest.