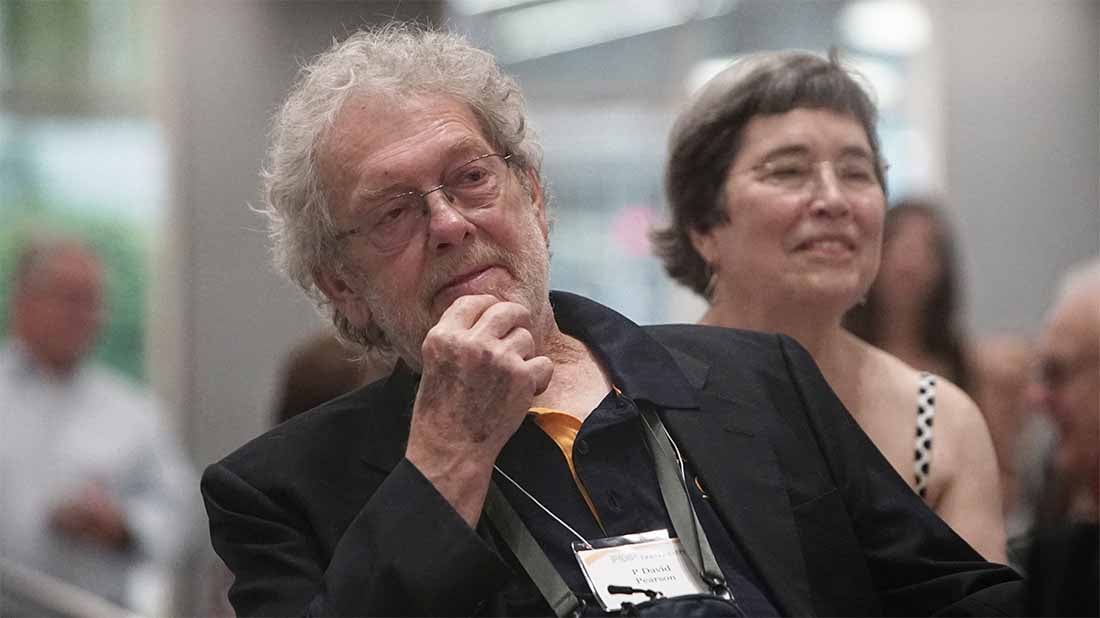 Photo courtesy of Mark Plutynski
We are proud to announce that P. David Pearson, a legend in literacy education and research, is retiring after 48 years. Pearson is emeritus faculty member in the Graduate School of Education at the University of California, Berkeley. His reputation is widely known and respected in the field. Through his numerous research articles, books, videos, and workshops, Pearson's work in reading instruction and policy has impacted countless classrooms. To mark the occasion, a Festschrift celebrating Pearson's life and work took place last week at the UC Berkeley Graduate School of Education.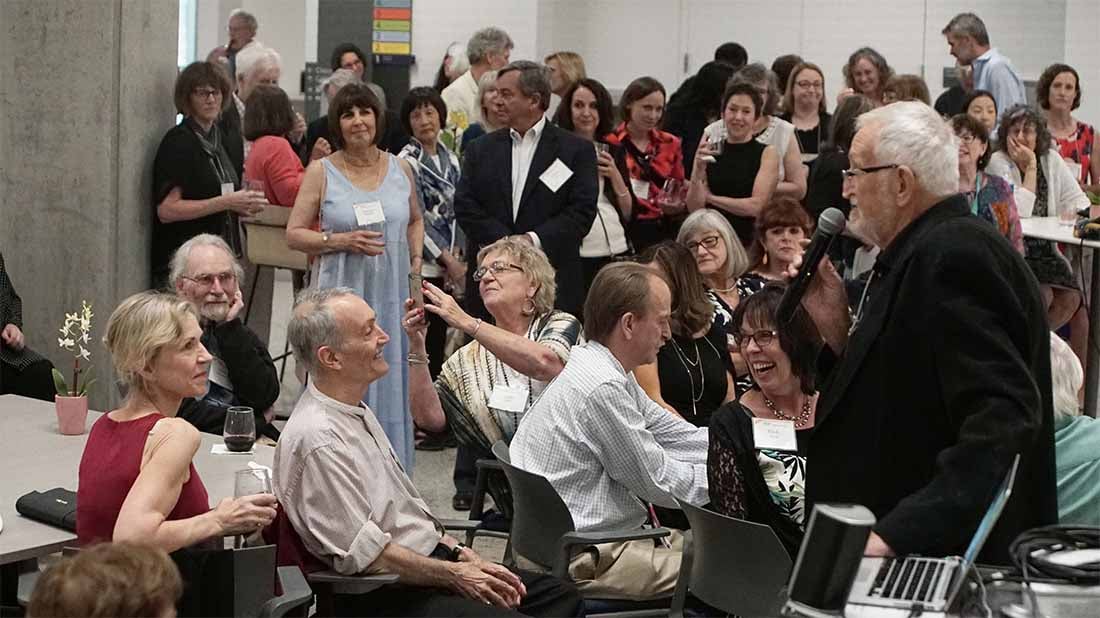 Photo courtesy of Mark Plutynski
To learn more about Pearson and his work on reading theory, instruction, and assessment policy, please visit his website to view articles, slides from presentations, videos of lectures and presentations, unpublished writing, and more.
Pearson's works has impacted generations of Heinemann authors, who in turn inspire more teachers around the world. In the words of a few of our authors...
---
"It's not hyperbole to say that David is the father of reading comprehension instruction—in both research and practice. Long ago, in 1979 to be exact, Dolores Durkin surprised us practitioners, and perhaps the research world as well, with the insight that comprehension instruction, with teachers asking kids a litany of questions in recitation mode, was more often about assessing comprehension than teaching it. A researcher and professor first and foremost, David, along with many colleagues and graduate students at the University of Illinois' Center for the Study of Reading, began to conduct research on cognitive processes in reading. From the get go, David has been committed to translating the work of the research and academic community into thoughtful instructional practices. This work continues to demonstrate how we can teach comprehension in ways that enrich and deepen kids' learning and understanding.
For us, David has been the North Star, guiding our work for many years. Starting out as a teacher, David has never lost sight of what matters most: what happens between teachers and kids in classrooms, every moment of every day. Listening to David, what comes through loud and clear is that he is the consummate learner, who happens to be a teacher of teachers. Whether it's the crucial role background knowledge plays in reading for understanding, or imbuing comprehension strategy instruction in rich talk about text, or inspiring teachers to question and reflect on their own practices, David's ideas and actions will continue to illuminate our understanding and light the literacy path going forward."
-Anne Goudvis and Steph Harvey
•••
"David Pearson's contributions to the field are legion, both directly and through the hundreds—literally—of collaborators and students with whom he has worked. For the purposes of offering just a single paragraph, I focus on one area of his contributions . . . curricularization of research-supported instructional principles and practices. I first heard the term "curricularize" from David. I have understood it to mean baking an instructional principle or practice, or several, into curriculum materials with the goal of making them a regular part of classroom pedagogy. Curricularization is far easier said than done (and it's not all that easy to say), which is perhaps why so many instructional researchers don't do it beyond the confines of an individual research project, if at all. David, however, has worked on curricularization throughout his career. He has worked on numerous reading and literacy programs, print and digital, with an eye toward how they can reflect research findings. He has also worked on programs that address science as well as literacy, most notably the Seeds of Science/Roots of Reading program (http://www.scienceandliteracy.org/), built from the bottom up to reflect research findings in science education, literacy education, and their integration. Researchers can help to carry on David's legacy by prioritizing curricularization work, whether through curricula that can be purchased or curricula available at no cost through districts, open-education resource sites, or other means. Practitioners can help to carry on his legacy by contributing to curricularization efforts (e.g., by partnering in the development phase) and by holding curricula accountable for reflecting long-standing and the latest research findings, as David would want us to do."
-Nell Duke
•••
"It would be difficult to overstate David's influence on my life and work. I am deeply grateful for his contributions to my development as my doctoral mentor and for the years of collaboration that have followed. David's early research on the nature and significance of knowledge for reading comprehension and our shared work on literacy in science have profoundly impacted my current work on knowledge-enhancing and disciplinary literacies. In addition, David's curiosity, intellectual nimbleness, and eloquence have infused all of our work. Most of all, he has been a model of how to be a generous colleague and scholar.
On Saturday, June 30, 2018, we celebrated David's retirement with a festschrift symposium held in the new Graduate School of Education building on the campus of the University of California at Berkeley. The symposium included talks from many of David's closest collaborators and focused on key papers from David's 50-year career. Reflective of David's work, the heart of the symposium was reading comprehension—its nature, instruction, and assessment. The mix of longtime collaborators and more recent students offered the opportunity to consider the significance of David's contributions and the continuing significance of his work as we look to the future of literacy education. You can view the entire symposium and learn more about David's work by visiting the festschrift website."
-Gina Cervetti
•••
"In June, I had the privilege of attending Professor P. David Pearson's Festschrift in Berkeley, California. I had the opportunity to discuss current and future research on teacher learning in the area of reading comprehension. During the event, I heard several themes regarding Pearson's contributions and deep service to the field of reading.
First, Pearson holds dear the role of history in education, teaching, and reading instruction. He reflected on his own history as an elementary school student as well as a doctoral student! He also reflected on his path as a teacher and professor to mentor. Second, Pearson values actions over words. Several presenters encouraged reading researchers and practitioners to place weight on kids' activities as readers and their agency—over their static understanding of texts. I propose that teachers, too, should be agents with choice and voice in enacting quality literacy instruction. Finally, it is clear that Pearson is drawn to comprehension because it is challenging but critical on many levels. It is challenging for teachers to teach comprehension strategies and skills, and it is challenging for researchers to collect and analyze evidence on comprehension instruction; however, it is vital for all students, regardless of their abilities or zip code, to develop as comprehenders or sensemakers of their world. Pearson's work in the area of comprehension bridges research, theory, policy, and practice in important ways, benefiting kids, teachers, schools, and communities. Thank you, merci, to P. David Pearson for all of this!"
-Sarah Woulfin
---
Thank you, and congratulations to P. David Pearson!