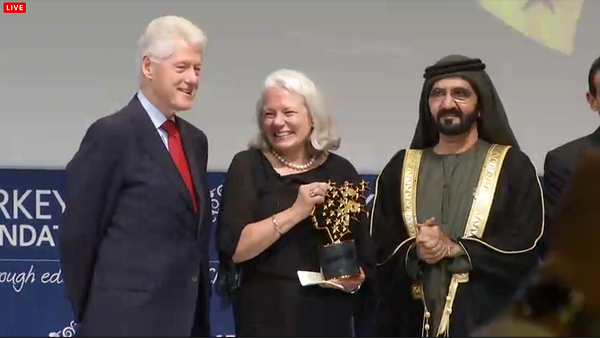 We are excited to announce that Nancie Atwell has won the 2015 Global Teacher Prize.

The Varkey Foundation awarded the prize to her earlier today in a ceremony in Dubai. Nancie has pledged the $1 million award to her school to fund scholarships and improvements.
Nancie paved the road to winning this prize over a forty-year career and three editions of her classic, In the Middle. For many years she taught from behind her big teacher's desk. In 1980, she became aware of the research of Donald Graves in New Hampshire classrooms and, as she writes in In the Middle, she resisted it at first. On a Monday in March of that year, after a weekend of soul-searching, Nancie writes,
"I closed my classroom door and told my students about this elementary school in New Hampshire where kids developed their own ideas for writing, worked at their own paces, produce texts that were read by all kinds of real audiences, and received responses from their classmates and the teacher while they were drafting."
She asked her adolescent learners, could they do this? Did they want to?
"Yes. Some said it tentatively, some resoundingly, but every kid in every class voted yes. Then, together, we made an amazing discovery: they did have ideas to write about […] that school writing could be good for something […]. This was not Camelot. It was genuine, it was happening in my classroom, and it was thrilling."
That very day sparked a revolution in her classroom and soon in middle schools nationwide. Within a few years, she published the massively influential In the Middle with Heinemann. We have been blessed to work with Nancie since then—to play a part in the story that today is recognized across the world as important and inspirational to teachers. Through ten books and videos, dozens of NCTEs, and hundreds of workshops, we have watched her influence millions of teachers directly. We have also seen the impact of her work on generations of Heinemann authors, who in turn inspire more teachers around the world.
Most important to Nancie, herself, are the kids who became writers, readers, and critical thinkers in her classroom. They are the reason she teaches. From Jeff and Bert to Eloise and Avery—they're all inside In the Middle—it's the kids and their work that make the work of teaching so vital to her.
Today we celebrate Nancie winning the Global Teacher Prize. We are so proud for her and for the beliefs and practices this award celebrates—student-centeredness, choice in reading and writing, and valuing teachers as decision makers. We hope this is just the first loud chord struck on behalf of progressive educators the world over.