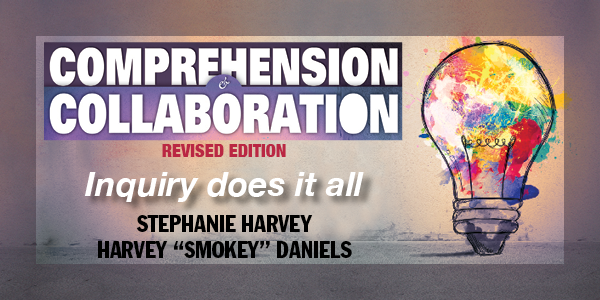 A few years ago inquiry was almost a dirty word in some schools, but not anymore. In fact, if you came of age as a teacher in the NCLB era, you might have never been exposed to inquiry teaching at your school. Yet the Common Core standards have brought resurgent interest in inquiry, and you might be wondering, "Why is it back?" and, more importantly, "What's in it for you and your students?"
Stephanie Harvey and Harvey "Smokey" Daniels wrote the book on it, literally. Their bestseller Comprehension & Collaboration has shown teachers nationwide well-structured small-group inquiries. The preface of their forthcoming revised edition of Comprehension & Collaboration lays out the relationship between the Common Core and inquiry:
As some districts looked more closely at the CCSS and other hybrids, they began to see that highly engaging, experiential, and deeply supportive pedagogy would be required to meet these lofty new goals. These educators became more convinced that inquiry was, in fact, the secret opportunity offered by the standards. The most effective way to "raise the bar" is not with more lectures, worksheets, and test prep—but with more authentic learning that taps directly into kids' curiosity. Through inquiry, we accelerate students' learning through deep engagement with knowledge.
Some important studies from the University of Chicago underscore our this (Lippescu et al. 2011). It turns out that simply adding rigor to the school curriculum can actually cause achievement to go down unless other instructional factors change at the same time. The Lippescu studies verified the common sense notion that when students encounter harder work, they often respond with inattention, resistance, and misbehavior. Unless teachers were able to create a more cohesive working environment and provide additional support to learners, grades and test scores actually dropped in the classrooms studied.
This effect was most pronounced among students who had not experienced previous success in school and were already classified as "low achievers." Their performance deteriorated when teachers simply focused on "rigorous" Common Core–aligned content without changing instruction and building more engaged, supportive classrooms. Furthermore, new research shows that when students' curiosity is evoked in the classroom, their achievement rises significantly. Just making school harder is not enough; we also have to make school more interesting.
For reasons like these, our inquiry circle model has increasingly become the basis for many schools' curricular realignments, as they strive to meet the new national standards and prepare their kids to deal with far more challenging assessments. We have happily traveled around the country helping teachers in 27 states to move from the talk-and-test model to supporting their students' questioning, problem-posing, hypothesizing, information gathering, knowledge building and sharing—and often taking action in the world for the good of humanity.
♦ ♦ ♦ ♦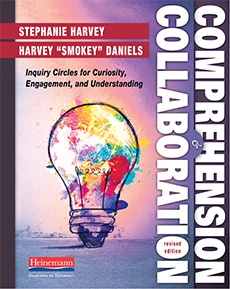 Comprehension and Collaboration, Revised Edition ships in late June. Get pre-publication savings with coupon code CANDC2.
Stephanie Harvey has spent her career teaching and learning about reading and writing. Harvey "Smokey" Daniels has been a city and suburban classroom teacher and a college professor, and now works as a national consultant and author on literacy education.
Click here to view our official page for Comprehension and Collaboration, Revised Edition