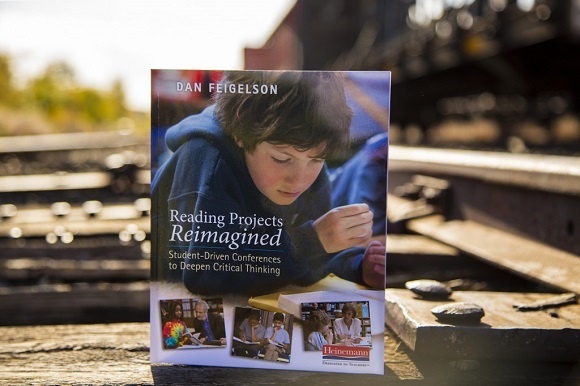 In his recent release, Reading Projects Reimagined, author Dan Feigelson shows us how conference-based, individual reading projects help students learn to think for themselves. He raises an important question about the larger goal of reading instruction: while it's our job as reading teachers to introduce students to new ideas and comprehension strategies, should we not also teach them to come up with their own ideas?
In today's video blog, Dan visits with 6th grader Liam. Their conversation was about "back in time breadcrumb parts."
Liam was reading Lemony Snicket's All the Wrong Questions, a mystery book. Dan and Liam talked about how Liam paid attention to certain parts in order to narrow down the suspects, and Liam observed that readers need to connect these parts, "like breadcrumbs."
Dan agreed that the most important breadcrumb parts were those which connected back to things that happened earlier in the text - synthesis! - and that paying special attention to such parts was important, not just in mysteries, but in any type of book.
Thanks for reporting a problem. We'll attach technical data about this session to help us figure out the issue. Which of these best describes the problem?
Any other details or context?
message
Liam's assignment, aka reading project, was to notice these "back in time breadcrumb parts" and reflect in how they helped him to understand.
♦ ♦ ♦ ♦
Dan Feigelson has worked extensively in New York City schools as a teacher, staff developer, curriculum writer, principal, and local superintendent. An early member of the Teachers College Reading & Writing Project, he has led institutes, workshops, and lab-sites around the world. His newest book is Reading Projects Reimagined: Student-Driven Conferences to Deepen Critical Thinking.