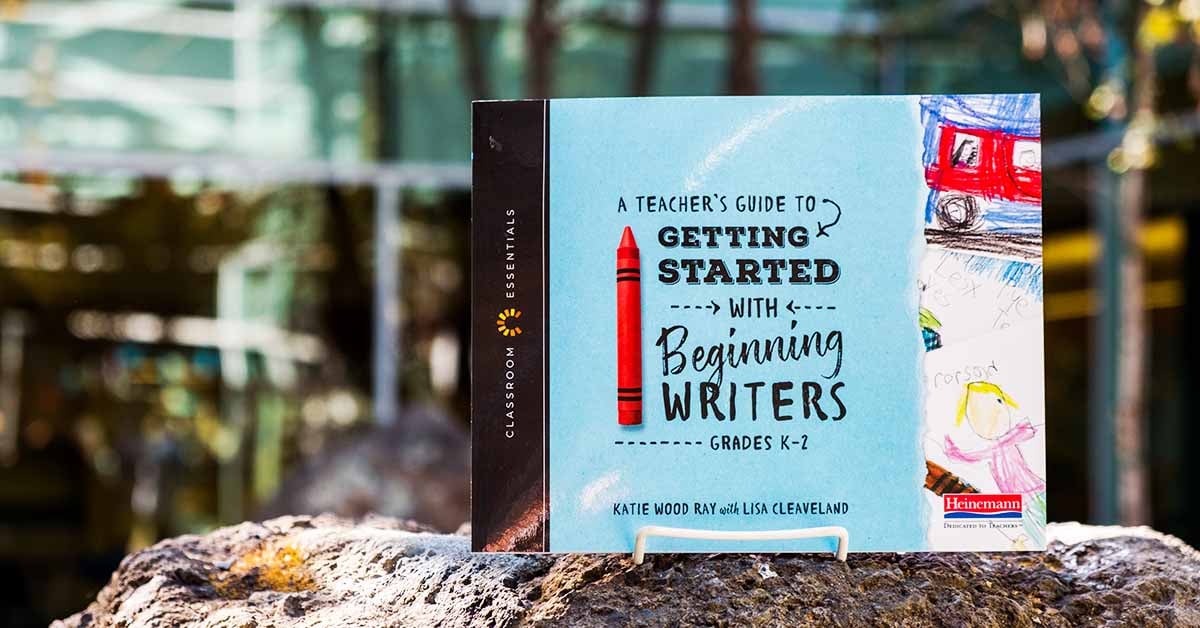 In writing workshop, most of the teaching is about the process and craft of bookmaking, and children learn through language as they use what they know about writing to help them make books. But research shows children also need to learn about language, and much of this teaching happens outside the writing workshop. This teaching is both systematic and responsive to ongoing assessment of what children need.
In many primary classrooms, children spend most of their time learning about language and not so much time learning through language. Why is it important to have both? well, choose your metaphor. Imagine trying to learn to...
play basketball by doing drills (but never playing in a game).
knit by watching a video (but never trying your hand at a scarf).
cook by reading recipes (but never going into the kitchen).
Of course you can't imagine this! Anyone learning to do anything needs to learn both by finding out about it and by doing it. Katie Wood Ray and Lisa Cleaveland co-authored this book in hopes that it will offer you vision, insight, and practical support for how to reach this middle ground.
Getting Started with Beginning Writers is not a script you can follow, of course. But regardless of the children sitting in front of you, and regardless of whether it's the beginning of the year or sometime later, there are very specific big ideas and beliefs that can guide your practice:
Writing must be a predictable, daily routine.
Children need to see themselves as writers, each with a unique identity.
Writing as a process of decision-making and action.
Writers need a disposition for risk-taking.
Writers need a sense of momentum to know they are growing.
writers work with a sense of craft guiding them, and they learn craft from mentors.
Teachers must act as if children are capable, competent writers.
•••
Learn more about Getting Started with Beginning Writers at Heinemann.com
---

Follow us on Instagram @heinemannpub to stay up to date on the latest books, your favorite authors, and upcoming events!
---
Lisa Cleaveland starts her writing workshop each day at 9:00 am sharp. She has been a teacher for twenty seven years and is a National Board Certified Teacher. She was the recipient of the prestigious NCTE/Donald H. Graves Award for Excellence in the Teaching of Writing. Lisa's classroom was the research basis for About the Authors, coauthored by Katie Wood Ray. Today, teachers from all over the United States visit Lisa's writing workshop in North Carolina to watch a master practitioner at work.
You can find her on Twitter at @LisaCleaveland
For many years as the author of bestselling Heinemann books such as About the Authors, Study Driven, Already Ready, and In Pictures and In Words, and as a member of Heinemann's Professional Development Services, Katie Wood Ray gave teachers resources and PD that transformed writing instruction and helped children discover a lifelong love of writing.
In 2014, Katie "moved to the other side of the desk" and joined the dynamic team of editors at Heinemann where she works closely with authors to craft powerful professional books on a range of literacy topics. Katie is also the series editor for the new Classroom Essentials books from Heinemann.
You can find her on Twitter at @KatieWoodRay