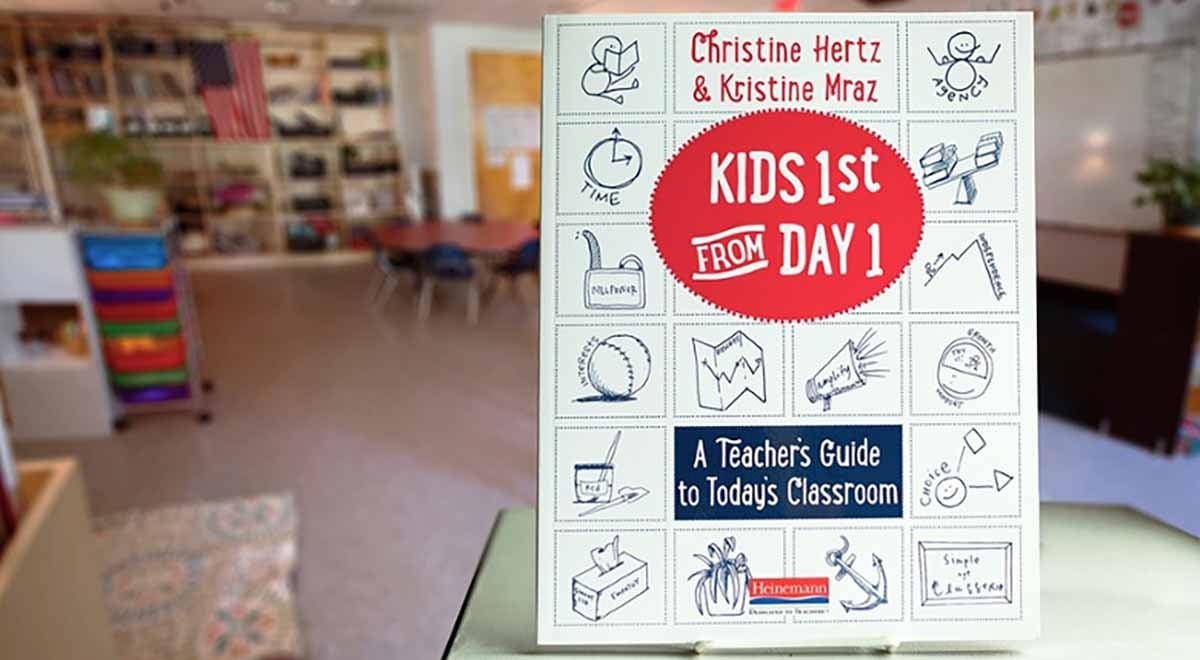 "Chaos does not come to order through not smiling until October. It comes from empathy, time, and a teacher working thoughtfully and relentlessly toward it."
—Christine Hertz and Kristine Mraz
---
At the start of a new school year, it is important to take clear and intentional actions that put kids first from day one. Below are four simple and fun activities that build community, encourage engagement, and value student voices.
Labels: Instead of creating labels around the room before the children arrive, have students label key areas and resources to encourage community and agency as kids get to know their classroom. Doing this will let students know know that the classroom is not just the teacher's space, and give them a sense of ownership. You may be surprised, too, by the labels children come up with!
Self-Portraits: Invite students to paint or draw pictures of themselves and hang them on the walls. This is not only a fun way for students to get to know each other, but a gesture to express how each child's identity is valued and welcome in the classroom community. You will also learn how each student views themselves, and in turn how they may like to be seen.
Photographs: Snap pictures of your students on the first day and then use them all around the classroom—in charts, on book boxes, on labels, anywhere! Your kids will love seeing pictures of themselves around the room, and will be reminded of of their growth throughout the year.
Book Displays: Survey students about their reading interests, favorite authors, or book series, then invite them to work with you to display these in your classroom library. Reflecting and amplifying your students' interests is a powerful way to show that they matter in the construction of the classroom environment and curriculum.
Not only does your classroom environment reflect what you and your class value as a community, but it also has the power to shape your community's values. As you head back to school, try thinking of other creative ways to center kids and build community!

•••
Learn more about Kids First From Day One at Heinemann.com
---
Christine Hertz is coauthor of the Heinemann titles Kids First from Day One and A Mindset for Learning. She finds great joy and challenge in helping all children grow as independent and engaged students. She is passionate about keeping play and creativity at the center of children's lives and curiosity and wonder at the heart of learning. Christine has taught in a wide variety of classrooms from preschool to fourth grade and as an adjunct instructor of education courses. She currently teaches in Worcester, Vermont. You can follow her on Twitter @christine_hertz or visit her web site at christinehertz.com
Kristine Mraz is coauthor—with Christine Hertz—of the new Kids First from Day One, which provides a practical blueprint for increasing the child-centeredness of your teaching practice. She and Christine previously teamed up for the bestselling A Mindset for Learning (coauthored with Christine Hertz), which provides practical and powerful strategies for cultivating optimism, flexibility, and empathy alongside traditional academic skills. Kristi teaches Kindergarten in the New York City Public schools. In addition to writing and teaching, she consults in schools across the country and as far away as Taiwan. She primarily supports teachers in early literacy, play, and inquiry based learning. You can follow all of her adventures on twitter @MrazKristine or on her blog kinderconfidential.wordpress.com