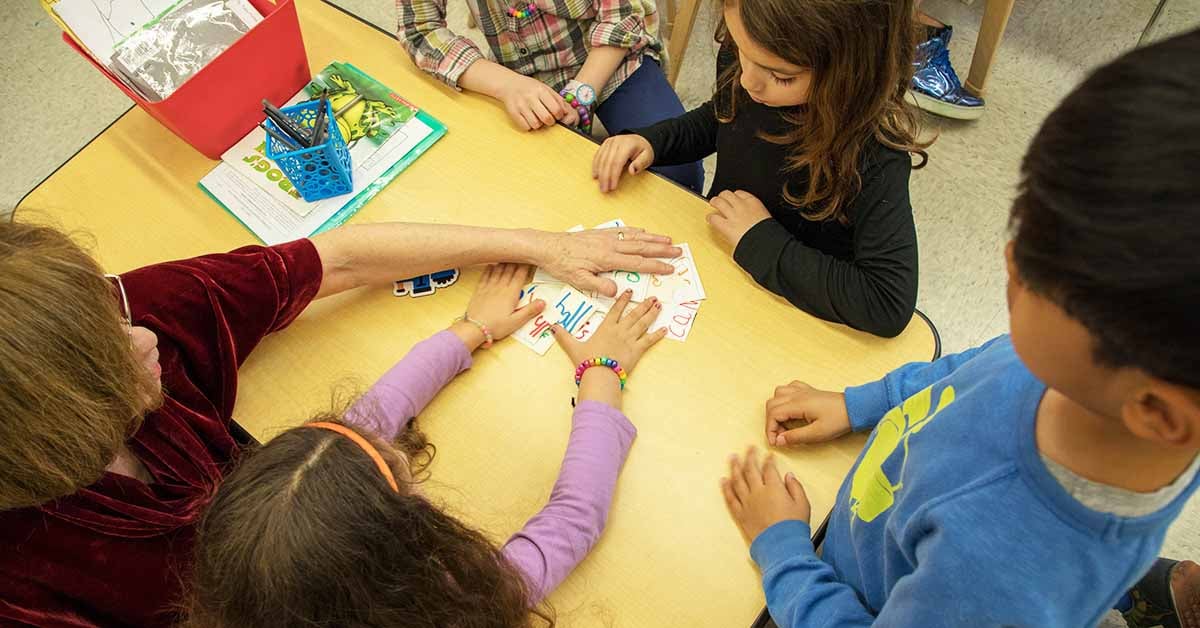 Monday, August 27 through Thursday, August 30 the Teachers College Reading and Writing Project will host their annual August Twitter festival, holding multiple chats each night. This year's topic: Phonics.
Phonics has been top of mind to many primary teachers, since the exciting release of the brand new, hot-off-the-press K-1 Phonics Units of Study series earlier this month by Lucy Calkins and colleagues. The topics to be covered at this week's Twitter festival, listed below, will not only provide a wealth of information about the series, they'll also provide invaluable tips to help the launch of this curriculum go its best.
The Phonics Units of Study series is a first on this topic from Lucy and her team. It provides state of the art lessons and activities to help youngsters gain crucial knowledge about how letters and words work. The teaching methods used are the same tried and true teaching methods as the Units of Study in Reading and Writing. When classrooms use all three, teachers and students will have the benefit of a cohesive and streamlined language arts curriculum. For many young learners, the results will be immediate and dramatic. The series directly supports students in applying what they are learning during phonics time to their reading and writing, and does so in ways that are captivating for young children (Songs! Games! Chants! Beautiful illustrations! Plus, mascots!).
If you plan to teach the new Phonics Units of Study, mark your calendar now for an exciting week of learning. And be sure to spread the word! The schedule is as follows:
---
Monday, 8/27
7:30PM
Launching Units of Study in Phonics in Kindergarten!
Hosted by Emma Bemowski (@EmmaBemowski) and Rebecca Cronin
8:30PM
Small Group Work in Phonics; K-1
Hosted by Amanda Hartman (@amandalah) and Sarah Picard Taylor
Tuesday, 8/28
7:30PM
CVC is Such a Big Deal; K
Hosted by Rachel Rothman (@RRothmanPerkins) and Natalie Louis (@natalielouis13)
8:30PM
Everything You Want to Know about Vowels; 1
Hosted by Liz Franco (@Liz_Dunford), Jen DeSutter (@JenDeSutter), and Havilah
Jespersen (@havilahjespers)
Wednesday, 8/29
7:30PM
All you Need to Know about Assessments in Phonics; K-1
Hosted by Natalie Louis (@natalielouis13) and Marjorie Martinelli (@Marjorie_Writes)
8:30PM
Bringing Reading and Writing Right Into Phonics Work; K-1
Hosted by Katrina Davino (@katrinadavino) and Valerie Geschwind (@valgeschwind)
Thursday, 8/30
7:30PM
Phonics Projects; K-1
Hosted by Amanda Hartman (@amandalah) and Dani Sturtz (@dani_TCRWP)
8:30PM
Looking Ahead to Vowels; K
Hosted by Angela Baez (@Angela_Baez), Casey Maxwell (@ctyinthecity), and Katie
Wears (@wearskm)
---
Each Wednesday night at 7:30pm eastern, The Teacher's College Reading and Writing Project hosts a Twitter chat using the hashtag #TCRWP. This week, join TCRWP staff developers and Phonics Units of Study co-authors for a special Twitter chat series, to be held Monday through Thursday.
Not on Twitter? Take Heinemann's free Twitter for Educators course here.
---
Anna Cockerille, Heinemann Editor and Coauthor of Bringing History to Life (Grade 4) in the Units of Study for Teaching Writing Series, was a teacher and a literacy coach in New York City and in Sydney, Australia, and later became a Staff Developer and Writer at TCRWP. She also served as an adjunct instructor in the Literacy Specialist Program at Teachers College. Anna has been a researcher for Lucy Calkins, contributing especially to Pathways to the Common Core: Accelerating Achievement (Heinemann 2012), and the Units of Study for Teaching Reading, Grades 3–5 series (Heinemann 2010). Anna is currently serving as an editor on the forthcoming Phonics Units of Study series for grades K-2, and previously served as an editor for the Units of Study for Teaching Reading, K–5 series.
Follow her on Twitter @annagcockerille