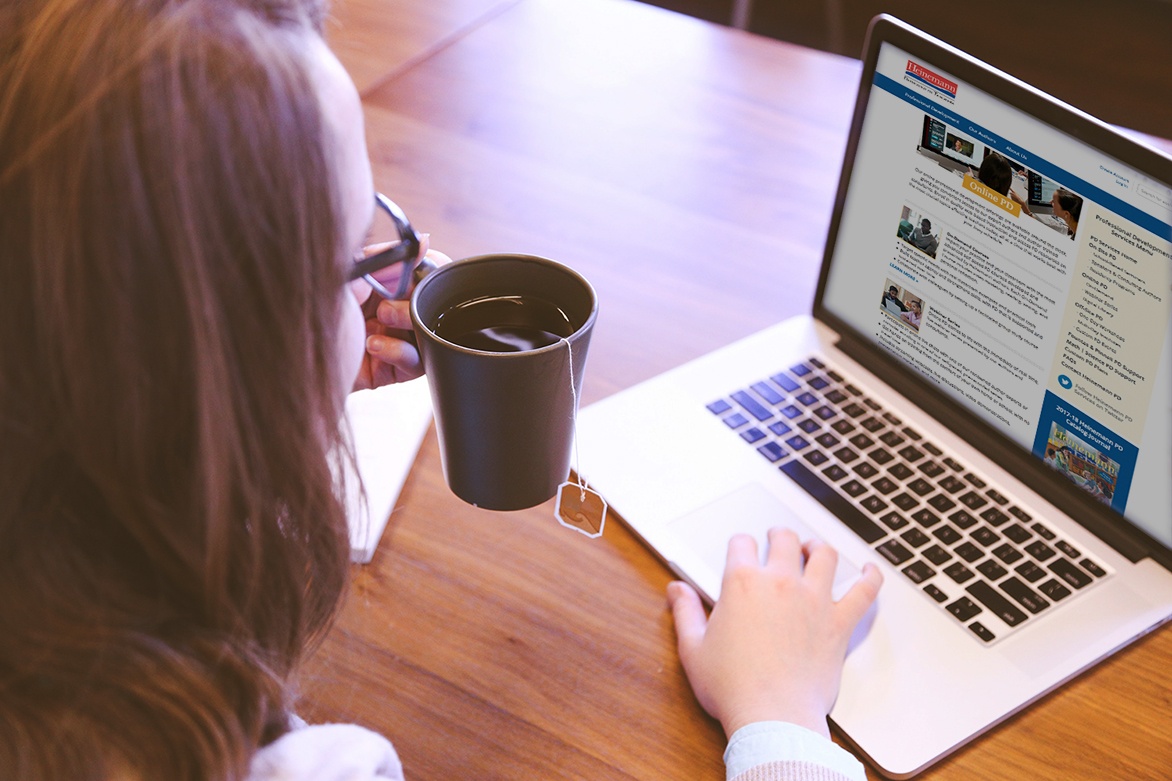 *Adapted photo, original by Dai KE on Unsplash
We know professional development is invaluable for teaching and learning. We also know the planning that accompanies it can be daunting—and sometimes not even possible—in our teaching situations.
Attending in-person PD sometimes means that all the stars must align: purchase order submission, budgets that allow for and value professional learning, geographic access, timing, travel, planning for a sub—and more. For these reasons, we work with our authors to create online professional development experiences so that high quality, engaging, and research-based professional learning is accessible to everyone.
You don't have to be tech-savvy to participate in the online PD we offer. Even if you don't have barriers to attending an on-site or off-site event, perhaps your learning preferences include smaller chunks of time, flexible scheduling, or time and space to process, practice, reflect, and synthesize new learning.
Heinemann Professional Development offers 3 kinds of Online PD: live webinar series, recorded webinar series, and "On-Demand" courses. What exactly are these?
Let's take a look.
What will I do in a live Webinar Series?
Attend interactive, online sessions live with authors
Engage with authors and participants during sessions through chat feature
Devote about an hour of time for each of three sessions, over a given time period
Gain access to the recorded webinar sessions (and a chat box transcript) for up to 90 days after the conclusion of the webinar series
Join through Zoom, a highly flexible and intuitive platform
And, an added BONUS...
No travel!
Time to practice and reflect new learning between sessions
CEU's available
Our offerings refresh each season. Past series have been led by Ellin Keene, Dan Feigelson, Carl Anderson, Kristine Mraz, Christine Hertz, Fountas and Pinnell-trained consultants, and Jennifer Serravallo—just to name a few!
How are Heinemann's recorded Webinar Series different? (led by Fountas and Pinnell consultants)
Attend sessions on your own schedule
Sessions range from 45-75 minutes, organized into a series of four sessions
Tuition includes access to the recorded webinar sessions for 30 days from the date of purchase.
So… then what is an On-Demand Course?
If you are the type of learner that benefits from setting your own schedule and enjoys making use of video and downloadable resources to match your individual professional goals, a Heinemann On-Demand course could be the best option for you.
In an On-Demand course you have access to:
content-rich, online courses written by our authors, organized into sessions and broken down into smaller parts
tons of video (some have upwards of 40+!) that model instruction (whole-class, small-group, individual), classroom interactions, and highlight author expertise and insight—and more
downloadable resources, PDFs of book excerpts, articles, and response boxes for reflection and social learning
What else should I know about On-Demand Courses?
Single Session, Mini-Course (3-4 sessions), or Full-Length (6-8 session) options
Graduate Credit and CEU's available (NYC Educators looking for P credits? We offer two full length courses through ASPDP)
Access all content—sessions, videos, downloadable resources— for 365 days from date of purchase
Powered by the Heinemann Digital Campus
We currently have 11 full-length courses, five mini-courses, and nine single sessions presented by authors such as Sue O'Connell, Kristine Mraz and Marjorie Martinelli, Jennifer Serravallo, Regie Routman and more!
Questions on any of these options? Tweet us @HeinemannPD or email us at OnlinePD@Heinemann.com so we can help you plan for PD that meets your needs.