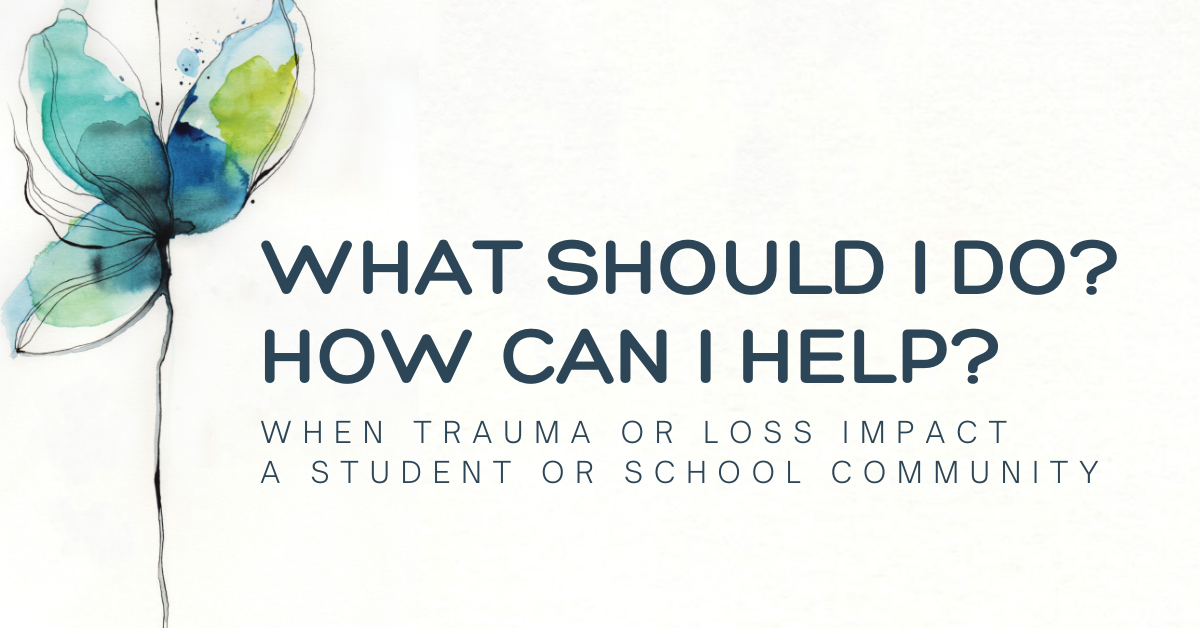 It's no secret that trauma, loss, grief, and death can feel daunting to talk about. We may feel unprepared to comfort the grieving or unheard when we are bereaved. We may fear that we will say too much. That we have said too little. Sometimes, we say nothing at all, even when we deeply care.
When trauma or loss impact a student or school community, there are steps and actionable practices we can take to tailor a grief-responsive approach that meets students' needs while following school wide protocols and making space to support our own wellbeing. In Chapter 2 of Learning from Loss, you will find distilled checklists and reminders to guide you in the midst of a trauma or loss that impacts individual students or the entire school community. Consider these suggestions a starting place, each item a gentle reminder of possible approaches available to you and always flexible. In times of loss, it is not always resources but spaces for connection, reflection, solidarity, and sharing that nourish and sustain us
Learning from Loss is your guide to getting started with grief work, providing a path that can help you determine the best course of action in the wake of a loss that impacts a student or school community.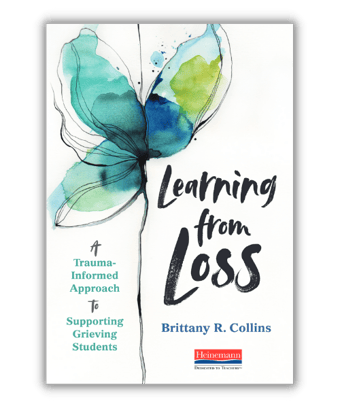 To learn more about Learning from Loss, visit Heinemann.com.
Visit Grief-Responsive Teaching for more resources and support.
Brittany Collins is an author, educator, and curriculum designer dedicated to supporting teachers' and students' social and emotional wellbeing, especially in times of adversity.Her work explores the impacts of grief, loss, and trauma in the school system, as well as how innovative pedagogies—from inquiry-based learning to identity development curricula—can create conditions supportive of all learners. She is the Founder of Grief-Responsive Teaching, a professional learning community and resource hub that supports students' and teachers' wellbeing in times of loss.

Brittany is passionate about connecting theory and practice to foster collaborative relationships with students, teachers, and writers around the world. She is the Director of Teaching & Learning and Product Manager of Global Writing Workshops at Write the World LLC, where she designs, develops, and implements original writing curricula and supports middle and high school students and teachers across continents.

Her writing has appeared in The Washington Post; Education Week; Edutopia; Inside Higher Ed; We Need Diverse Books; English Journal and Literacy & NCTE of the National Council of Teachers of English; Teachers' and Writers' Magazine; and Thrive Global, among other outlets, and she has developed curricula for PBS Learning Media, Write the World, Smith College, Boston University, and Race Project Kansas City, among other schools and organizations.

Brittany studied English and Education at Smith College and the University of Massachusetts, Amherst; Creative Nonfiction at the Yale Writer's Workshop; and is pursuing her certificate in Trauma Studies from the Trauma Research Foundation.

You can connect with Brittany on her website or on Twitter.