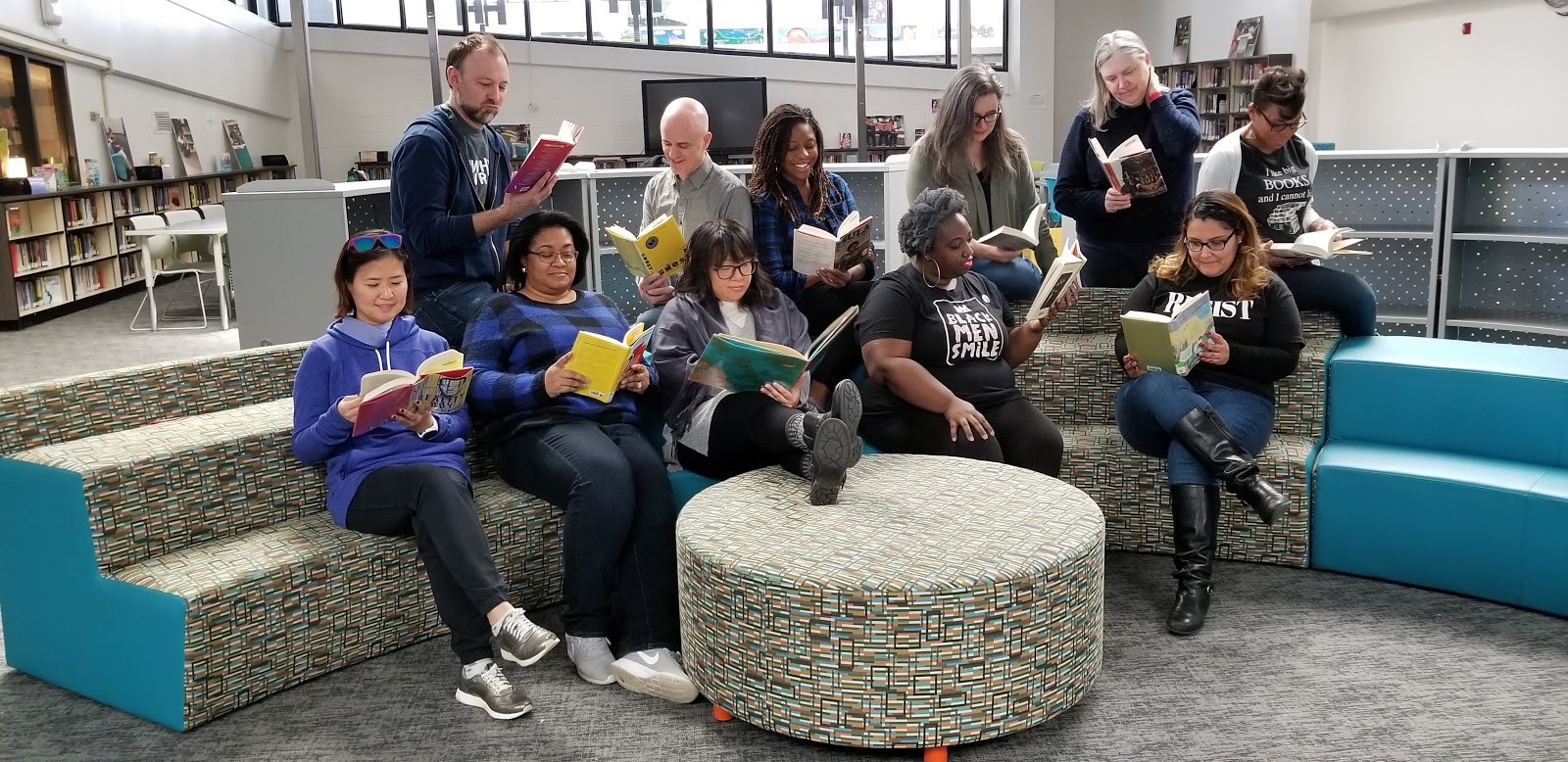 ---
Django: This is the way things are. You can't change nature.
Remy: Change is nature, Dad. The part that we can influence. And it starts when we decide.
—Ratatouille
---
By Julie Kwon Jee
It took me forty-one years to have my Ratatouille moment.
That singular scene in the 2007 animated film, when food critic Anton Ego takes a bite of Remy's dish and is carried back to a beautiful memory of his mother preparing his favorite food with love and care, is magical. The viewer is suddenly swept into Ego's reverie as he's flooded with emotions and senses from his past. On July 19, 2018, I read a short story by Renée Ahdieh that shocked me with its familiarity. Its ability to see me and my experiences as a Korean American resonated deeply. Without giving too much away, "Chah-Muh" (loosely translated to "take the pain" or "be patient") brought up searing memories of remaining silent in the face of racism and tamping down my anger and fear in favor of trying to ignore the hate.
It shook me up. Other books about the Asian American experience affected me, but not like this. I could somewhat relate to Waverly's fear of failure in The Joy Luck Club. I was fascinated by Doc Hata's apparent assimilation and gentle acceptance by his small town in New York State in A Gesture Life. "Chah-Muh" was different. It instantly transported me back into my teenage years punctuated with racist comments and gestures as well as a smattering of physical altercations. I remembered having to "chah-muh" all the time. When I read this story, I felt seen.
As a high school English teacher and a lifelong bibliophile, one would think I should have had this epiphany far earlier, but books written by Asian Americans about Asian Americans are not easily found, especially in children's literature. According to a 2017 study of 3,700 children's books by the Cooperative Children's Book Center, School of Education, University of Wisconsin–Madison, only 7 percent were by Asian Pacifics / Asian Pacific Americans. A graphic based on their 2015 statistics is a vivid reminder of what is not seen in the books our children and, in turn, our students read.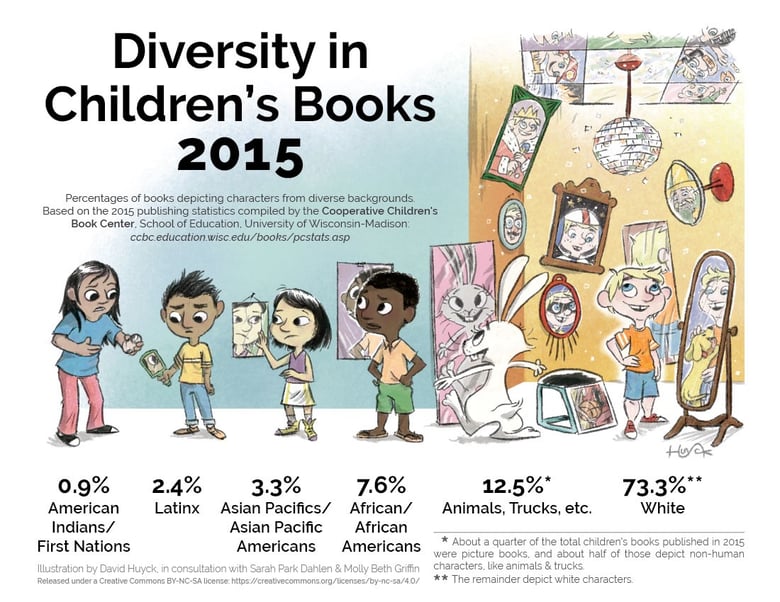 Mirrors were scarce. My reading identity focused on characters like Jessica and Elizabeth Wakefield, Francie Nolan, and King Lear. There were a few exceptions, but my constant immersion into the lives of white heterosexual cisgender characters and their experiences was my norm. When I began teaching in 2000, the literary canon was firmly established in my mind and carried over into my own curriculum. For over ten years, the only whole-class texts my seniors read were works by Sophocles, William Shakespeare, Geoffrey Chaucer, Henrik Ibsen, Fyodor Dostoevsky, Cormac McCarthy, and Jean-Paul Sartre. It never occurred to me that I was giving my students a limited view of what constituted works of literary merit. They dug deeply into the texts and found connections here and there, but they were working within boundaries I had carefully constructed for them. They were never encouraged to explore the literary landscape or even discuss their personal reads.
I took my first tentative steps toward a more inclusive curriculum about five years ago thanks to conversations with amazingly patient colleagues, both in my school and on Twitter. I began to understand that I was doing a tremendous disservice to my students. I knew their identities as readers had to reflect their experiences or, in turn, broaden their scope. I wanted to meet my students where they were and give them the tools to become lifelong readers who engaged with the world around them and endeavored to understand their place in it.
I started by making sure my classroom library was brimming with books that were, as Dr. Rudine Sims Bishop called them, "windows, mirrors and sliding doors" into a vast array of experiences that both reflected my students' lives and built empathy for characters that lived in unfamiliar cultures and time periods. Recent additions include There There by Tommy Orange and Here to Stay by Sara Farizan. Building a space where students felt safe enough to share their reading selections with their peers, delve into literature without fear, and voice their opinions was vital. Gradually, I saw that merely filling intermittent pockets of independent reading time with inclusive books was not enough. They needed to feel seen, explore, ask questions, and learn from one another during our whole-novel studies as well. I also realized I needed my students' input as we broke apart my Advanced Placement Literature and Composition curriculum and started to rebuild.
My action research as a Heinemann Fellow will focus on the following question: In what ways does a continuous exploration of identity via literature and personal reflection increase engagement and encourage students to become active participants in choosing the books they read both inside and outside their classrooms?
This past September, I discussed my action research project with my twelfth graders and asked them to share their thoughts and opinions about their reading identities with me over the course of the school year via Google Forms. In the first survey, one student of color shared that she "never felt included or related to any of the books [she] read in high school." Other students shared their thoughts about the need for inclusive books. One student stated, "I think diverse texts are very important to students because I feel that we can become quite sheltered based on our environment as most of us have been surrounded by the same people since we were young and probably lived in the same area all of our lives." Another student said, "Diverse texts are important for students to get a real world understanding. They are necessary to avoid letting young readers develop unrealistic views of the world and themselves." It was evident that the literature we read needed to be a bridge, not a barrier, to reality. Since then, I've noticed that even though my students agree they need more exposure to inclusive texts, they often don't know where to begin. After listening to excellent book talks by our school librarian as well as a local bookseller and perusing the dozens of titles made available to them, my seniors have been eager to tackle books that disrupt their previously conceived notions of what constitutes literature.
Alongside my outstanding colleagues in the third cohort of the Heinemann Fellows program, I hope to grow as an educator as I learn from my students' literary journeys over the next two years. We will have important conversations about identity and race and why representation matters in literature. Students will leave their literary comfort zones as we add inclusive texts to my classroom library and build curriculum together. I'm excited to have ongoing conversations with them about the texts they've read, the texts they're reading, and the texts they would like to read. I'm also looking forward to sharing their student-created book stacks in a future blog post. My students shouldn't have to wait forty-one years like I did for their Ratatouille moments. Their journeys as readers will take a much broader path than my own—constructed by our experiences, our curiosity, and our vision of what literature truly is.
*Follow our progress on future posts on the Heinemann Fellows blog as well as on Instagram (@mrs_jee_ponders).
…
Works Cited
Ahdieh, Renée. 2018. "Chah-Muh." In Hope Nation: YA Authors Share Personal Moments of Inspiration, edited by Rose Brock, 203–209. New York: Philomel Books.
Bird, Brad, Jim Capobianco, and Jan Pinkava. 2007. Ratatouille. Burbank, CA: Walt Disney Home Entertainment.
Cooperative Children's Book Center. "Publishing Statistics on Children's Books about People of Color and First/Native Nations and by People of Color and First/Native Nations Authors and Illustrators." Retrieved from ccbc.education.wisc.edu/books/pcstats.asp.
Huyck, David, Sarah Park Dahlen, and Molly Beth Griffin. 2016. "Diversity in Children's Books 2015" infographic. Sarahpark.com blog, September 14. Retrieved from https://readingspark.wordpress.com/2016/09/14/picture-this-reflecting-diversity-in-childrens-book-publishing/.
---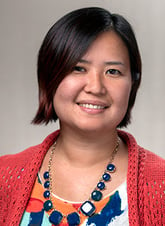 Julie Kwon Jee is a National Board Certified Teacher dedicated to creating safe classroom environments where students flourish and become lifelong readers and writers. She currently teaches literature, writing composition, and AP English Literature at Arlington High School in LaGrangeville, NY. Julie serves on several teams and committees in her school district, is a founding organizer at EdCamp Hudson Valley, and is a member of the Hudson Valley Writing Project (part of the National Writing Project). Julie is a pioneer in integrating technology and digital tools into literacy learning, and in 2013 was nominated as one of 40 top innovators in education by the Center for Digital Education. Through her robust range of work, Julie seeks to lead by empowering others and bringing equity into the classroom.
Follow Julie on Twitter @mrsjjee