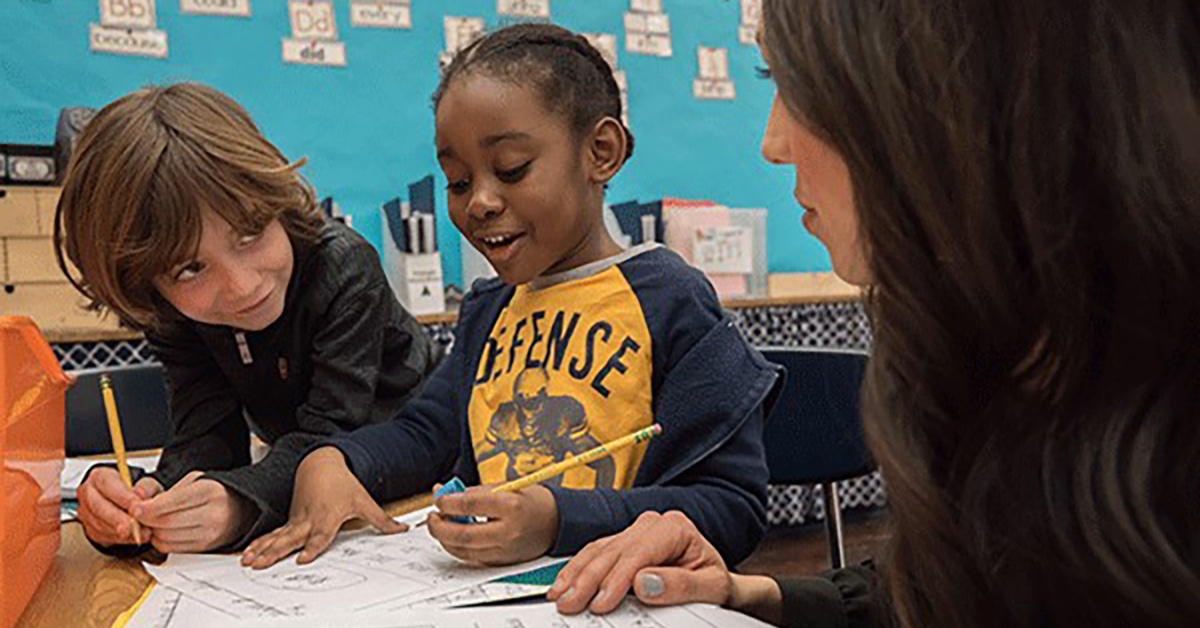 At this week's TCRWP Twitter chat, staff developers Mike Ochs and Celena Larkey will lead a discussion on the place of vocabulary and word study in and out of workshop. This duo is sure to bring a wide range of expertise to the chat: Mike is co-author of Reading the Weather, Reading the World, in the 4th grade reading Units of Study series. This unit delves deeply into how to help students read for content, that all-important hallmark of upper grade reading. A key part of this instruction is helping students to assimilate often new and complex domain-specific vocabulary. Celena played a major role in bringing the TCRWP's new Phonics Units of Study to life. In addition to being part of the original think thank that conceptualized the series, she is co-author of Marvelous Bloopers, part of the first grade series.
The range of expertise of our chat's facilitators represents the range of word study instruction needed to help students become the strongest readers and writers they can be as they move through the grades. And this is a key point: the value of word study instruction lies not in the concepts covered during word study time, but in the amount that students transfer what they learned during word study time to their reading and writing. If students do not transfer their word study learning, the word study instruction is not valid. To be sure, transfer might not be observable right away. Students might need certain lessons over and over before they are ready for independent application. But word study instruction should have transfer as its end goal, nonetheless.
This is not to say that large amounts of students' invaluable independent reading and writing time should be taken up with word study. TCRWP experts still believe that most word study instruction is best done outside of reading and writing workshop, and that it should be short, 20 minutes or less per day. In the primary grades, these word study lessons might target topics such as: the different sounds of the letter a, the mystery of the silent e, putting two consonants together to form a blend or digraph. In the upper grades, these word study lessons might focus on morphology, such as Greek or Latin roots; or specific vocabulary students need for a content study.
These outside of workshop lessons will be valuable, to be sure, but the real value lies in the way that teachers refer to them during reading and writing time so that students apply their word study learning. It helps if teachers refer to word study instruction often and using the same terms while students read and write, and also if teachers have visuals such as charts used during word study time on display for students to use during reading and writing. The book Small Groups to Support Phonics, part of the new phonics series, describes small group instruction meant to be done during reading and writing time to support students' transfer of their word study learning.
•••
If you'd like some ideas for ways to bolster your students' word knowledge as well as support transfer to their reading and writing, be sure to mark your calendar for this week's Twitter chat.
---
Each Wednesday night at 7:30pm eastern, The Teacher's College Reading and Writing Project hosts a Twitter chat using the hashtag #TCRWP. Join @readwritemike & @celenula to chat about vocabulary and word study tomorrow evening.

Not on Twitter? Take Heinemann's free Twitter for Educators course here.
---
Anna Cockerille, Heinemann Editor and Coauthor of Bringing History to Life (Grade 4) in the Units of Study for Teaching Writing Series, was a teacher and a literacy coach in New York City and in Sydney, Australia, and later became a Staff Developer and Writer at TCRWP. She also served as an adjunct instructor in the Literacy Specialist Program at Teachers College. Anna has been a researcher for Lucy Calkins, contributing especially to Pathways to the Common Core: Accelerating Achievement (Heinemann 2012), and the Units of Study for Teaching Reading, Grades 3–5 series (Heinemann 2010). Anna is currently serving as an editor on the forthcoming Phonics Units of Study series for grades K-2, and previously served as an editor for the Units of Study for Teaching Reading, K–5 series.
Follow her on Twitter @annagcockerille