"Poems explore everything. You can go anywhere," explains Amy VanDerwater, author of Poems Are Teachers . In her new book, VanDerwater argues that poems should be the backbone of writing instruction, instead of being swept under the carpet as an afterthought. She shows us that there is a poem for every kind of life experience, big or small.
Here, we hear from VanDerwater about the varying misconceptions behind what poetry can mean for teachers and students. How do these misconceptions inhibit our understanding of poetry? What can we do to combat these misconceptions?
Thanks for reporting a problem. We'll attach technical data about this session to help us figure out the issue. Which of these best describes the problem?
Any other details or context?
message
Poems are the words of people who long to tell stories, teach, invite thoughts. Poems are shaped differently than prose, but reading poetry closely is a smart way to explore the qualities of all strong writing, from meaning to organization. -- Amy VanDerwater
♦ ♦ ♦
---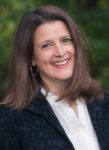 Amy Ludwig VanDerwater is a former classroom teacher and author of children's books including Forest Has a Song, Every Day Birds, and Read! Read! Read!. She is a graduate of Teachers College and co-author of Poetry: Big Thoughts in Small Packages, a part of the Calkins' Units of Study in Opinion, Information, and Narrative Writing series. Connect with Amy at her popular blog, The Poem Farm, at amyludwigvanderwater.com, or on Twitter @amylvpoemfarm.