by Pamela Foley
Pamela is a Heinemann resource support representative who works with our customers in the Upper Midwest and Pacific Northwest. She has eleven years of publishing industry experience.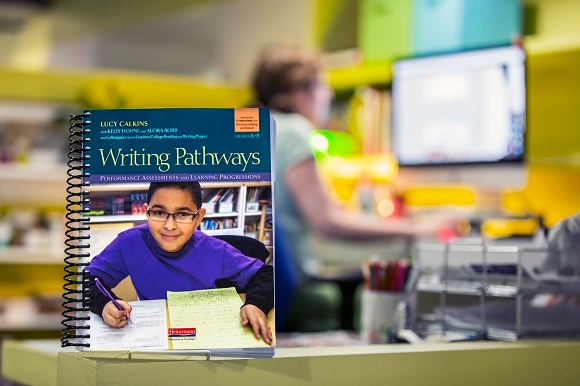 Carissa O'Gara has been a learning disabilities and reading specialist for the Moultonborough Central School, in Moultonborough, NH, since 1986, recently serving as the Academic Coordinator and Teacher Leader for K–4 students. She is passionate about reading and writing! When I asked her what small schools need to stay current in writing instruction, here's what she told me:
"The professional development within Units of Study for Teaching Writing [by Lucy Calkins and her colleagues in Columbia University's Teachers College Reading and Writing Project] beefs up my teaching without taking a cookie-cutter approach. Its minilessons target student needs, explicitly teaching a strategy or skill. The way I teach the minilesson using demonstration, guided practice, explanation, and inquiry is up to me. Once the students are writing, my conferences with individual students allow me to gather my thoughts about what the writer is doing or attempting to do and share a teaching point. I then link this tip to future writing.
"The companion resource Writing Pathways: Performance Assessments and Learning Progressions provides the rubrics, writing exemplars, and learning progression I need to analyze students' writing and plan the next step for the class, small groups, and individuals. What better evidence for our teaching is there than looking at and discussing student writing?
"I also suggest teachers find a quiet moment and open A Guide to the Common Core Writing Workshop, in which Lucy Calkins carefully outlines a step-by-step plan for giving students the just-right practice they need to meet state standards.
"The Units of Study materials provide all the tools teachers need to help students set goals and excel as thinkers and writers. And the best part is, they're affordable. Small schools, this is for you. Most importantly, students are motivated to write as they get to choose the topics that matter to them and student engagement makes all the difference."
Building on the best practices and proven frameworks in the original Units of Study series, the new series provides grade-by-grade plans for state-of-the-art writing workshops that equip middle schoolers to meet, even exceed, rigorous state standards.
Watch a Units of Study K–8 webinar