We are pleased to announce that our Transition to Algebra program was recently honored at the 58th annual New England Book Show, hosted by Bookbuilders of Boston. It was recognized as Best in Category for Print (elementary through high school) for its design, quality of materials, and workmanship.
Developed by June Mark, Paul Goldenberg, Jane Kang, Mary Fries, and Tracy Cordner of Education Development Center, Transition to Algebra is a unique approach to preparing students for success in algebra. It uses logic puzzles, activities, and in-depth explorations to help students cultivate a foundational algebraic understanding. You can learn more and see samples at TransitiontoAlgebra.com.
Further congratulations go to Education Development Center; their SolveMe Mobiles App, based on the types of puzzles found in many of the Transition to Algebra units, was recognized as Best in Category for Interactive Media.
♦ ♦ ♦ ♦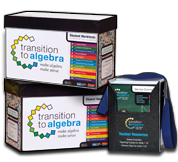 Transition to Algebra (TTA) grew out of an initiative of the Learning and Teaching Division at Education Development Center (EDC), an acclaimed curriculum development laboratory specializing in science and mathematics instruction. Building on EDC's hands-on, inquiry-based approach to learning, TTA uses algebraic logic puzzles and explorations to help students shift their ways of thinking from the concrete procedures of arithmetic to the abstract reasoning that success with algebra requires. Learn more.