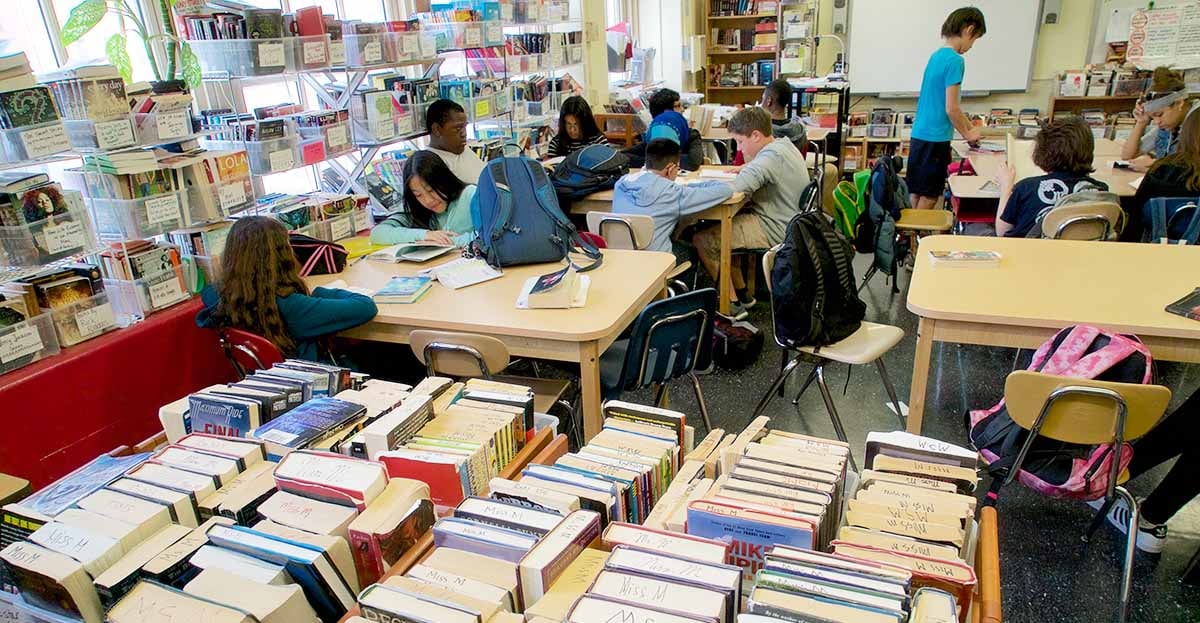 It may seem a paradox that consistency breeds creativity. It seems that creativity would stem from the new, the original, the constantly changing. But often, underpinning creative endeavors is predictability and order. Consider an artist's studio: materials are often carefully organized in predictable ways, systems are in place for how the artist will work. The bulk of the artist's time is spent creating, not thinking about locating tools or organizing her schedule.
In the same way, in workshop classrooms, children are freed from the worry about where to find tools, or how their work will go because these things are predictable. Children's focus can be on their reading or writing, and not on what to do next. This predictability has great power to support transfer of knowledge, from school year to school year, across a school day, and from teacher-directed instruction to students' independent practice.
The structures you use in the first workshops of the year are identical to the structures you'll use in the final ones. You don't need to launch your readers or writers with modified versions of minilessons, for example: the way your minilessons go (connection, teaching, active engagement, link) will be the same in September as in June. Then, in each workshop, you'll send the kids off for independent work, and at the end, you'll gather them back for a Share. Of course, the nature of what you teach will change, but the structures will not. Further, unless your students are brand new to workshop, they'll be bringing with them a knowledge of how workshop goes from previous years. This is truly a wonderful thing: rather than taking instructional time at the start of the year to get students up to speed on the way reading and writing will go in your classroom, you can jump right in.
Even when students are as young as first grade, you can support transfer from the previous year by making it transparent. Remind kids that they can and should be bringing with them all they know from last year, and help them name specifically what they know about how reading or writing workshop goes. See if they can name the parts of a workshop, or even the parts of a minilesson. You might cue them to share what they know about working in partnerships, or what to do if they get stuck during independent work time. You might even get charts from students' previous classroom(s)—these visuals serve as instant reminders that last years' knowledge is still very much valued.
•••
At this week's TCRWP Twitter chat, staff developers Anna Sheehan and Jessica Greiss will lead a discussion on ways to support all sorts of transfer: from year to year, across subject areas, from scaffolded instructional time into independent work time. This chat will help you set your students on the strongest possible course for this year, and beyond.
---
Each Wednesday night at 7:30pm eastern, The Teacher's College Reading and Writing Project hosts a Twitter chat using the hashtag #TCRWP. Join @AnnaSheehan672 & @MrsJessToTheG to chat about transferring strong workshop practices, skills, and tools tomorrow evening.
Not on Twitter? Take Heinemann's free Twitter for Educators course here.
---
Anna Cockerille, Heinemann Editor and Coauthor of Bringing History to Life (Grade 4) in the Units of Study for Teaching Writing Series, was a teacher and a literacy coach in New York City and in Sydney, Australia, and later became a Staff Developer and Writer at TCRWP. She also served as an adjunct instructor in the Literacy Specialist Program at Teachers College. Anna has been a researcher for Lucy Calkins, contributing especially to Pathways to the Common Core: Accelerating Achievement (Heinemann 2012), and the Units of Study for Teaching Reading, Grades 3–5 series (Heinemann 2010). Anna is currently serving as an editor on the forthcoming Phonics Units of Study series for grades K-2, and previously served as an editor for the Units of Study for Teaching Reading, K–5 series.
Follow her on Twitter @annagcockerille