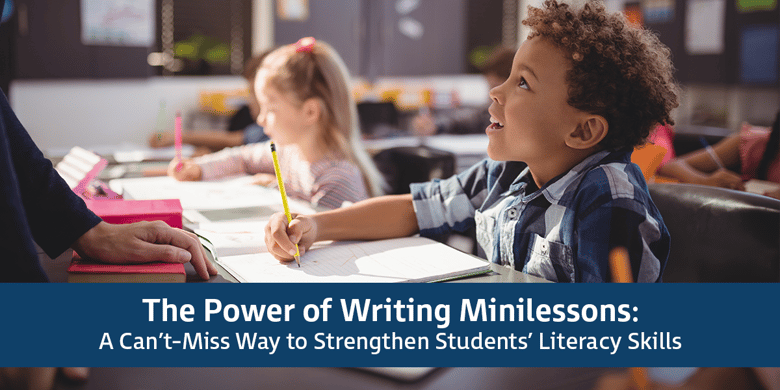 Writing is more than a way for students to express their thoughts. It's an essential part of any comprehensive approach to literacy learning. It serves as a powerful tool that enables learners to understand their experiences, make sense of the world, and communicate with various audiences in different contexts.
At the heart of this transformative process lie writing minilessons—compact, targeted, and highly structured instruction that is not only pivotal in developing proficient writers but also plays a significant role in building a community of learners.
Strong writing minilessons open a world of possibilities for learners, creating an environment that nurtures students' ability to write with purpose, imagination, and voice.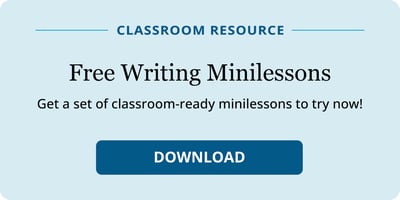 The Structure and Significance of a Writing Minilesson
A typical writing minilesson is an inquiry-driven session that zooms in on a single idea. This focused approach makes learning manageable and meaningful, allowing students to apply their learning immediately and build on it daily.
The lesson typically starts with the teacher introducing an aspect of writing, ranging from the basics to more complex areas such as tone, style, or genre-specific techniques.
Following this, students are provided with an opportunity to actively engage with the lesson's content, applying what they've learned to their writing in an atmosphere that encourages constructive learning.
The minilesson concludes with a sharing and reflection session, creating opportunities for more learning and fostering a sense of community and support.
How Writing Minilessons Cater to Different Audiences and Purposes

Writing minilessons aren't confined to teaching the nuts and bolts of writing—they are also designed to link students' writing to a broad range of purposes, contexts, and audiences. As a result, students become adaptable writers, using their writing skills across different curriculum areas.
For instance, students may write to capture observations in a science class, explore a historical event, or articulate their understanding of a math concept. This flexibility of purpose and audience amplifies the relevance of writing minilessons, connecting them with how students learn—and what they are learning.

Writing Minilessons and Mentor Texts: Making Connections
A unique feature of writing minilessons is the use of mentor texts—pieces of writing that serve as models for students. Often drawn from interactive read-aloud sessions or shared reading experiences, these texts expose students to various writing styles, structures, and techniques.
This is often the impetus for students to try something new with their own writing. By linking the mentor texts to the minilessons, teachers create a cohesive learning experience that links reading and writing, a virtuous cycle that contributes to students' writing and reading growth.


Anchor Charts: Visual Reminders of Learning
Related to promoting student independence, writing minilessons often incorporate the use of anchor charts—visual displays that capture the key points from the lesson.
These charts serve as handy reference tools, aiding students in remembering and applying their learning. As visual reminders, they extend the impact of the minilessons beyond the classroom, supporting students in their independent writing endeavors.
Analyzing Student Writing: A Path to Progress and Independence
By observing students as they write (and reviewing their work at various times), teachers gain invaluable insights into their understanding, progress, and areas of strength. This analysis, rather than focusing on "fixing" students' work, provides them with tools to think and write in new ways. This helps foster a writer's mindset that embraces revision as an ongoing process throughout the writing journey.
As a result, students become more engaged learners. Providing this kind of coaching helps students become more independent learners as they take ownership of their progress. This also gives teachers a great platform for adjusting and personalizing their instruction to meet students' needs effectively, whether in a whole group, small group, or one-on-one setting.
---
Writing minilessons, while concise in their design, carry massive potential. They create a real sense of community, encourage an inquiry-based approach to learning, link literacy learning across the curriculum, and strengthen the comprehensive literacy instruction found in the strongest classrooms.
And that's the power of writing minilessons: their ability to cultivate proficient writers, critical thinkers, and lifelong learners within a supportive and flexible learning environment.