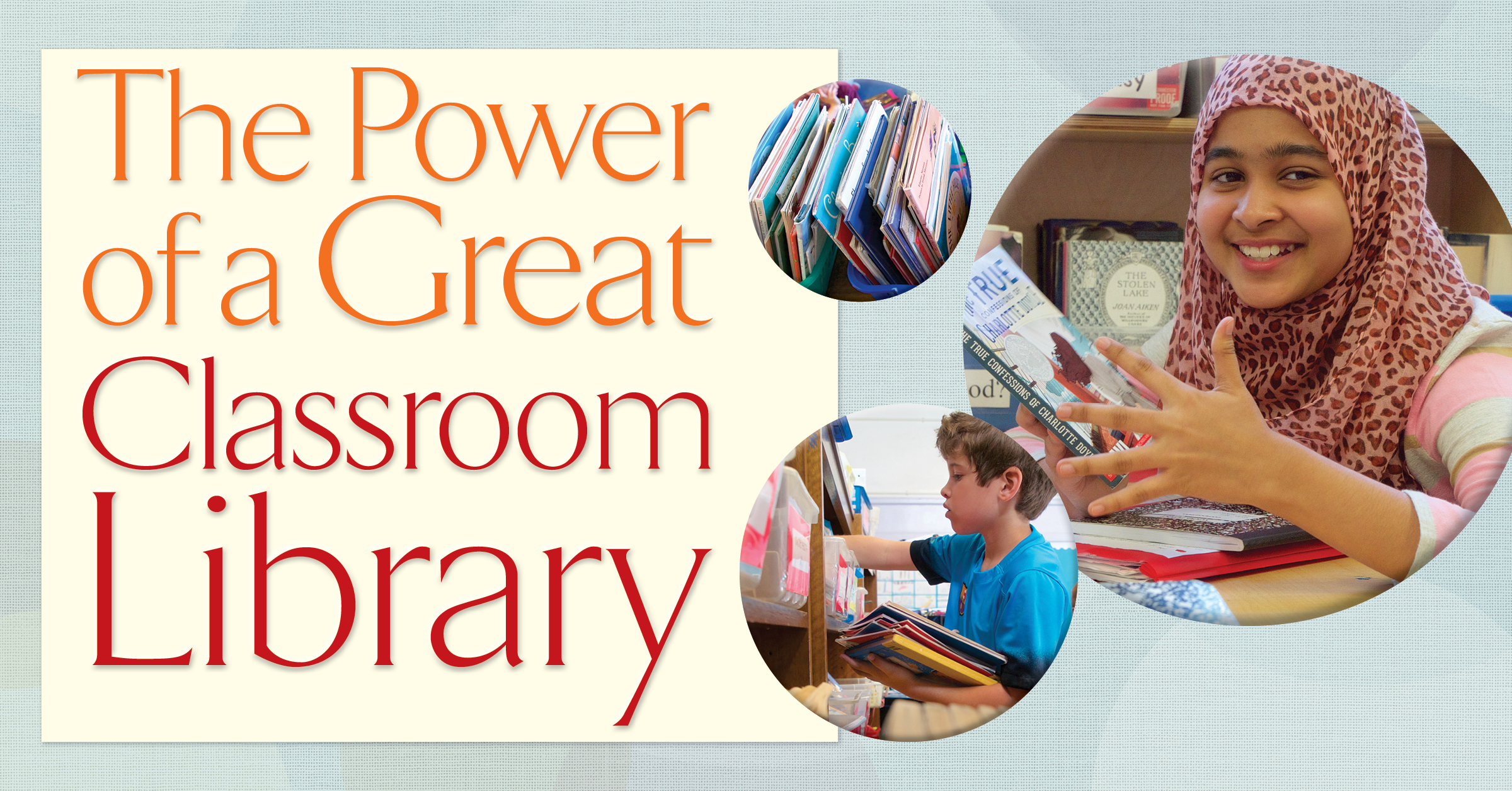 Kids who have access to great books become readers
There is simply nothing that makes teaching reading easier, that gets kids reading with greater volume, or that lifts reading skills higher than a collection of truly fabulous books.
If we want to deeply engage students, to strengthen their reading and thinking skills, and to inspire them to become lifelong readers, we need to create libraries that support this essential work.
To help you achieve these ambitious results, the entire staff of TCRWP, consulting with a wide range of reading and literature experts, teachers, librarians, and students, developed classroom libraries for each grade level, guided by some key ideas:
Books were selected for high interest, richness (books that can be mined again and again), and quality of writing and content.

The libraries aim to introduce as many authors and titles as possible and include some all-star classics, but also many of the newest, cutting-edge titles.

To ensure all students have access to high-quality, high-interest books, complete libraries are available in versions for students reading both at and below benchmark levels.

Additional shelves, not included in the full Classroom Libraries, offer support in critical areas such as Read-Aloud, Shared Reading, and on topics and genres such as argument, science, historical fiction, fantasy, interpretation book clubs, and so much more.
The TCRWP Classroom Libraries were created in a way that is worlds apart from how most other libraries are created. The Classroom Libraries Project began with scouring the world to find the best literacy coaches, top experts in teaching reading and writing, renowned librarians, and mentor teachers who love books. The curation team reached out to respected pros on children's and young adult literature as well, soliciting book recommendations from everyone. Eventually they had lists of recommendations from hundreds of experts—a total of more than 22,000 books. Next, they got copies of each of these books and worked tirelessly for half a year in a gigantic basement—inventorying, leveling, reviewing, curating library shelves. For every book that was selected, there were scores of others that were set aside.
The curation team carefully chose books based on kids' interests and on the richness of the books, books that can be mined again and again. They also looked for quality of writing and content, and for a diverse range of genres, topics, and author styles that support reading skills up the ladder. For each title, the curation team considered whether the book would lure a reader to read and if it would be rewarding when read. For example, when the reviewers evaluated nonfiction books, they used a review sheet ranking the extent to which a particular book supported students in "sustained reading to learn." When reviewing fiction, they ranked books based on criteria such as whether they supported readers in "rich interpretation, craft, and character work."
This, then, is what sets this work apart from other classroom libraries made by lone teachers, or created by a few people at a book distributor or a publisher. And this is what kids need to become readers—amazing, thrilling books.
The TCRWP Classroom Libraries are the most meticulously selected libraries ever developed. They offer teachers the large collections of irresistible fiction and content-rich nonfiction books they need to support the high volume of reading we want kids to do. These libraries contain 400–700 leveled books at each grade level, K–8—all organized into collections and shelves based on level, genre, topic, and available in versions for students reading both at and below benchmark. The best part? These libraries have been curated so you can put them to use right away.

Richard Allington, past president of the International Reading Association, has written and spoken often about the three things that readers need to flourish: access to books they find fascinating, protected time to read, and expert instruction. The aim of these libraries is to provide students with the first of these, to inspire schools and districts to protect the second, and to allow teachers to focus on the third.
Shana Frazin, former Lead Curator of the TCRWP Classroom Libraries, draws on her experience as a library specialist and staff developer in schools to offer practical advice to help you evaluate, identify gaps, and replenish your classroom libraries. In the video linked below, she breaks down the often-complicated process of evaluating and improving your existing classroom libraries into small, manageable steps.