The following is adapted from No More Random Acts of Literacy Coaching by Erin Brown and Susan L'Allier.

Coaching, whether it involves basketball or literacy, can feel and look at times like it is 100 percent responsive and in the moment. Erin Brown and Susan L'Allier help us understand that the best coaching is not just random good luck, but rather the product of careful and expert planning and preparation.
In many schools there is a feeling that coaching is something that can be employed as a stopgap measure when and if you need it. If a teacher is new or encountering a difficult patch, we hope we can just fly a literacy coach in from the wings to save the day. This ambulance model of coaching rarely, if ever, leads to the legacy-style growth and excellence we see in longtime championship sports teams, let alone in schools.
The best coaching is not just random good luck, but rather the product of careful and expert planning and preparation.
The authors of No More Random Acts of Literacy Coaching review several common obstacles that can inhibit a collaborative climate and offers strategies for positive change.

Teachers:
"We don't need help; our students need help!"

The Obstacle:
Teachers don't see coaching as a way to support student learning.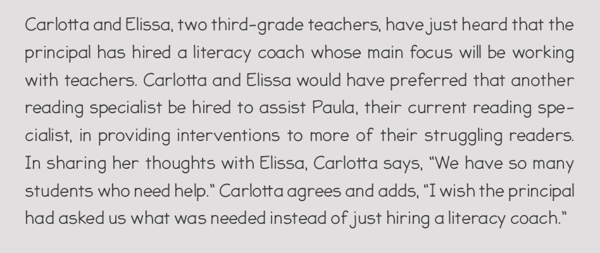 What if teachers understood how the change will support their students?


Coaching will improve core literacy instruction.
Literacy coaching is job-embedded professional development with the goal of improving core literacy instruction and student learning. When fewer than 80 percent of the students in a school are meeting or exceeding proficiency on critical literacy assessments (as is the case in Carlotta and Elissa's school), simply adding intervention time is not the answer. Core literacy instruction needs attention and support. Teaching practices and/or curricular materials used for core instruction may not be aligned to one or more of the following:
learning standards,

research-supported instructional practices,

findings from literacy assessments, and

areas of urgent student need.

Even when there are sufficient personnel to provide interventions, students who receive their prescribed minutes of intervention per day and then return to classrooms with misaligned core literacy instruction are unlikely to become proficient readers and writers. It will help teachers like Carlotta and Elissa to realize that when coaches, teachers, and principals work together to strengthen and differentiate core literacy instruction, the result will be improved student learning—increasing the percentage of proficient readers and reducing the number of students needing intervention.


Clear communication creates teacher buy-in for coaching.
The problem in this case isn't just with Carlotta and Elissa's perceptions, but in a lack of communication between administration and teachers. When leaders put plans in place without making their intentions clear and without inviting teachers into the thinking behind such plans, resentment and resistance are common obstacles to the necessary work of improving instruction. In their communications, administrators need to acknowledge that improving core instruction is not easy; however, achieving that goal will be possible if everyone works together to delineate the issues and develop an intentional plan to address those issues.
• • •
Other common obstacles and solutions are reviewed by the authors in this same easy to grasp format in section one of No More Random Acts of Literacy Coaching.
To learn more visit Heinemann.com.
This book is part of the Not This, But That Series of books.

---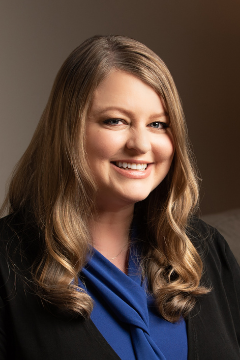 Erin Brown has more than twenty years of experience as a classroom teacher, literacy specialist, literacy coach, and consultant. Her current role includes facilitating a professional learning network of literacy coaches across Michigan. While working with children is her first passion, she is honored to now learn alongside literacy educators, focusing on research-supported instruction and professional learning that is as close to the real work of classrooms as possible.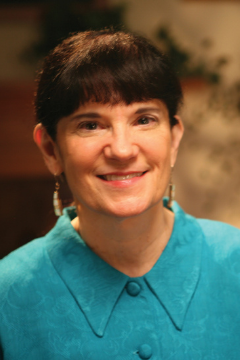 Susan L'Allier is Associate Professor Emeritus at Northern Illinois University, where she taught graduate courses in literacy leadership and coaching. A former elementary school teacher and principal, Susan's research has focused on the relationship between literacy coaching and student achievement. She is the author of numerous articles and the coauthor of two books about literacy coaching, including The Common Core Coaching Book and Collaborative Coaching for Disciplinary Literacy.