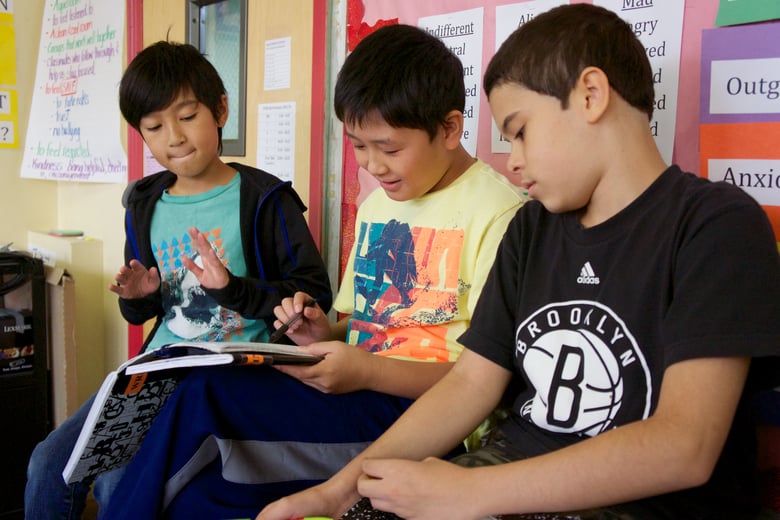 In the upper grades, students don't often move up reading levels as quickly as they do when they are younger. For example, in first grade, it's not unusual for students to move up six or seven levels, across the school year and sometimes even more. But in fifth grade, students might only move up two or three levels, and still end the year on benchmark. Further, an upper grade student might spend weeks or even a couple of months in the same level, and still be growing by leaps and bounds as a reader because of all the complex work there is to do at the higher levels.
But that said, it's still important to take note when a student has been in the same level for what seems like too long. It's even more important to take note of this and to intervene when the student is below benchmark.
When thinking about levels in the upper grades, it helps a great deal to have a sense of which levels are similar to the one before, and thus don't require as much effort to move into, and which levels are larger jumps from the previous one. Upper grade levels can be grouped into bands of levels, levels that have similar characteristics.
The bands of levels are as follows:
K-M. At these levels, readers' big work is to follow a problem that moves across the whole story. They have to track more plot details than they did previously.

N-Q. At these levels, there is often more than one problem to track, because minor characters play a bigger role. Problems are not always solved, though there is a sense of resolution with characters learning lessons.

R-T. Now, there are multiple, complex plot lines. There are parts that might not make sense immediately, so a reader must keep reading to clear up confusion. Other story elements are important, such as setting, and symbols.

U-W. Stories are layered, perhaps with injustices. Many characters change and grow, not just the main character.

X-Z. These levels are notably more complex. Texts often have more than one genre or structure. Characters' perspectives often conflict, and the reader must sort through these conflicts.
If a student is stuck at a level, it helps to explore whether she is attempting to move into a new band. She may need more coaching to tackle the complexities expected of her at the new band. If a student is stuck at a level and is not attempting to move into a new band, other interventions may be required, such as vocabulary support, help increasing stamina, or even tests for visual issues.
At this week's TCRWP Twitter chat, Shana Frazin and Marie Mounteer will lead a discussion on powerful interventions for upper graders who are stuck at a reading level. Don't miss what is sure to be an informative chat to help even your most stuck readers.
Each Wednesday night at 7:30pm eastern,

The Teacher's College Reading and Writing Project

hosts a Twitter chat using the
hashtag

#TCRWP

.
Join @sfrazintcrwp & @mcmounteer to chat about powerful reading interventions tomorrow evening.
Not on Twitter? Take Heinemann's free Twitter for Educators course

here

.
Anna Cockerille, Heinemann Editor and Coauthor of Bringing History to Life (Grade 4) in the Units of Study for Teaching Writing Series, was a teacher and a literacy coach in New York City and in Sydney, Australia, and later became a Staff Developer and Writer at TCRWP. She also served as an adjunct instructor in the Literacy Specialist Program at Teachers College. Anna has been a researcher for Lucy Calkins, contributing especially to Pathways to the Common Core: Accelerating Achievement (Heinemann 2012), and the Units of Study for Teaching Reading, Grades 3–5 series (Heinemann 2010). Anna is currently serving as an editor on the forthcoming Phonics Units of Study series for grades K-2, and previously served as an editor for the Units of Study for Teaching Reading, K–5 series Units of Study for Teaching Reading, K–5 series.