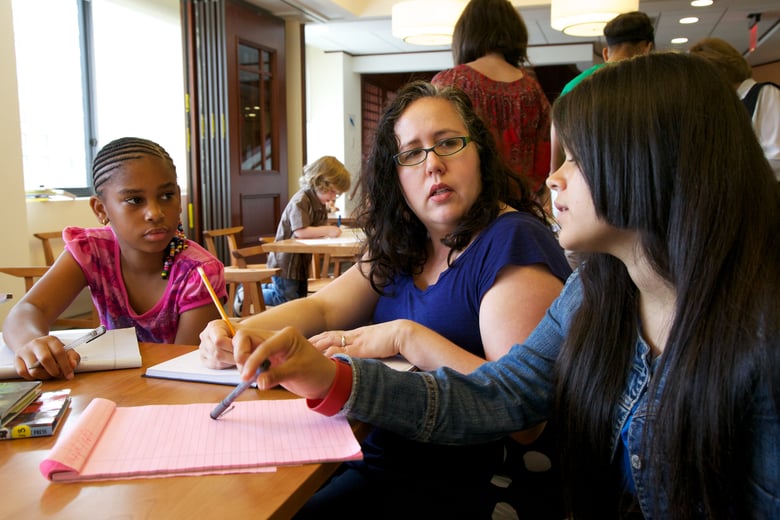 If you work with students with learning disabilities, do not miss this week's TCRWP Twitter chat. Colleen Cruz, Director of Innovation / Senior Staff Developer for the Reading and Writing Project is facilitating, and she is a powerhouse of information on working with youngsters who need extra support to learn best. Colleen is author of a slew of professional texts for teachers, including A Quick Guide to Reaching Struggling Writers and The Unstoppable Writing Teacher.
In A Quick Guide to Reaching Struggling Writers, Colleen describes common struggles that students have with writing and ways that teachers can help their students to surmount them. These include students who struggle in areas such as volume, spelling, and topic choice. Colleen gives practical, immediately applicable strategies to help these students to overcome these issues to become their best writing selves.
In The Unstoppable Writing Teacher, Colleen dedicates a chapter to teaching writing to students with learning disabilities. She describes ways to support students with disabilities that any teacher, regardless of their level of experience and training in working with LD students, can adopt to ensure their curriculum provides access to all learners. Colleen's advice is practical, based on years of experience, and it works. Her aim is always to provide students with exactly the right scaffolding they need to engage in the curriculum as it is, rather than to offer students with learning disabilities a separate curriculum.
If you are a workshop teacher, you know that the workshop curriculum itself lends itself well to this last notion. A workshop curriculum, with its predictable structure, natural points of differentiation, and emphasis on student choice is an effective framework for teaching students of all levels of ability. At this week's chat, Colleen will help you to understand key modifications you can make to support LD students to help them fully engage in the curriculum and be fully supported as well.
Each Wednesday night at 7:30pm eastern,

The Teacher's College Reading and Writing Project

hosts a Twitter chat using the hashtag

#TCRWP

.

Join @colleen_cruz to chat about supporting students with learning disabilities tomorrow evening.

Not on Twitter? Take Heinemann's freeTwitter for Educators course

here
.
Anna Cockerille, Coauthor of Bringing History to Life(Grade 4) in the Units of Study for Teaching Writing Series, was a teacher and a literacy coach in New York City and in Sydney, Australia, and later became a Staff Developer and Writer at TCRWP. She served as an adjunct instructor in the Literacy Specialist Program at Teachers College, and taught at several TCRWP institutes, including the Content Literacy Institute, where she helped participants bring strong literacy instruction into social studies classrooms. Anna also has been a researcher for Lucy Calkins, contributing especially to Pathways to the Common Core: Accelerating Achievement (Heinemann 2012), and Navigating Nonfiction in the Units of Study for Teaching Reading, Grades 3–5 series (Heinemann 2010). Most recently, Anna served as an editor for the Units of Study for Teaching Reading, K–5 series.