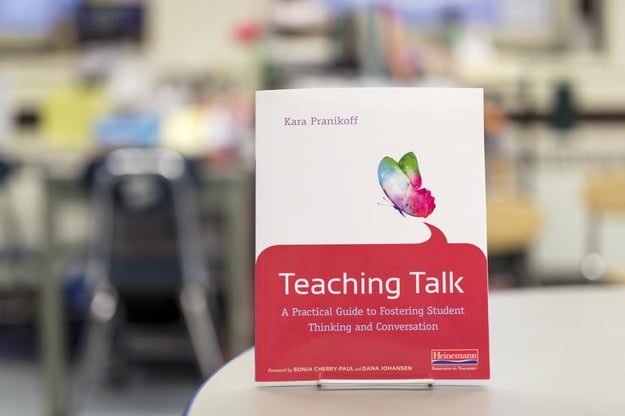 "If you asked me what I value most in teaching, it's listening to how children think. And one quick and easy way to see this is by opening up a space for them to talk and listening to what they say." – Kara Pranikoff, author of Teaching Talk: A Practical Guide to Fostering Student Thinking and Conversation
All teachers ground their instruction in fundamental beliefs that they have about learning. These beliefs implicitly guide both the plans and moment-by-moment decisions that are required of all teachers. It's important to take your own time to reflect on the things that are most important to you.
"It's from this deep, internal stance that we respond to the students in front of us and create the relationships we desire in our school community." – Kara Pranikoff in Teaching Talk
The ideas and work presented in Teaching Talk reflect five core beliefs Kara holds about students. These beliefs have guided her thinking and focus on teaching talk across the years.
---
Which of Kara's beliefs do you share?

How do these beliefs play out in your instruction?

---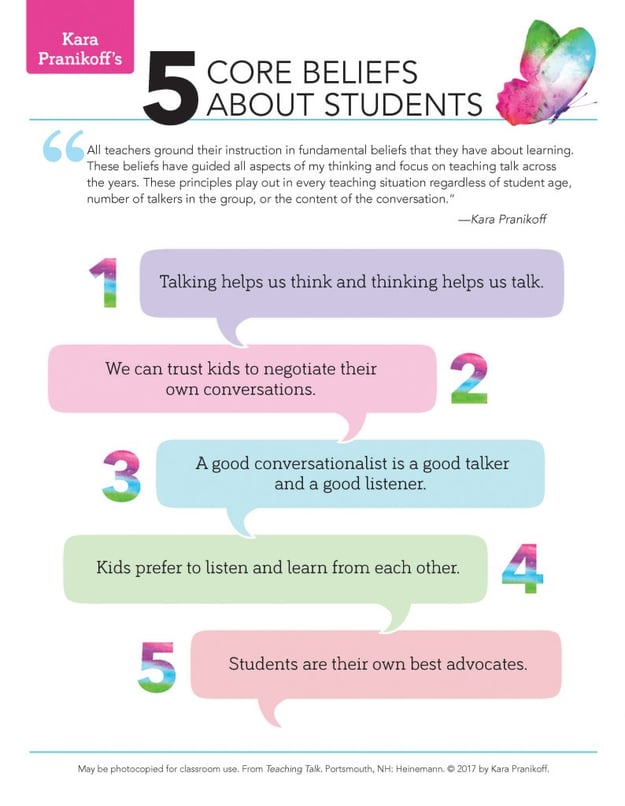 "These principles play out in every teaching situation regardless of the age of the student, the number of talkers in the group, or the content of the conversation. In the end, what is most important to me is that all students discover and nurture their voice and ideas with independence."
The notion that there is a perfect style of teaching, one way to do something in the classroom, or a linear path toward better education, diminishes the profession. The best educators are in continual revision of their practice, discussing their classroom life with colleagues, trying new practices, reading current research, and reflecting on their own thinking.
---
What are your core beliefs?

How will your core beliefs guide your teaching this year and in years to come?

---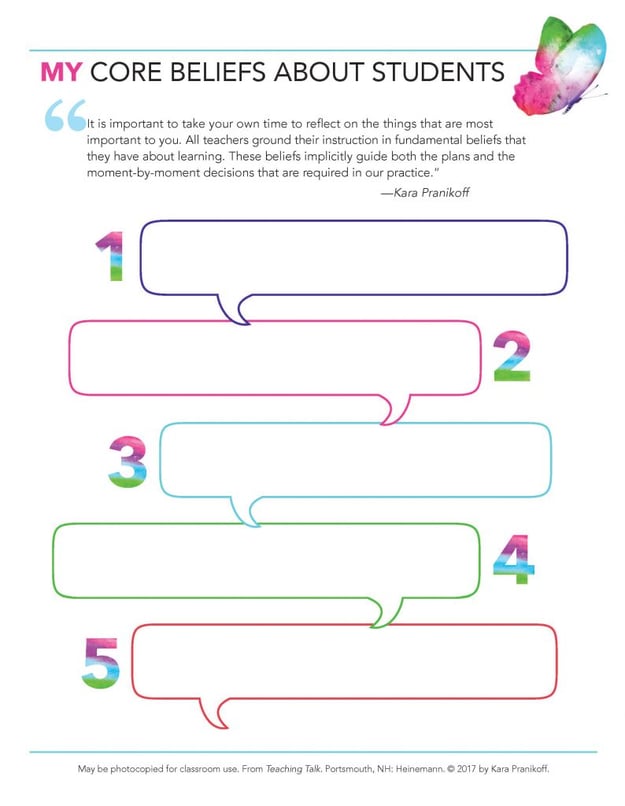 • • •
• • •
---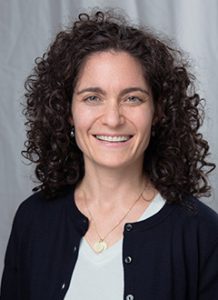 Conversation seeker and careful listener, Kara Pranikoff is fortunate to spend her days learning with children and teachers. Currently a literacy coach, you can find Kara at PS 234, a progressive, inquiry-based school in NYC where she works alongside teachers to strengthen their reading and writing instruction. Kara has been a classroom teacher in NYC and at a Title 1 school in Buffalo, NY. She has taught small groups of students in reading intervention, co-led a series of workshops for instructional coaches in her district, and has been a literacy consultant for schools outside of the city. She speaks at national conferences about the ways teachers can foster productive, dynamic, and independent student discussions.