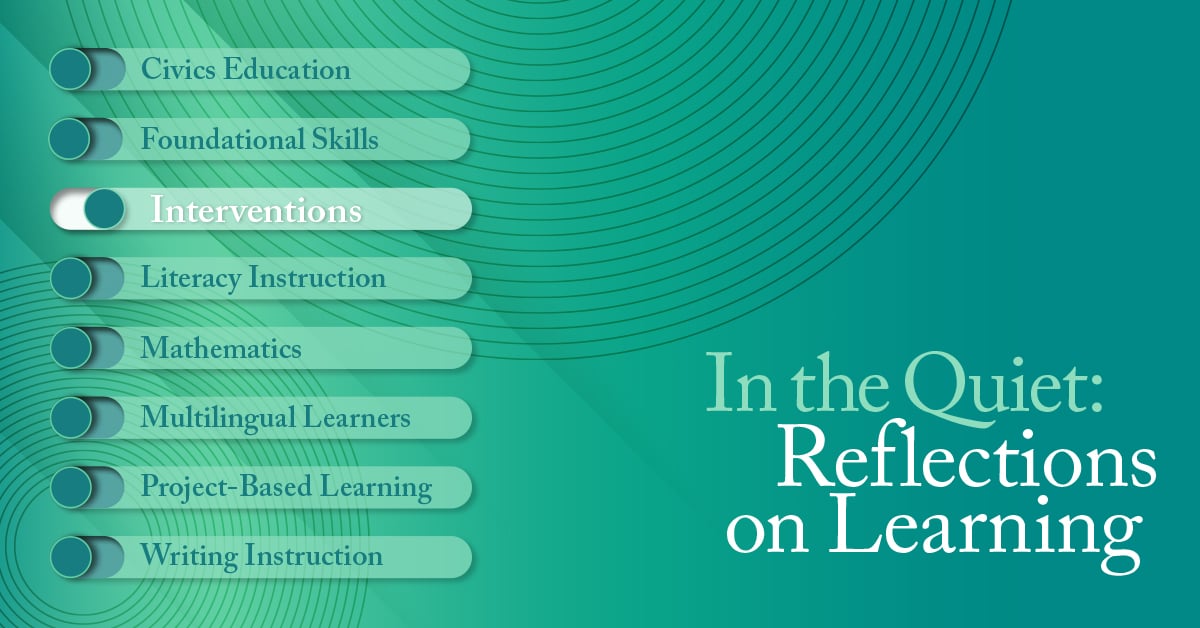 Teaching is a profession that elicits a myriad of questions throughout the day, from the rhetorical to pedagogical. Finding intellectual space to ponder these questions in a way that will impact practice can be tough, and we want to help. Our new series, "In The Quiet: Reflections on Learning" invites you into the mind of an expert in the field through a brief Q&A. So, wherever your quiet is—after the bell, on the commute, or elsewhere—please enjoy this space to reflect as you hone your craft.
As a national consultant, Patricia Vitale-Reilly is dedicated to guiding schools and districts to set and realize goals that matter most in their learning communities, and to her belief that every student has the right and the capacity to learn. In this post, we hear her latest thinking about supporting striving readers.

Why is it sometimes difficult to see exactly where a reader needs support?
Reading is complex, and in today's teaching world, we can be overwhelmed with the many dimensions that encompass daily teaching. In addition, we might be looking at a reader holistically—noticing a lack of comprehension, hearing a lack of fluency, or noticing a plethora of errors and become overwhelmed or think in generalizations. That is why I like to organize my interventions categorically— engagement, accuracy and fluency, comprehension, and vocabulary. When we divide reading into categories, we can get specific data points based on what the reader is doing or not doing with regard to that element of reading and can then plan interventions that will be specific and targeted!

Is there such a thing as a "typical" striving reader?
I am one of nine children, and my mother always said, "I have nine and nine different," and I think that is true in teaching, too. All readers have strengths, next steps (weaknesses), and nuances to their reading. That being said, there are patterns that we can see in readers, strengths and weaknesses based on their reading profile that can help us to determine the best course of support.
I like to use the reader profile work by Sheila Valencia and Marcia Riddle Buly (2004) as they lay out six common striving reader profiles: automatic word callers, struggling word callers, word stumblers, slow comprehenders, slow word callers, and disabled readers. For example, if I know that a reader is a word stumbler—a disfluent reader who presents with many errors yet is meaning focused and can comprehend a text—then I can plan for decoding and word identification work based on specific deficits. Understanding a reading profile can provide a teacher with a starting place that will yield positive results.

What is an authentic intervention?
For me, an authentic intervention is one that lives inside of the existing fabric of instruction. This means that the intervention uses materials that are familiar to the teacher and students, can be implemented during the time the teacher realistically has with students, and most importantly, uses authentic tools such as reading manipulatives (letter tiles, sound boxes, magnets, etc.), existing anchor charts, and most importantly, books!
I hear from many, many teachers that their school support team, as well-intended as they are, often prescribe interventions that are time-consuming, unrealistic, and often feel far outside what teachers and students are doing every day. Let's say I have an early reader who needs support with remembering and utilizing their knowledge of sounds—whether it be to segment and blend basic CVC words or utilize the correct sound for the letter, blend or digraph when reading. Once I have my specific data, I then want to understand what the instruction looks like in the classroom—from the instructional blocks to the resources used in order to plan an intervention that will support the reader and not overwhelm the teacher. I might learn that the teacher has a reading block each day that includes a reading workshop and a word study workshop and learning centers 2-3 times a week. Based on this hypothetical reader and teaching scenario, I might recommend the following reading intensive:
Increase the number of times that this reader is seen outside whole class instruction (ie: if the reader is seen two-three times a week, see the reader three-four times a week.)
Add reading manipulatives that specifically support this deficit to the reader's independent practice tools (ie: Elkonin boxes with chips, letters, and sweeping wands; highlighter tape on particular words in their trade books.)
Add decodable texts (or more targeted decodable texts) to the reader's independent reading bag.
Plan for a series of teaching that is intensely focused on this challenge. In other words, as the teacher sees the reader in a small group or individual conference, stick to this teaching point, varying the tools, texts, and strategies used.
In other words, add more to existing frames, yet do it differently, using powerful, familiar go-to resources.

As a learner, what professional learning experience has had the most positive impact on your teaching career?
I genuinely feel that I have had so many positive, fulfilling, and life-sustaining professional development opportunities—it is honestly hard to choose one! But if I think critically about what has been most sustaining then it is the work that I did with my literacy coach when I was teaching in Tenafly, NJ. My coach would work with me (or with my team) in learning cycles for five-six weeks at a time, a couple of times a week, and that helped the work feel focused and powerful. As a learner, I benefit from an "all-in" approach. I like depth, and I like being able to put all my energy into a topic over time.