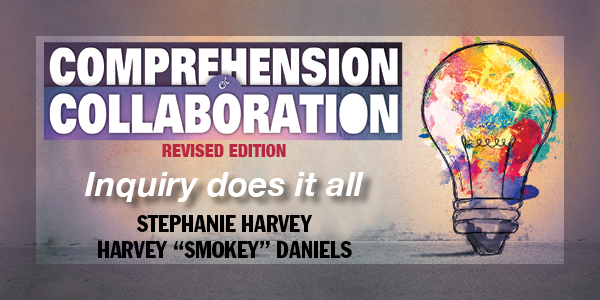 Do you have a copy of Comprehension and Collaboration, Revised Edition by Stephanie Harvey and Harvey "Smokey" Daniels? Did you know that the book contains QR codes that, when scanned, will take you to a wealth of online companion resources? Here's how to access those resources!
Scan the book's QR code using your smart phone. If you don't have a smart phone or the ability to scan QR codes, then direct your browser to http://www.heinemann.com/ComprehensionAndCollaboration/.
Click "Companion Materials" below the quote from Steph and Smokey. Your screen should scroll automatically to the Companion Materials section.
From there, choose the materials you wish to access. They include:
A Study Guide great for schools, groups, or individuals who want to study the book and implement the practices over time.
Thirteen Exemplar Inquiries from real classrooms, including many favorites from the previous edition.
Tools And Forms to help support students as they learn to collaborate and research.
Bonus Materials on six questions most often asked of Steph and Smokey.
Helpful Bibliographies teachers can use to provide source material for inquiries.
Completely New Technology Resources from Andrew Hess, author of the book's chapter on technology.
♦ ♦ ♦ ♦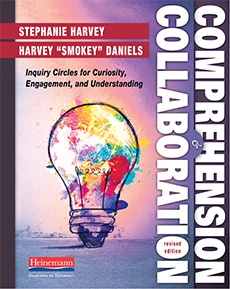 Stephanie Harvey has spent her career teaching and learning about reading and writing. Harvey "Smokey" Daniels has been a city and suburban classroom teacher and a college professor, and now works as a national consultant and author on literacy education.
Click here to view our official page for Comprehension and Collaboration, Revised Edition