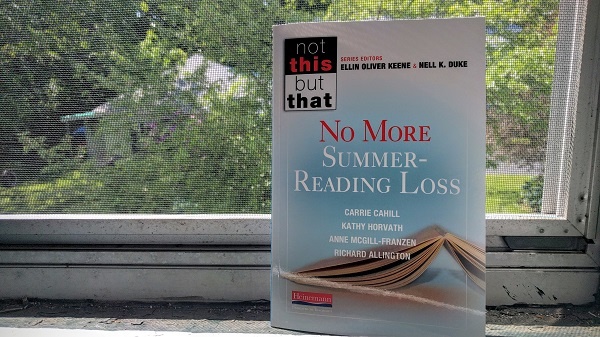 Let's acknowledge that some of our well-intended end-of-the-year practices may actually discourage students from reading over the summer. For example: the summer reading list that teachers thoughtfully research, craft, and refine each year, in hopes that students will keep reading and stay "busy" during the summer. The list reflects hard work and good intention, but what does it communicate to a child?
Imagine your school grade self. The last bell of the year rings and you're practically out the door when your teacher hands you a booklist for summer reading. None of the titles mean anything to you, but you know the list is a command from your teacher to read at least some of them. What if it's difficult for you to access these books? Are you motivated, or will you put it in a drawer and go enjoy summer with your friends?
Is it any wonder why students don't read over the summer? We must assert for our students that authentic literary interactions with books can happen during the summer months. Here's how you can plan for summer reading success.
Give kids a lot of book choices

To maximize the potential of voluntary summer reading, book choice must be diverse enough to accommodate a wide range of achievement levels as well as interests.
Make it happen every summer

A summer reading program is only truly effective if it happens every summer for every student. Because summer reading loss happens each summer, reading needs to happen every summer.
Recruit parents as students' partners, not as task masters, of summer reading

Many parents express frustration with their children's perceptions of reading as only a school-based activity, but it doesn't have to be that way. Sending home book bags with students can provide access to books throughout the summer, and parents can be asked to fill out a survey about what they learned from reading the books with their child and to rate the experience.
Boost engagement with social interaction—writing and/or talking about books

Teachers can encourage discussion and book-centric socializing by developing a blog during the school year and maintaining it throughout the summer. The teacher moderates the blog by asking questions to help propel discussion, but they favor the role of participant, chatting about the books they are reading. This forum enables students and teachers to share impressions of books and make recommendations. Parents can join as well. Learn more at kidblog.org.
---
All of these strategies help foster productive summer reading.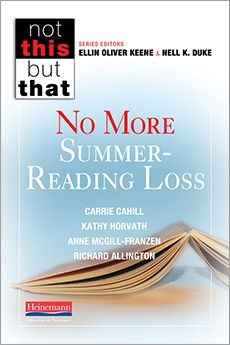 Buy Now
♦ ♦ ♦ ♦
This tip was featured as a daily entry for Heinemann's Teacher Tip App. Don't have the Tip App yet? Download it for free today!