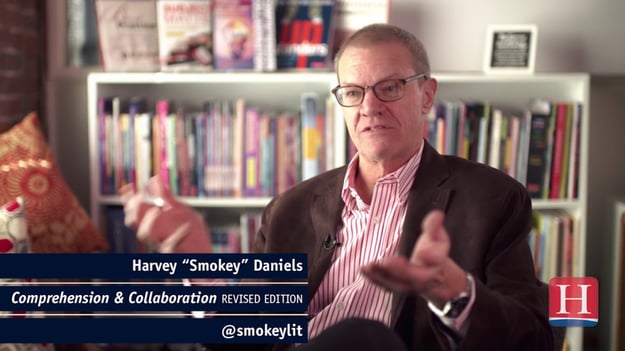 In the new and revised edition of Comprehension and Collaboration, Stephanie Harvey and Harvey "Smokey" Daniels invite you to approach inquiry as a way of instruction in schools.
Comprehension and Collaboration, Revised Edition ships in late June. In today's blog, coauthor Smokey describes the need to continue inquiry especially in light of the Common Core State Standards.
Thanks for reporting a problem. We'll attach technical data about this session to help us figure out the issue. Which of these best describes the problem?
Any other details or context?
message
The Principles of Inquiry Circles
Choice of topics based on genuine student curiosity, questions, interests

Digging deeply into complex, authentic topics that matter to kids

Flexible grouping, featuring small research teams, groups, and task forces

Heterogeneous, nonleveled groups with careful differentiation

Student responsibility and peer leadership

Use of proficient-reader/thinker/researcher strategies

Teacher modeling his/her own reading, writing, thinking, and researching processes

Drawing upon multiple sources: multigenre, multilevel, multicultural, and multimedia

Going beyond fact finding to synthesizing ideas and building and acquiring knowledge

Actively using knowledge in our schools and communities: sharing, publication, products, or taking action

Matching or "backmapping" kids' learning to the Common Core or to state or district standards.
♦ ♦ ♦ ♦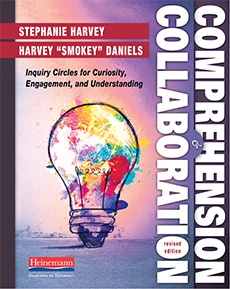 Comprehension and Collaboration, Revised Edition ships in late June. Get pre-publication savings with coupon code CANDC2.
Stephanie Harvey has spent her career teaching and learning about reading and writing. Harvey "Smokey" Daniels has been a city and suburban classroom teacher and a college professor, and now works as a national consultant and author on literacy education.
Click here to view our official page for Comprehension and Collaboration, Revised Edition