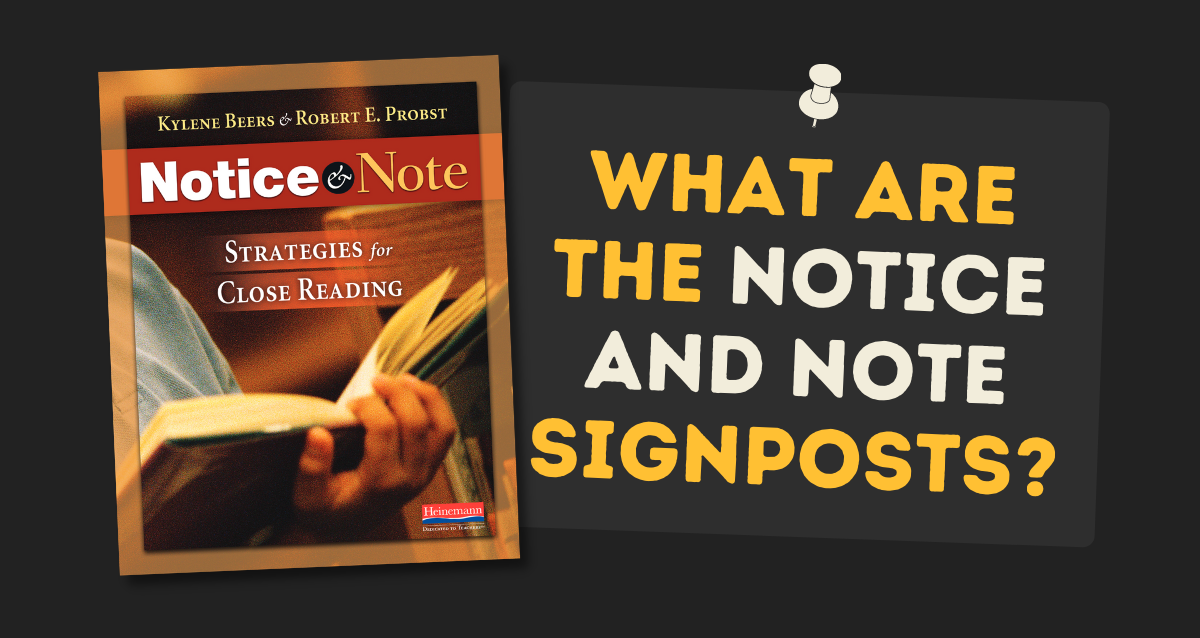 The literary signposts introduced in Kylene Beers' and Bob Probst's Notice & Note support improved comprehension.
Through research, they located six moves fiction authors make frequently in commonly taught intermediate and middle grade texts. These features were highly noticeable and, upon reflection, offer readers something that helps them connect deeply with texts. "We think that these signposts show up in novels," write Kylene and Bob, "because they show up in the world."
The signposts lend themselves to robust discussion in any learning situation because of their combination of conceptual simplicity and the depth and profundity they bring to a reader's analysis of a text. It makes them ideal for small groups, online book clubs, and one-to-one interactions with students. The signposts are:
Contrasts and Contradictions: Sharp differences between what we expect characters to do, and what they actually do
Aha Moments: Realizations that shift characters' actions or understanding
Tough Questions: Questions characters raise that reveal their inner struggles
Words of the Wiser: Advice or insights wiser characters offer about life
Again and Again: Events, images, or particular words that recur throughout a text or an essential portion of it
Memory Moments: Recollections by a character that interrupt the forward progress of the story

In Notice & Note, Kylene and Bob help readers put the signposts into action with anchor questions that spark inference and meaning-making plus six detailed lessons that help teachers introduce the signposts to students. These lessons can be quickly adapted for use in small groups or conferences with individual students.
♦ ♦ ♦
Give students a head-start on independent reading, and help them enjoy texts in a newer, deeper way with Notice & Note. To learn more visit Heinemann.com.
---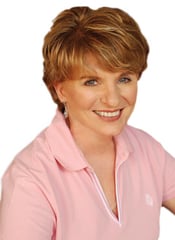 Kylene Beers, Ed.D., is a former middle school teacher who has turned her commitment to adolescent literacy and struggling readers into the major focus of her research, writing, speaking, and teaching. She is author of the best-selling When Kids Can't Read/What Teachers Can Do, co-editor (with Bob Probst and Linda Rief) of Adolescent Literacy: Turning Promise into Practice, and co-author (with Bob Probst) of Notice and Note: Strategies for Close Reading and Reading Nonfiction, Notice & Note Stances, Signposts, and Strategies all published by Heinemann. She taught in the College of Education at the University of Houston, served as Senior Reading Researcher at the Comer School Development Program at Yale University, and most recently acted as the Senior Reading Advisor to Secondary Schools for the Reading and Writing Project at Teachers College.

Kylene has published numerous articles in state and national journals, served as editor of the national literacy journal, Voices from the Middle, and was the 2008-2009 President of the National Council of Teachers of English. She is an invited speaker at state, national, and international conferences and works with teachers in elementary, middle, and high schools across the US. Kylene has served as a consultant to the National Governor's Association and was the 2011 recipient of the Conference on English Leadership outstanding leader award.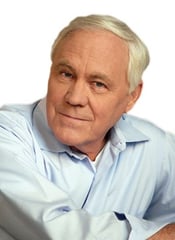 Bob Probst is the author of Response and Analysis, he is coeditor (with Kylene Beers and Linda Rief) of Adolescent Literacy: Turning Promise into Practice, and coauthor (with Kylene Beers) of Notice and Note: Strategies for Close Reading and Reading Nonfiction, Notice & Note Stances, Signposts, and Strategies all published by Heinemann. Bob has also published numerous articles, chapters, and monographs in national and international publications.

Bob began his teaching career as high school English teacher and then became a supervisor of English for a large district in Maryland. He spent most of his academic career at Georgia State University where he is now Professor Emeritus of English Education. After retiring from Georgia State University, he served as a research fellow for Florida International University. Bob is now a consultant to schools, nationally and internationally, focusing on literacy improvement. He works in schools with his colleague and co-author, Kylene Beers.

Bob has served as a member on the Conference on English Board of Directors, an NCTE journal columnist, a member of the national advisory board to American Reading Company, and a member of the NCTE Commission on Reading. In 2004 he was awarded the NCTE's Exemplary Leadership Award, presented by the Conference on English Leadership.