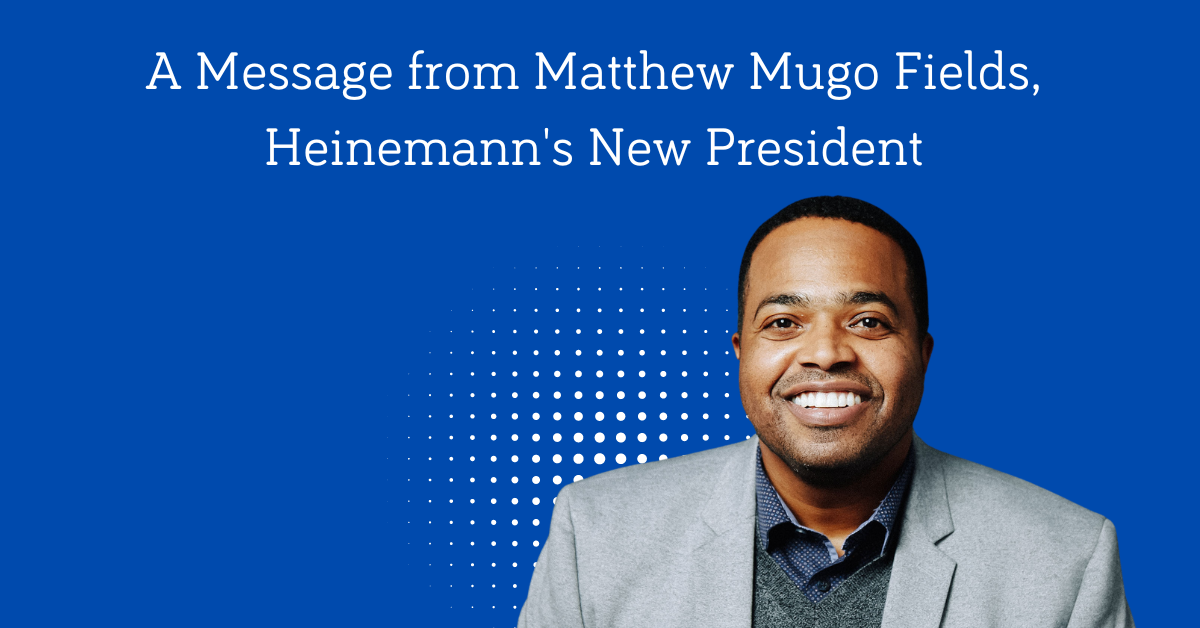 Heinemann Community,
For more than 40 years, Heinemann has been a champion for educators and their classrooms, focused on giving voice to those who have dedicated their lives to the teaching profession, to cultivating equitable classrooms and schools, and supporting all efforts for young people to become empathetic, knowledgeable citizens with a love of learning. This work has been possible because of a professional community that has been cultivated over the years and finds strength in a shared commitment to doing what's best for teachers and students first and foremost.
This history, mission, and promise to teachers and students is why I take my new role as leader seriously.
For the past five years, I've served as HMH's general manager for supplemental and intervention solutions, a role I love. Now, I'm excited to expand my scope to include Heinemann. I have over 20 years in education. With experience that includes building start-ups and leading transformations at established organizations, I have dedicated my career to transforming education to ensure that academic success is attainable for students of all backgrounds. I am also the founder and board chair of Innovation For Equity, a nonprofit dedicated to improving outcomes for Black learners of all ages.
More personally, I'm an educator who acquired skills in technology and business out of necessity.I have continued my career in curriculum and edtech spaces because I want to deliver on the promise of reaching learners everywhere, and because I see that same passion in the colleagues I work with across our field each day. This keeps me inspired and it keeps me learning and growing.
I want to address recent events related to the Units of Study, which I know many teachers across the country are awaiting. As part of the pre-publication process, Heinemann and Teacher's College Reading and Writing Project decided to review the Units of Study materials to understand if all teachers would be able to access them in light of new legislation in 30+ states. We remain committed to publishing the new Units of Study in 2022. As we ready the Units for educators, a combined team from Heinemann, Teachers College, and HMH's content equity, inclusion and diversity panel are diligently ensuring the units are culturally responsive for all children.
Leading Heinemann Forward
My top priority is to help us find the right path forward together—one that honors and fosters belonging for all learners. So, what will that look like?
We have transformative work to do here at Heinemann. This work is iterative and evolving. On the curriculum side, we will focus on maturing, clarifying, and formalizing our curriculum development practices; in our professional books and professional learning services, we will continue to offer educators professional guidance that examines the very real problems of practice that teachers are facing in today's classrooms. We will continue this impactful work in partnership with our author community, which brings diverse perspectives, expertise and insights, and inspires us.
We will always ensure that our diversity, equity, and inclusion work is wholly and authentically embedded in our culture and at every level of our development and delivery processes. As always, we will keep our focus on what has always been central to Heinemann's mission—a deep dedication to teacher expertise, a commitment to teaching excellence, and the belief that good teaching should be accessible to all.
This is a pivotal moment for everyone in the field of education, and we thoroughly appreciate the role that Heinemann plays. The last three years, teachers and students have been called on to carry the heavy load of changing policy and public health decisions, understaffed and under-resourced schools, and heightened public debate about race and culture. We recognize the weight and the responsibility of supporting the education community at this time, and we embrace the potential we have to continue to grow as an organization.
Creating change is hard work, but it is also the most rewarding and important work, as well as urgent. We want everyone to join us. I'm looking forward to working with you—let's get started.
Thank you,
Matthew