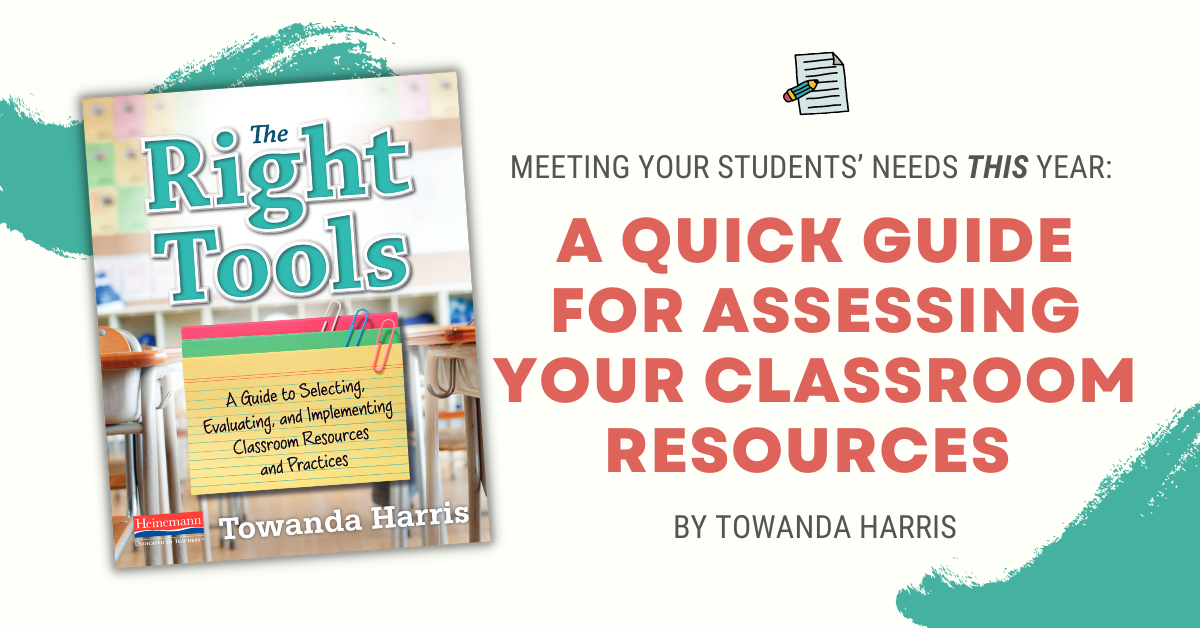 As we find ourselves in the third school year disrupted by COVID, we all realize that the resources we've used time and again in years past may not be the best resources for this year. One way to meet our students where they are is to take a close look at the resources we're using in the classroom. Are they the best fit for the students we're teaching today? As educators, we always need to be mindful of the overall effect of the resources we choose. It could be that our favorite resources tend to be teacher centered, giving students little time for collaboration or independent practice. Or we might find that the resources we've use year after year focus on introducing concepts, but that we have few supports for remediation or mastery.

During my time in the classroom, I created a system for inventorying my trusted resources that helped me to determine the areas in which they were helping me and my students and to determine the areas in which I needed to find additional resources.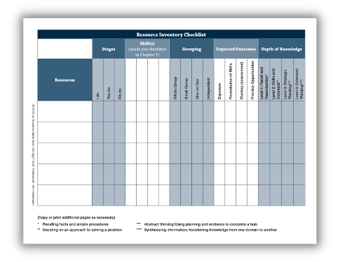 At the time, I used the required materials as my starting point, but I've found over the years that these questions are useful in considering whether any resource fills a need in my classroom.

The questions on my inventory fall into five categories, each of which is tied to a goal:

Stage:

I want my students to be able to independently use what they learned. To support this goal, I want to be sure that I have resources that address the stages of the gradual release of responsibility to students: "I do" (teacher driven), "we do" (cooperative work), and "you do" (independent work).

Skill:

I want my instruction to support students in the skills they need most. To support students' skill development, I identify the skills they need most and consider whether each resource supports these skills. (See the Student Progress Tracker in chapter 1 of my book, The Right Tools, for reviewing student data to identify needs.)

Grouping:

I want to be sure I have opportunities to differentiate instruction. To ensure that I'll have these opportunities, I identify the grouping configurations that each resource accommodates: whole group, small group, one-on-one, and independent work.
Expected Outcome: I want to be able to support my students wherever they are. To do this, I need a range of resources to expose students to a skill, remediate, assess mastery, and provide opportunities for practice.
Depth of Knowledge: I want my students to be working toward greater
levels of complexity in their work. To move them ahead, I need to provide an appropriate level of challenge for where they are at the moment, and plan to progress them to levels of greater challenge.

The criteria on your list may look different depending on your goals for your students. Although this checklist is a great start to begin your thinking around the approaches and that we are using to support our students, it's just as important that we understand that this is not a continuum or progression. Always remember that our students drive our decisions around how we use the tools and resources from year to year.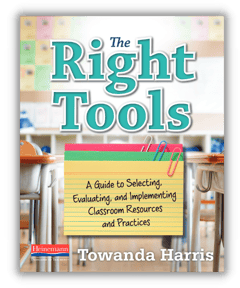 To learn more about The Right Tools, visit Heinemann.com.

Browse more blogs featuring Towanda Harris.
---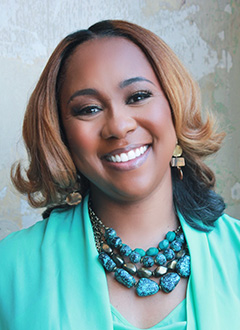 Dr. Towanda Harris has been a teacher, staff developer, literacy content specialist, and an instructional coach. Currently an Instructional Leadership Coordinator and an adjunct professor of reading and writing in Atlanta, Georgia, she brings almost twenty years of experience to the education world. Towanda is the author of The Right Tools: A Guide to Selecting, Evaluating, and Implementing Classroom Resources and Practices. Educators rely on her wisdom about how to find resources that meet their teaching goals and match their understanding of their students' needs. Teachers turn to her to learn how to employ those resources, blend them with best practices, and help all students reach their full potential.

In addition, she serves as a #G2Great Twitter chat Advisory Team member. Towanda is a Heinemann PD provider, presenting One-Day Workshops, Webinar Series, and On-Site PD. Some of her workshops include the Wisconsin State Reading Association Conference, National Reading Recovery Conference, Indiana State Reading Conference, and the GDOE Impacting Student Learning Conference.

You can find her online at TowandaHarris.com, on Twitter at @drtharris, and in Instagram at @harrisinnovationcg.