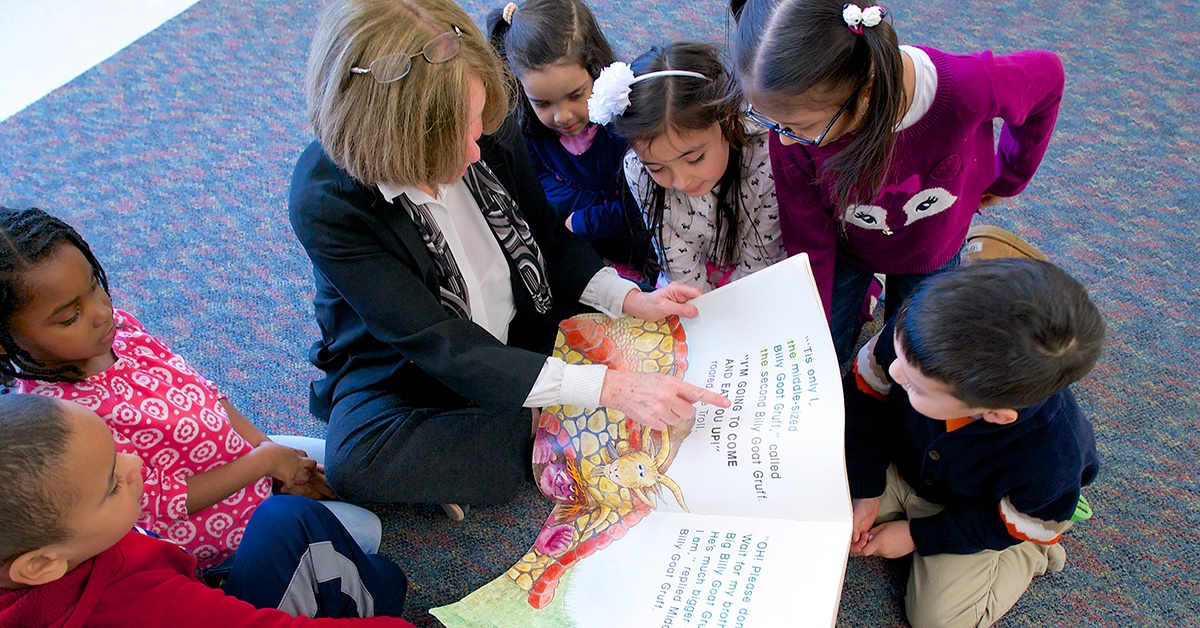 Cynthia Rylant, author of Every Living Thing, When I Was Young in the Mountains, Poppleton, and so many more, has said about reading aloud to children: "Read to them. Take their breath away. Read with the same feeling in your throat as when you first see the ocean after driving hours and hours to get there. Close the final page of the book with the same reverence you feel when you kiss your sleeping child at night. Be quiet. Don't talk the experience to death. Shut up and let those kids think and feel. Teach your children to be moved."
If you read aloud regularly to your students, you know: there is no time in the day quite like read aloud time. A good read aloud can bring a group together like nothing else, can provide a foundation of camaraderie, trust, and respect in a classroom. It is a time when you model the wide variety of reading that exists in the world: articles, blog posts, poems, and reviews in addition to picture books and novels. It is a time when you usher children into the world of real, grown-up reading and model the reactions, thoughts, and feelings that reading evokes.
Read aloud time can be a joyous escape, but it can also do some real instructional heavy lifting. It is a teaching method that paves the way for intense reading, thinking, and talk work. Because students need not struggle to read the text on their own, they are free to think more deeply about the text, to talk more deeply about it, and to engage in these experiences alongside readers who may or may not be at a similar reading level. This makes read aloud a powerful tool to support not just students' reading work, but their work in writing and the content areas, as well.
To support students' reading work, the best is to choose texts that are aligned to your unit of study so that you can model the kind of reading work you are teaching students to do. Most units of study suggest such read alouds, and you can always insert your own, either longer or short texts that match the work your students are doing. You might choose texts that are just a bit out of reach of what you predict your students will be able to read on their own, texts that will challenge them and provide the opportunity to practice the thinking work they will need to do when they are reading more difficult books.
To support students' writing work, choose mentor texts in the same genre that students are writing or that model the writing moves you are teaching your students to try. Read these with feeling, pouring over the lovely language and discussing the way the writing made you feel. Help students to unpack what the writer did that they could try.
In the content areas, read aloud short bits of informational text and help students do the nonfiction reading work they'll need to do to understand the content, such as summarizing to distill main ideas and paying attention to the structure of the text. You might choose texts that will provide new information and ideas for your students, such as articles with opposing viewpoints on an issue.
At this week's TCRWP Twitter chat, Alexis Czeterko and Jess Mazzone will lead a discussion on making the most of your read alouds across the day. You'll leave the chat armed with a wealth of text ideas and an inspiring list of ways to plan ahead to ensure your read aloud time is as rich as possible.
---
Each Wednesday night at 7:30pm eastern, The Teacher's College Reading and Writing Project hosts a Twitter chat using the hashtag #TCRWP. Join @AlexisCzeterko & @JessMaczzone to chat about reading aloud across the day this evening.
Not on Twitter? Take Heinemann's free Twitter for Educators course here.
---

Anna Cockerille, Heinemann Editor and Coauthor of Bringing History to Life (Grade 4) in the Units of Study for Teaching Writing Series, was a teacher and a literacy coach in New York City and in Sydney, Australia, and later became a Staff Developer and Writer at TCRWP. She also served as an adjunct instructor in the Literacy Specialist Program at Teachers College. Anna has been a researcher for Lucy Calkins, contributing especially to Pathways to the Common Core: Accelerating Achievement (Heinemann 2012), and the Units of Study for Teaching Reading, Grades 3–5 series (Heinemann 2010). Anna is currently serving as an editor on the forthcoming Phonics Units of Study series for grades K-2, and previously served as an editor for the Units of Study for Teaching Reading, K–5 series.
Follow her on Twitter @annagcockerille