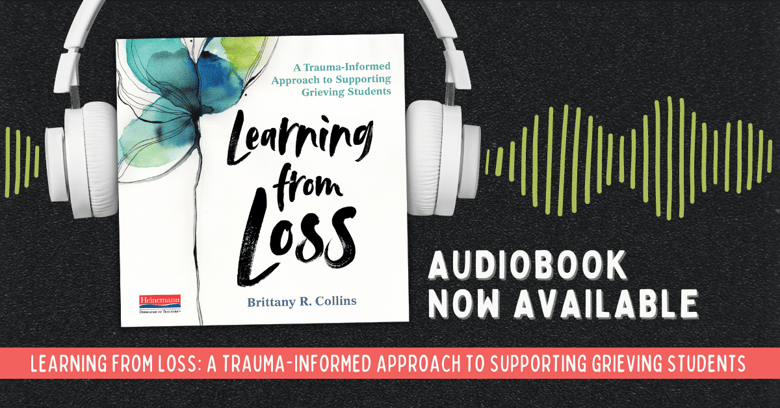 Heinemann Audiobooks presents Learning from Loss: A Trauma-Informed Approach to Supporting Grieving Students by Brittany R. Collins. Grade Level: 5th - 12th. Narrated By: Marlee Bunch.

Listen to a preview of the audiobook:

Click below to access this audiobook on your favorite platform:
Also available on eStories and Rakuten Kobo or check your local library.
BOOK DESCRIPTION
Grief and grieving apply to anyone experiencing loss, even if that loss is not tied to a death. Though it may feel difficult to address the topics of grief and loss, as we return to school after an unprecedented year, it's no longer a question of "if" or "should" but "when" and "how."

Learning from Loss is your guide to getting started with grief work, providing a path that can help you determine the best course of action in the wake of a loss that impacts a student or school community. You will find research, stories, strategies, activities, and reflection questions that offer a map with which to navigate grief-responsive classroom practices. Brittany includes suggestions for collaborating with a school counselor or other trained intervention professional should you have access to one, as well as alternatives if you do not.

You can create a trauma-informed, grief-responsive classroom. Read Learning for Loss and discover tools that will help you make a difference in the lives of your students while protecting your own needs as well.
• • •

To learn more about Learning from Loss visit Heinemann.com.
Browse more blogs and resources featuring Learning from Loss, including a special podcast episode with Brittany Collins.