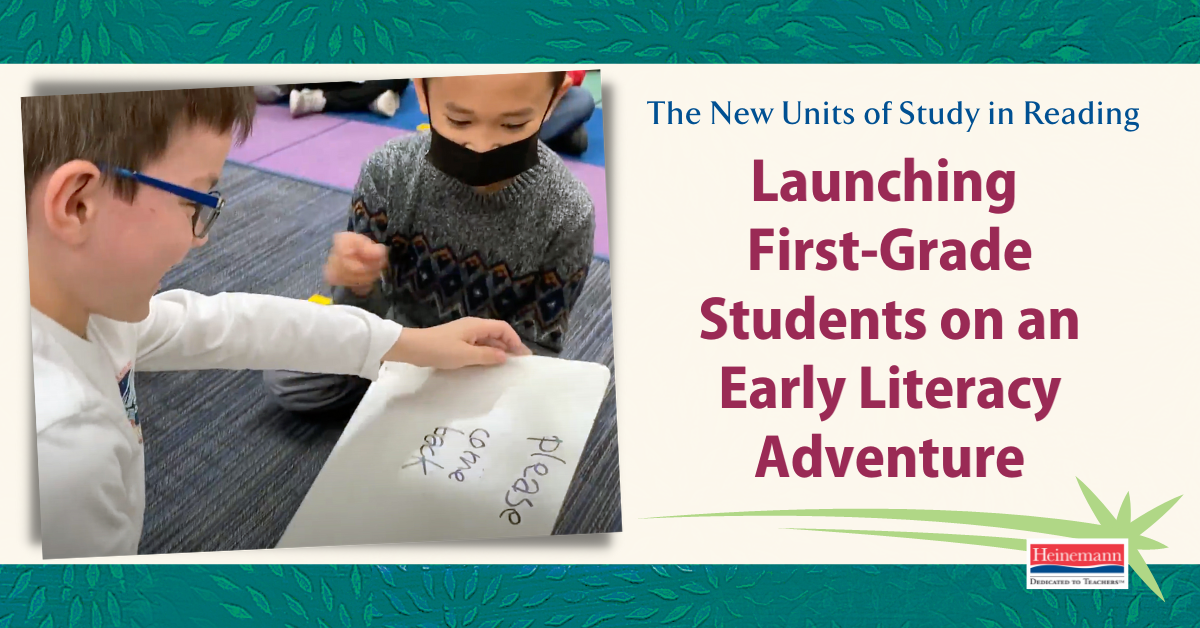 For two Midwestern teachers, an updated Grade 1 Unit of Study (UoS) is offering a potent new remedy for students who struggle with early literacy skills.

Grade 1 teachers Suzie Delman of Illinois, and Abbey Murry of Ohio, who piloted the new Meeting Characters and Learning Lessons unit, noted the clear integration of new reading research alongside related phonics and writing curricula in their classrooms. The work by the Teachers College Reading and Writing Projects (TCRWP) is both meaningful and beneficial, they said.


"They're writing, they're reading, they're using phonics. It was like they were getting a double dose of everything," said Delman, who works at Melzer Elementary, a K–5 school in Morton Grove, Illinois in East Maine School District 63. The school is located 30 minutes outside Chicago.
The unit builds phonological awareness alongside a handful of comprehension strategies such as predicting and retelling. Students are shown ways to connect with characters by understanding their feelings and actions. Delman and Murry noted that the characters in the recommended and decodable books are diverse and relatable. The unit's coauthors note in the introduction, "You'll celebrate that there will be a huge range of adventures happening all at once—going to the barbershop, celebrating a quinceañera, enjoying a backyard camp-out, taking a trip to the aquarium."


Bend 1: Readers Go on Adventures
Bend 1 of the unit launches students into thinking about how to make predictions and retell a story. They differentiate between which events are "big" ones for the character and which only supply additional details. The unit also offers coaching moves for teachers which proved helpful to both Delman and Murry. Murry observed that using books in a series—especially a series featuring a recurring character— was important for her students.
"The phonics session in this bend does double duty. It introduces the sounds two R-controlled vowels usually make: ore and air, and it also teaches kids that when they encounter a tricky word in a book, they can study it and teach themselves new phonics from it."
"You really need a wide range of series books to do a deep dive into character development. It's hard to do this unit without it. You need books with good characters," said Murray, who teaches at Lincoln Elementary School in the Gahanna Jefferson Public School District. Her school sits in a large suburb outside Columbus, Ohio.

Delman appreciated that the unit materials are color-coded —"a big plus"—and lays out the big picture clearly. Murry added that the lessons feel more streamlined, which helped her classes run more efficiently. She said that in the previous units, a "mini-lesson" could last over 20 minutes.

"I can teach a great mini-lesson in 12 minutes," said Murry of the new unit. The old unit had "all amazing stuff. It was just too much amazing stuff in one session."

Phonics work plays a clear role here and into the other bends. The unit reminds teachers that "The phonics session in this bend does double duty. It introduces the sounds two R-controlled vowels usually make: ore and air, and it also teaches kids that when they encounter a tricky word in a book, they can study it and teach themselves new phonics from it."


Bend 2 Learning about and Alongside Characters
Bend 2 allows students to think about the feeling of characters they read. Sticky notes are introduced as a way to "collect thinking." Students are encouraged to mark where characters did something big or if they were changed after an event.

"They had to use Post-Its which they never used before, so for them it was a big deal," noted Murry. Small group work also took on special importance given the gaps in knowledge that were showing up in the classroom as a result of pandemic-era schooling.

"We had some that were struggling with decoding. Some kids did not understand character traits. They thought the words happy, sad, and mad were character traits," said Murry. "We had to model 'You hold the book, I hold the book,' 'elbow to elbow, knee to knee.' We had to show them because they had never been in school before this year."


Bend 3 Comparing and Contrasting Characters and Their Adventures
Rereading is a key strategy in Bend 3 as students compare and contrast their characters. These include characters they come across in read-alouds or mentor texts like Swashby and the Sea by Beth Ferry or the Bradford Street Buddies series by Jerdine Nolen.

Delman said that her students learned how to better infer information about characters from their readings, and to discuss noticeable changes in those characters more clearly. She attributes positive growth in her students' reading levels to the combination of the new unit and integration of the Units of Study in Phonics work in her classroom. "With the UoS phonics units, I have seen so much growth. Now all the units speak to each other, they refer to each other. I can't imagine doing one without the other," said Delman.
---
About the Writer: Marc Marin has sojourned in education as an administrator and ELA teacher for more than two decades in Fairfield County, Connecticut. He briefly worked alongside his heroes in literacy at TCRWP at Columbia University in New York City before moving to full-time writing, consulting, and teaching. He currently lives in Trumbull, CT with his wife, 3 children, 5 chickens, and 20,000 honeybees. He can be found on Twitter @MarcJMarin.