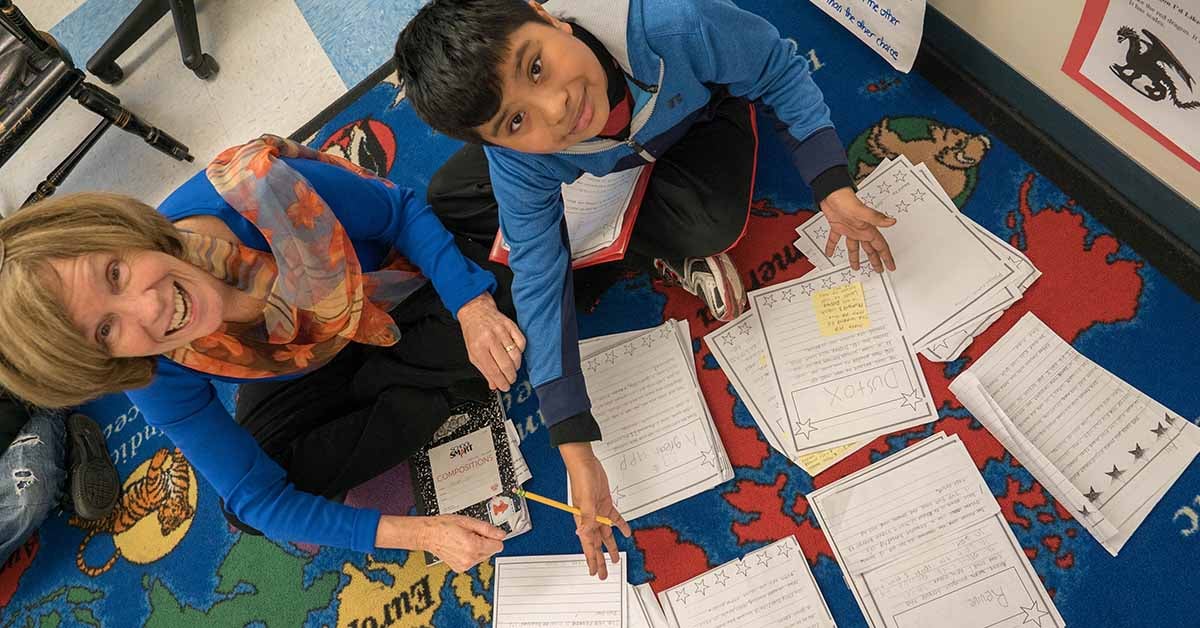 The whole class, teacher included, is feeling it: the approach of summer, marked by warmer days and possibly by shorter attention spans. Students have come a very long way since the start of the school year. There is much to celebrate in that, yet it's also important to help students keep pushing to be their best, until the very last day of school. In writing workshop, you may have noticed a slump. It may be more difficult to engage students, to keep them writing with focus for the whole workshop. If so, emphasizing choice and independence may be key to holding students' attention and keeping their writing going strong for the rest of the year.
One way to highlight both choice and independence is to leave some time at the end of the year for students to engage in independent writing projects. In the most open iteration of these, students can write in any genre, and for any purpose, to create a final piece of their choosing. Perhaps they will return to a genre they particularly enjoyed - they might write an opinion piece on a hot issue, a fictional narrative about a character they're obsessed with, or an information piece on a beloved topic. For whatever kind of writing they choose, they can make a plan for how their work will go - how much time they'll spend in each part of the writing process, the strategies they'll use, perhaps even how they'll assess their own work.
Or, you might end the year with an emphasis on revision. Students could return to previous writing projects, this time with their increased experience and knowledge, and could choose a few pieces to revise based on all they now know about good writing. For many writers, there is something very engaging about returning to previous work with renewed energy and fresh eyes.
Another way to spotlight independence and how far students have come is to encourage them to take on the role of teachers. Even younger students can teach each other a thing or two they've learned about writing. You might organize your whole class to visit a class of younger students to share expertise on a particular genre of writing. Or, you might set up each student to be an expert on a writing strategy or skill they feel is a strength, and suggest that other students meet with the resident expert when they need help with this skill or strategy. You might have experts such as the "dialogue expert," the "setting details expert," or the "refining thesis statements expert." Students could sign up to meet with each other for tips on these topics.
Cindy Williams and Lisa Hernandez Corcoran, TCRWP staff developers, will lead this week's Twitter chat on how to keep engagement high as your writing workshop winds down. Join them for more tips and ways to wrap up your writing workshop on the strongest possible note.
---
Each Wednesday night at 7:30pm eastern, The Teacher's College Reading and Writing Project hosts a Twitter chat using the hashtag #TCRWP. Join @cwilliamsark & @lisa_ladybugsx3 to chat about keeping engagement high as writing workshop winds down tomorrow night.
Not on Twitter? Take Heinemann's free Twitter for Educators course here.
---
Anna Cockerille, Heinemann Editor and Coauthor of Bringing History to Life (Grade 4) in the Units of Study for Teaching Writing Series, was a teacher and a literacy coach in New York City and in Sydney, Australia, and later became a Staff Developer and Writer at TCRWP. She also served as an adjunct instructor in the Literacy Specialist Program at Teachers College. Anna has been a researcher for Lucy Calkins, contributing especially to Pathways to the Common Core: Accelerating Achievement (Heinemann 2012), and the Units of Study for Teaching Reading, Grades 3–5 series (Heinemann 2010). Anna is currently serving as an editor on the forthcoming Phonics Units of Study series for grades K-2, and previously served as an editor for the Units of Study for Teaching Reading, K–5 series.
Follow her on Twitter @annagcockerille