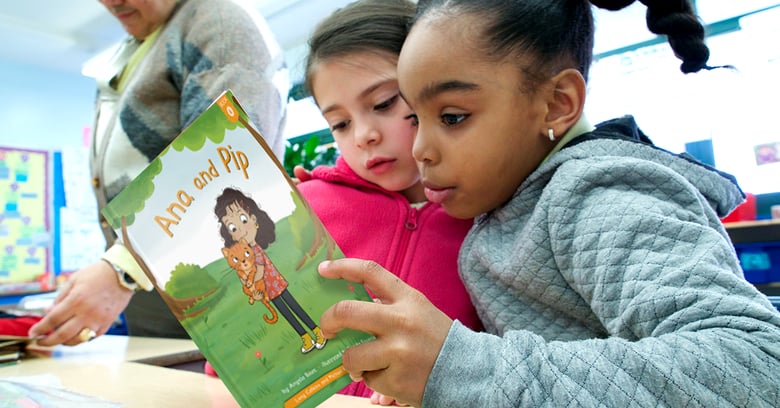 The Jump Rope Readers is a series of decodable books designed to gradually and systematically introduce beginning readers to new letter-sound correspondences and high-frequency words. Along the way, they introduce memorable characters, exciting adventures, fascinating content and the foundational elements of fiction and nonfiction texts.
As you explore the Jump Rope Readers fiction books, you'll notice the books are arranged into different series, each starring a distinctive main character that students will enjoy getting to know. We meet these familiar characters again as they make special guest appearances in later fiction books, and then in each nonfiction book where they invite children to explore engaging social studies and science topics inspired by story elements from the fiction series. The nonfiction books' narrative formats draw kids in and spark their curiosity as they learn about the world around them.

Like all decodable texts, the Jump Rope Readers Fiction books start off simple, then gradually grow in complexity as more phonics content is added. While the books follow a scope and sequence that aligns with the phonics progression behind the Units of Study—CVC words, blends and digraphs, silent E, vowel teams, R-controlled vowels, diphthongs, multisyllabic words—this same progression, or one quite similar to it, informs most phonics programs.

Organized in color-coded skill sets, the Jump Rope Readers builds students' phonics skills within the sequenced fiction and offers mastery of those skills with connected nonfiction books.
8 Ideas for Using Decodable Books in Your Classroom
There are many ways to use Jump Rope Readers in your classroom. Like all decodable books, they can support whole class lessons, small group work, and independent practice. Here are 8 ideas to help get you started:
1. Partner Reading
Once you have taught a "reader-and-coach" routine, students can use the books for partner reading at other times of the day—not just during your small-group times.


2. Shared Reading
You can lead shared or choral reading with either your whole class or a medium-sized group of six to ten students. Decide whether you will project one copy of the book for all students to see or whether you will offer individual students or partnerships their own copy of the book. As you lead the shared reading, pause before certain pages to decode a tricky word or two in isolation. Point to the start of the word and ask students to whisper-read it to themselves, giving a thumbs up when they know the word. Then, sweep your finger under the word as students read it chorally. Also pause every so often for a brief turn-and-talk about the book. For this, you might draw on the "Talk About" questions or you might design questions of your own.
3. Warm-up Word Lists
As previously mentioned, reading words in isolation is good practice for early readers. After you have developed a word list for a small group, you can give students a copy of that list to reread on their own. This can serve as a warm-up during reading times, or it can be something that students take home.
4. "Read it!" Mini Book
As an alternative to the word list, you can copy the "Read it!" section from several Jump Rope Readers that students have read recently and turn that into a "mini book" that students read as a warm-up or at home.
5. "Rhyme it!" Mini Book
Each Jump Rope Reader fiction book also features a "Rhyme it!" section inside the back cover. This section is packed with regular words emphasizing the phonics focus of that book. You can copy the "Rhyme it!" sections to create a mini book of these. Again, this can serve as a warm-up or an at-home resource.
6. "Answer it!" Mini Book
In Set B, there is also an "Answer it!" section inside the back cover. This features silly questions that emphasize the book's phonics focus. This, too, can be turned into a mini book.
7. Reading Games
Games can be a fun way for students to get more practice, either with a partner or in a small group. The Jump Rope Readers are a terrific resource for many reading games. You can mine the books for decodable words or turn to the "blue page" inside the front cover for a list of irregular (or "temporarily irregular") high-frequency words that students can practice. (Keeping in mind that you will have taught these high-frequency words to students before handing them the book.) Here are two reading games that many teachers and many students enjoy:
Kaboom! This game works well for students reading books in either Set A or Set B of the Jump Rope Readers. Write decodable words on craft sticks, drawing words from the "Read it!" section and the narrative text. On some sticks, about three to four, write "Kaboom!" The goal of this game is to get the most sticks. On their turn, each student must pick one stick. To keep it, they must read the word. A student may pick up as many as three sticks, but if they get one that says "Kaboom!" they must put all the sticks they just got back into the pile. (Not every stick they have, just the ones from that turn.) After a "Kaboom!" stick appears, remove it from the game. Play continues until all the sticks are taken.
Build it! This game works well when students are reading books late in Set A or early in Set B. Select something like 10 to 15 words from the book with blends or digraphs. On one color index card, write the onset of each word. On another color index card, write the rime. To play, put all the cards face down. The goal is to get the most words. On their turn, a student selects one card of each color and sees whether or not they can make a word. If they can, they keep the word. If they can't make a word, they keep the cards to see if they can combine them with cards they get on a later turn to make words. Play continues until all the cards are taken.
8. Book Buddies
Rereading is hugely important for early readers—it builds sight vocabulary, and it also supports fluency and comprehension. One way that many teachers create an authentic opportunity for rereading is by establishing "book buddies" with another classroom at the school—usually with either older or younger students. Determine a schedule for when the book buddies will visit each other—whatever works for you. When the visit is coming up, ask students to select a favorite Jump Rope Reader to read to their buddy. Then, give them time to practice reading that book aloud several times. During practice times, students might read aloud to themselves, or they might read aloud to a partner, or even a stuffed animal. Getting ready to share a book with a buddy gives students a strong motivation for rereading.