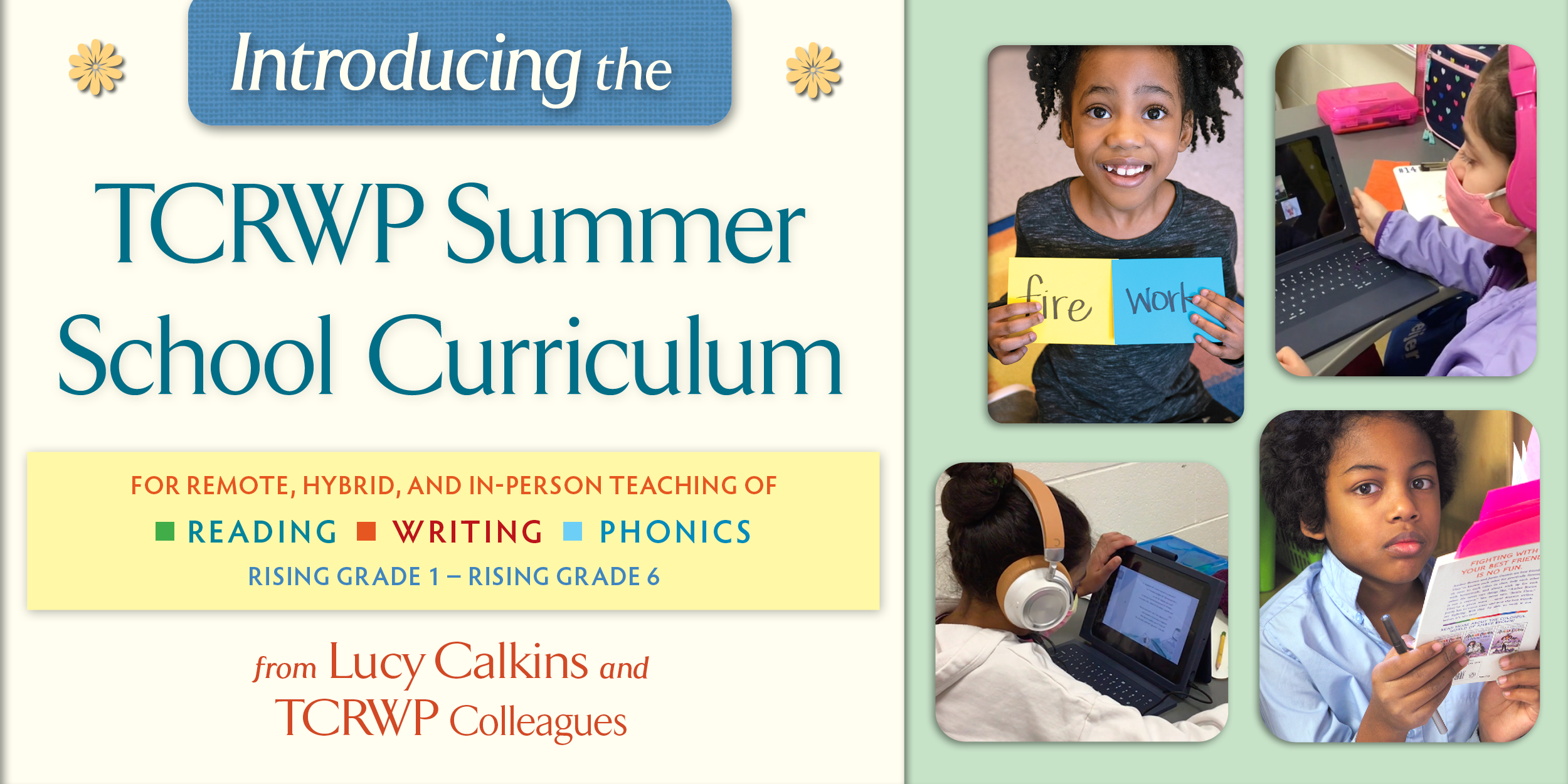 "

Summer school is a time that can make a world of difference for young learners.

We created

this virtual, turnkey curriculum to help teachers do something incredible—to make this summer magical

for kids.

"

— Lucy Calkins
The new TCRWP Virtual Summer School Curriculum incorporates research-based teaching methods, tools, and resources to provide students in rising Grades 1–6 with engaging instruction that accelerates literacy growth.
Lucy Calkins recently presented an introductory webinar. View the recording below, and be sure to review the sample videos as well for a sneak peek at the summer school curriculum.
Summer School Resources that are Turnkey and Flexible
Because we know that not all summer school teachers are used to teaching reading, writing, and phonics workshop year-round, this curriculum is both turnkey and highly flexible, offering support for customization to match your summer school needs. And just like the print Units of Study for Reading, Writing, and Phonics, these new summer school resources are designed to help teachers learn as well as teach. Teachers may use the student videos to teach directly or to guide their own teaching and help them learn the newest researched-based methods for teaching phonemic awareness, assessment-based decoding, vocabulary, knowledge generation, argument, and more.

Professional Development
To help support educators with implementation of this summer school curriculum, virtual PD, is available directly through the Teachers College Reading and Writing Project. PD options include a half-day session in early June and exclusive access to weekly Office Hours webinars throughout the months of June and July. For more information, visit the TCRWP webpage.
Student-Facing Minilesson Sample Videos
Rising Grade 1, Reading/Phonics Unit Sample
Using Sound Power to Read, Session 2: "Writing More Sounds in Words"
Rising Grade 2, Reading/Phonics Unit Sample
Strengthening Vowel Power to Read, Session 4: "A Spelling Tip from Rasheed"
Please Note: Preorders accepted beginning on April 9th. Resources will be available starting on May 24th. For more information, including purchasing information, FAQs, and more, visit UnitsofStudy.com/SummerSchool.