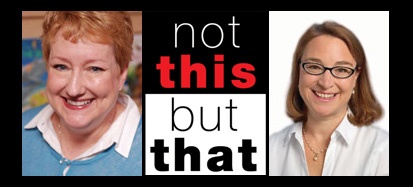 Nell K. Duke and Ellin Oliver Keene are two of literacy instruction's preeminent names. They have combined forces to create Heinemann's Not This But That series. Today, they tell you more about the series and why it's an important and transformative resource for teachers at any level of experience.
How did the idea for the Not This But That series come about?
We have long believed that researchers and professional developers need to work together more closely (click here for a position statement we co-authored on this subject). To help make this happen, with support from the Public Education and Business Coalition (PEBC), in Denver, we hosted a series of meetings attended by professional developers and researchers. During one of their discussions they debunked classroom practices, such as teaching a letter of the week or having students look up words in the dictionary and use them in a sentence, that are ineffective but nevertheless widely used in U.S. schools. Wanting to help uproot these practices, we decided to create a series of books, co-authored by researchers and professional developers, that deal with some of these practices head on and offer educators more effective alternatives.
Why are ineffective practices that aren't supported by research or proven to work in classrooms still so common?
Ineffective practices are often handed down from generation to generation. Teachers experienced them when they were students; they observed their mentors using them when they were in training to become teachers; and many of their colleagues still use them today. It's difficult to give up entrenched practices when they are so widespread, even if you sense they may not be effective—especially if you don't know what to do instead. The authors of this series understand the temptation to stick with long-standing practices and often did so themselves at the beginning of their career. But they know better now and are eager to share new practices that are much more effective.
Some readers may wonder why we begin each book by describing less effective practices rather than going straight to the research and presenting alternatives. We wanted there to be no doubt about what not to do!
There are now five books in the series, with two more coming this fall, each by different author teams. What big-picture perspectives do all the authors in the series share regarding instruction?
These authors value the collaboration between professional developers and researchers and are committed to increasing the frequency and quality of exchanges between the two groups as a key strategy in improving instruction nationwide. They all recognize as well the tremendous influence teachers have on their students' learning and development:
• Teachers can influence how students spend their time during the summer months.
• Teachers can shape students' behavioral and social-emotional development.
• Teachers can support students in a way that motivates them to read independently.
• Teachers can singlehandedly foster a disposition to learn vocabulary and become adept at using the strategies for doing so.
• Teachers can make thoughtful decisions about how best to make the time they spend with their students efficient, effective, and engaging.
We hope these books will empower teachers to take on new practices that will positively affect their students' learning and development now and for many years to come.
For more information on the Not This But That series click here.