Gretchen Owocki has long advocated for teachers as decision makers. Unlike resources that script CCSS instruction, her best-selling Heinemann titles (The Common Core Reading Book, 6–8; The Common Core Lesson Book, K–5; and The Common Core Writing Book, K–5) empower teachers to tailor instruction to the students in front of them. In part 1 of this Q&A, she tells us how these resources drive great instruction. Tomorrow, in part 2, we'll ask her about some of the influences on her instructional outlook.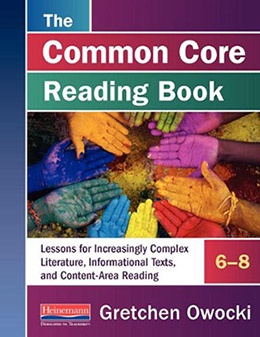 After writing three resources analyzing the Common Core ELA standards for grades K–8, you know them as well as almost anyone. What key opportunities for teacher learning and good teaching do you see?
Good teaching is good teaching, whichever standards are formulated. What teachers do with the standards makes the difference. Seen in this light, the standards have intensified the field's focus on some important areas long in need of scrutiny: close reading, making meaning in the early grades, building disciplinary literacy, and engaging students in varied forms of writing.
You write that teachers and schools should be "avoiding paths that cast educators as secondary decision makers." How do your books empower classroom practitioners to do what's best for the kids in front of them?
I offer choices and possibilities. My resources encourage teachers to consider the standards in light of their students and their curriculum and to choose instructional areas that warrant development at this point in time. Rather than provide a set program or lay down a preestablished path, I offer specific strategies and ideas for enhancing good work already being done or developing curriculum in areas currently receiving little attention. I believe that teachers collaborating within and across grade levels are the best organizers and developers of their own curriculum. When they have the freedom to do it, they can do it well.
An amazing thing about these books is how you map the gradual-release-of-responsibility-model of instruction onto the standards. Why is this so important?
Curriculum should be organized around what students know and can do. Otherwise, teaching becomes inefficient and probably not as meaningful. In my interpretation of the model, the teacher uses ongoing observation to determine areas in which students might benefit from instruction. Once these areas are determined, students experience a cycle of demonstration followed by collaborative engagement and independent application, followed by more demonstration, and so on. The process allows each student to receive support tailored to reading or writing issues she or he is currently working through.
You also write a lot about the crucial role engagement plays in implementing standards effectively. How is engagement related to the gradual-release model?
The best teachable moments happen when students are engaged. Engaged students are reading hard and writing hard. They are at their best—at their most ready to expand their thinking and most receptive to putting forth the effort to move into new territory.