In the first of two parts, educator and author Linda Hoyt describes how to blend guided writing with guided reading. Cheers to the weekend!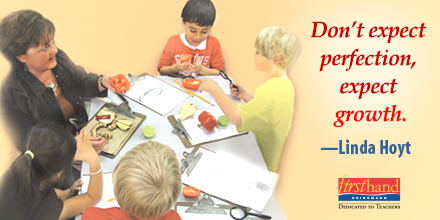 by Linda Hoyt
What Is Guided Writing?

I used to think that guided writing occurred when I gave students a writing assignment and directed them to use a particular format, genre, or topic. I believed I was guiding writing when I asked them to write in a learning log about a science experiment, write a response to a treasured story, or write an argument for the best way to solve a math challenge. I was providing guidance, but I was mostly just giving assignments.
I realize that these "assignments" had value for deepening knowledge of content and text structure, but there was little "guiding" about the craft of writing.
Now, I see guided writing as a highly focused, small group writing experience. As in guided reading, this is a time for the teacher to focus tightly on a small group of learners. During this small group time, the teacher can provide connections to minilessons shared with the whole class and give an opportunity for the writers to engage with the minilesson concepts while the she is close by to guide and support. This small group time might be an opportunity to stretch and expand the writing skills of gifted students, to reteach key writing skills for struggling students, or to demonstrate an informational text feature a group of students would find helpful in their content writing. As in guided reading, instruction is built upon learner needs, and groups are small, flexible, and short-term.
Where Does Guided Writing Fit in the Daily Classroom?

Guided Writing as an Extension of Guided Reading

I often slip into guided writing as an extension of a guided reading lesson, taking students into the world of the writer in response to their reading. In this case, I would ask the students to revisit their guided reading selection and think with the eyes of an informational author. For example, I might decide to focus on the author's craft by asking, "What do we notice about this author's word choice?" Or, I might decide to focus on informational text features, asking questions about the author's use of bullets in a list, captions, or conventions like bold-faced headings. In the guided writing group, we would make connections between reading and writing by asking ourselves, "How did techniques or features help us as readers? How might we use those tools in our own informational writing?"
The next step is to get out writing folders and have the students examine a piece of their own informational writing to consider adding text features that would strengthen their message and offer better support to their readers.
In this scenario, guided writing is slipped into the time allocated for guided reading, with students shifting between the two. This requires no adjustments in daily schedules because the guided reading occurs during an already scheduled time block.
Guided Writing Within Writers Workshop

Guided writing can offer instructional power during writers workshop. If you look at your writers workshop schedule, you might be able to allocate ten minutes of each workshop for a guided writing group meeting. This could be regularly scheduled so students know they have guided writing with you on a certain day. It could also be much more flexible in that you could use that allocated guided writing time to gather students in flexible needs groups to do some explicit modeling, reteach a concept from a whole class minilesson, or teach an advanced lesson on a craft element in informational text.
Guided Writing in Content Area Studies

Math, science, social studies, and health all offer rich opportunities to gather small guided writing groups for explicit instruction and support for writing in the content areas. Even a brief session can heighten learners' awareness and bring increased skill to their written communications.
In Part 2 of her Guided Writing blog, Linda will offer sample lessons to show how guided writing can be a partner to guided reading and support students in their writing journeys. Stay tuned!
♦ ♦ ♦ ♦
Linda Hoyt is a nationally recognized consultant who creates environments where engaged children are active participants in their own learning. She is the author, co-author, or editor of Solutions for Reading Comprehension, Revisit, Reflect, Retell, Updated Edition, Spotlight on Comprehension, Exploring Informational Texts, Make It Real, and Snapshots. In addition, she is the author of the Interactive Read-Alouds series and the Explorations in Nonfiction Writing series.