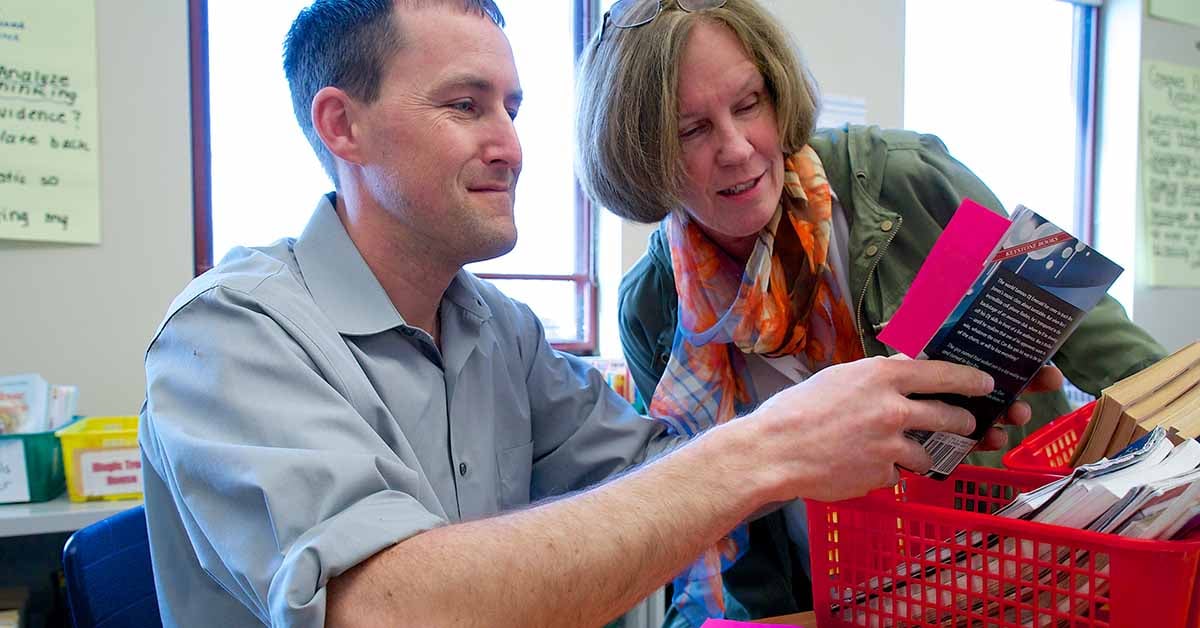 Currently, Lucy Calkins is putting the finishing touches on a new book for school leaders, a book that aims to help school principals to undertake the grand goal of reform in literacy. In this book, set to publish later this year, Lucy describes how a focus on literacy instruction can benefit a community of teachers in ways that are far beyond the scope of literacy reform.
For one, when a teaching community comes together in a shared study of a topic, they become a community of learners. They become more open to not having all of the answers, and to letting go of old ways of thinking. They research together, they share ideas, they create new ways forward. In so doing, they not only deepen their understanding of the topic, they also remind themselves of what it feels like to be a learner, a crucial reminder when they are helping children through this process.
Another way that literacy reform can lead to community building is that teachers become more apt to develop resources and share these with each other. They are also more likely to open their doors to each other, and to compare notes on best practices in a new way of working.
But one needn't be undertaking reform in order to evoke the kind of fresh energy and collegially that reform brings. When colleagues take even a bit of time to support each other, the results can be astounding. They might pass by each others' classrooms and say things like, "Wow your charts look really wonderful this year. They are well-worded and visually stunning," or "I looked at the writing on your bulletin board, and I noticed your students are trying a lot of new craft moves," or "your classroom library is so inviting, I want to plop myself down and spend the afternoon reading here." They might offer to read a professional book together, or plan together, or study student work together. They might suggest watching each other teach and giving each other feedback. These are gifts that colleagues can give each other: energy, care, and craft.
At this week's TCRWP Twitter chat, staff developers Shana Frazin and Ryan Scala will lead a discussion on specific ways teaching colleagues can support each other. Join this conversation, with your questions or thoughts on ways that colleagues can help each other to build a cohesive, supportive, reflective community of practice.
---
Each Wednesday night at 7:30pm eastern, The Teacher's College Reading and Writing Project hosts a Twitter chat using the hashtag #TCRWP. Join @sfrazintcrwp& @rscalateachto chat about gifts colleagues can give each other tomorrow evening.
Not on Twitter? Take Heinemann's free Twitter for Educators course here.
---
Anna Cockerille, Heinemann Editor and Coauthor of Bringing History to Life (Grade 4) in the Units of Study for Teaching Writing Series, was a teacher and a literacy coach in New York City and in Sydney, Australia, and later became a Staff Developer and Writer at TCRWP. She also served as an adjunct instructor in the Literacy Specialist Program at Teachers College. Anna has been a researcher for Lucy Calkins, contributing especially to Pathways to the Common Core: Accelerating Achievement (Heinemann 2012), and the Units of Study for Teaching Reading, Grades 3–5 series (Heinemann 2010). Anna is currently serving as an editor on the forthcoming Phonics Units of Study series for grades K-2, and previously served as an editor for the Units of Study for Teaching Reading, K–5 series.
Follow her on Twitter @annagcockerille